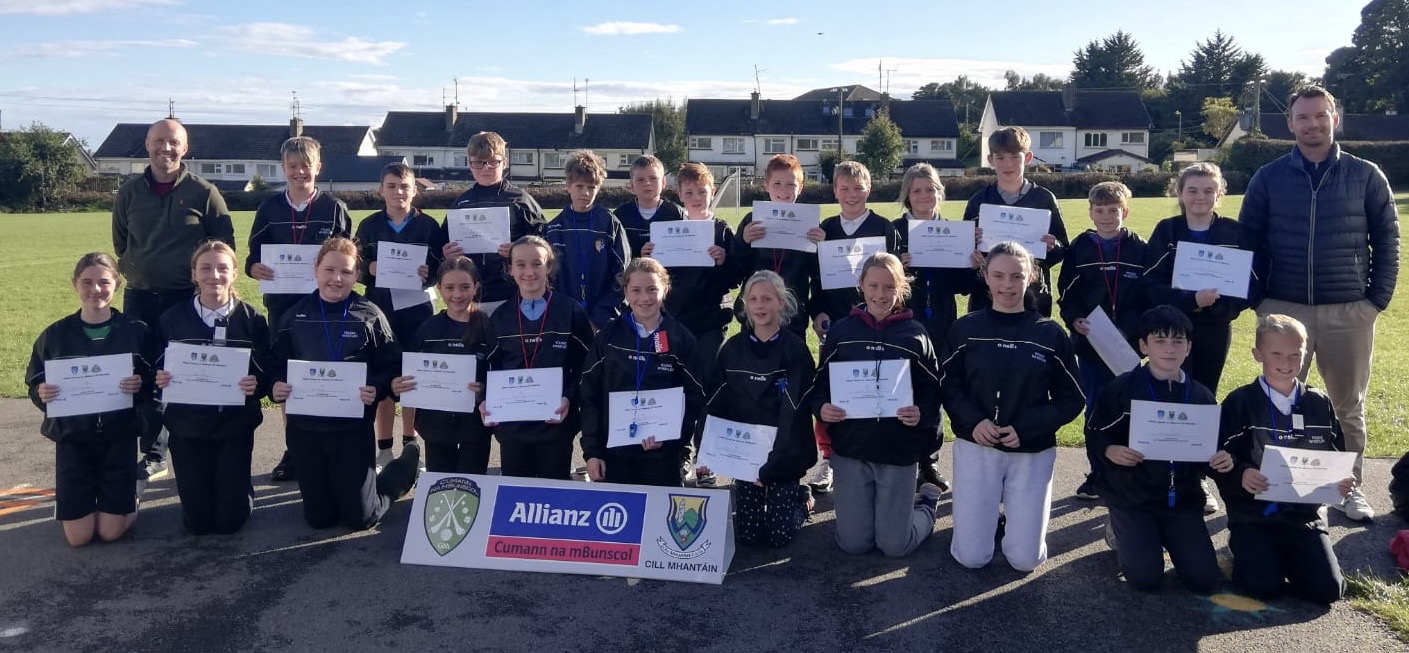 Great Turnout at Young Whistlers
Allianz Cumann na mBunscol Chill Mhantáin held a Young Whistlers referee course for Gaelic football in the North East of the county on Wednesday September 28th in KilcoolePrimary School. There was a great turnout, with eleven different school represented on the day. The participants were made up of mature, responsible 6th class boys and girls who share a passion for Gaelic football and are interested in learning more about refereeing.
The coaching session was led by North East GDA (Games Development Administrator) Garrett Doyle, who engaged the group in discussion about the basic rules of the game and how best to communicate those rules to players, coaches and spectators alike. There was a high level of genuine interest from participants, as evident from the very pertinent questions asked. It is heartening to see the next generation of young whistlers begin their refereeing journey, as without referees, we have no game! Thank you to all the 6th class boys and girls who volunteered and we look forward to seeing you refereeing your local Gaelic football games in the future!
Some reasons for getting involved in refereeing (childrens' answers):
Interested in GAA
Want to learn the rules better
Have fun
What does a good referee look like (childrens' answers):
Be fair and firm.
Like to be fair to both teams.
Know rules.
Explain to players what they did wrong.
Course participants: Ezra Doyle-Matthews (St Cronans, Bray), George Donnelly (St Cronans, Bray), Ruairi O'Brien(Kilcoole PS), Ronan O'Brien (Kilcoole PS), OrnaghMcDermott (Kilcoole PS), Saoirse Byrne (Moneystown NS), Jack Magee (Moneystown NS), Cillian Mac an Airchinnigh(Scoil Chualainn), Kate MacNamara (Greystones CNS), Tom Malone (Greystones CNS), Jack Campbell (Roundwood NS), Niamh Carpenter (Roundwood NS), Jack Gavin (Newtown PS), Clara Kirwan (Newtown PS), Jasper Kitson (Réalt naMara, Brittas Bay), April Donohoe, (Réalt na Mara), Niamh Holohan (St Brigids, Greystones), Sal Maxwell (St Brigids, Greytones), Sean Minto (Kilmacanogue NS), Eva Morgan (Kilmacanogue NS), Kate McGillicuddy (Greystones ET) and Arlo Thompson (Greystones ET).
Boys Football Kicks Off the Year in Style in Bray and Ballinakill
Thursday, 29th September saw some fine footballing talent in the 5th and 6th Class Boys Allianz Football Participation Blitz in both Bray Emmets and Ballinakill.  It was a sunny autumnal day and conditions were perfect for playing fast-paced and entertaining football.  The beauty of participation blitzes is that teams play in a non-competitive environment which encourages an atmosphere of teamwork and creativity, but most of all joy in playing the game.
In Bray Emmets 21 teams represented their twelve schools with pride and the pitches were a hum of activity for the afternoon. Thankfully we were blessed with a dry day and the boys made the most of the opportunity to practise their skills. Huge thanks to Bray Emmets for hosting the event and to retired teacher Dave Barry for setting up the pitches. We are also very grateful to referees, Ella, Orla, Luke, Josh and Éanna who helped to keep proceedings running smoothly in a very fair and friendly manner.
Participating teams: St. Peter's Bray, St.Fergal's Bray, St. Cronan's Bray (2), Kilmacanogue NS (2), Newtownmountkennedy (2), Kilcoole (1), Scoil na CoroineMhuire Ashford (2), Gaelscoil na Clocha Liath (2), Greystones Educate Together (3), Gaelscoil Uí Chéadaigh (2), Holy Rosary Wicklow (2), St. Brigid's Greystones (1), Greystones CNS.
Participating teams in Ballinakill: Annacurra, Laragh, Ballycoog, Avoca, Moneystown, Shillelagh, Gaelscoil an Inbhear Mór, Carnew, St. John's SNS, Aughrim, Nun's Cross, Brittas, Bearna Chlé.
Time for the Camogs to Shine in the North/East and South​
The Allianz Camogie League Day will take place on Thursday 6th October in both Bray Emmets (North/East Wicklow) and Ballinakill (South Wicklow).  This blitz has no age limit.
North/East:
Date: Thursday 6th October
Time: 11:45 am 
Location: Bray Emmets GAA Club 
Teams: 9 a-side
Please let Emily Stephenson/Saoirse Morgan (Camogie Officers) know via email or WhatsApp message to 087- 6967845 by Monday 3rd October if your school will be in attendance and, if so, how many teams you will be sending.  
Exact details & fixtures will be sent on Wednesday 5th October, team mentors may be needed to referee some games. 
South
Date: Thursday 6th October
Location: Ballinakill
Teams: 7 a-side
Please contact Padraig Murphy if interested in attending using the following link:
https://docs.google.com/forms/d/e/1FAIpQLSceWX4VsaPIbhKQSA9-swTNR2T_D0cxtlQUBxZfGjwntV2sag/viewform
Boys' Allianz Hurling Blitz Day ​
13th October – at 11.45 a.m. in Bray GAA grounds.  Nine-a-side and no age limit.  
Wicklow Times Participation Day (3rd and 4th Class Girls Football)
20th October at 11.45 a.m. in Bray GAA grounds – Girls' football blitz, nine-a-side and no age limit.  Points only. Young Whistlers can be used.
Allianz Football Participation Day (3rd and 4th Class Boys)
27th October at 11.45 a.m. in Bray GAA grounds. Boys' football blitz, nine-a-side and no age limit. Points only. Young Whistlers can be used.
Allianz Tráth na gCeist​
Thursday 10th November at 7.30 p.m. in Lynhams, Laragh
Points of Interest from National General September Meeting
Rúnaí Brian Cornyn and PRO Pamela McDermott attended as the Wicklow delegates at the National Allianz Cumann namBunscol General September Meeting in Jury's Croke Park Hotel on Saturday 24th September. The room buzzed with enthusiasm as primary school teachers made plans for a full year of Cumann na mBunscol activity. Cumann namBunscol's aim is to make Gaelic games the games of choice for boys and girls in Ireland's primary schools, and very often is the case that it is in the primary school that children get their first introduction to Gaelic games and subsequently go on to join their local club and possibly play for their county.
Some of the points to note included that:
•
A survey will be sent to each county which will be an audit of what is going on in counties to see what areas can be developed.
•
There is a drive to promote handball and rounders.  
•
Each county and school have been asked to promote Allianz as the main sponsor of
Cumann
na
mBunscol
activities by tagging them on social media.  
•
There were many successful events held last year such as
Cumann
na
mBunscol
Week which was a great success, as well as the lucky
240 children who got to play in Croke Park over four weekends as part of the INTO Mini 7s.  
•
The Cornmarket Annual Awards and AGM will be held in Letterkenny on the 3
rd
and 4
th
March 2023.  Categories include: Pat Trainor Hall of Fame Award, Allianz Public Relations Award, County Publication, Promotion of Gaelic Games and Culture, Cur
chun
cin
an
Chultúir
Ghaeilge
agus
na
gCluichí
Gaelacha
trí
mheán
na
Gaeilge
, and School of the Year.  The closing date for entries will be on Wednesday 11
th
January 2023.  
•
It is hoped that the Allianz
Cumann
na
mBunscol
50
th
anniversary publication, which is a book celebrating 50 years of primary school Gaelic games across the country, should be available for the AGM.
Please send results, reports or photos to pro.cnmb.wicklow@gaa.ie, follow us on twitter @cnmbwicklow  Keep up-to-date with all Allianz Cumann namBunscol news in Wicklow on our website www.cnmbwicklow.ie