Allianz Cumann na mBunscol Chill Mhantáin AGM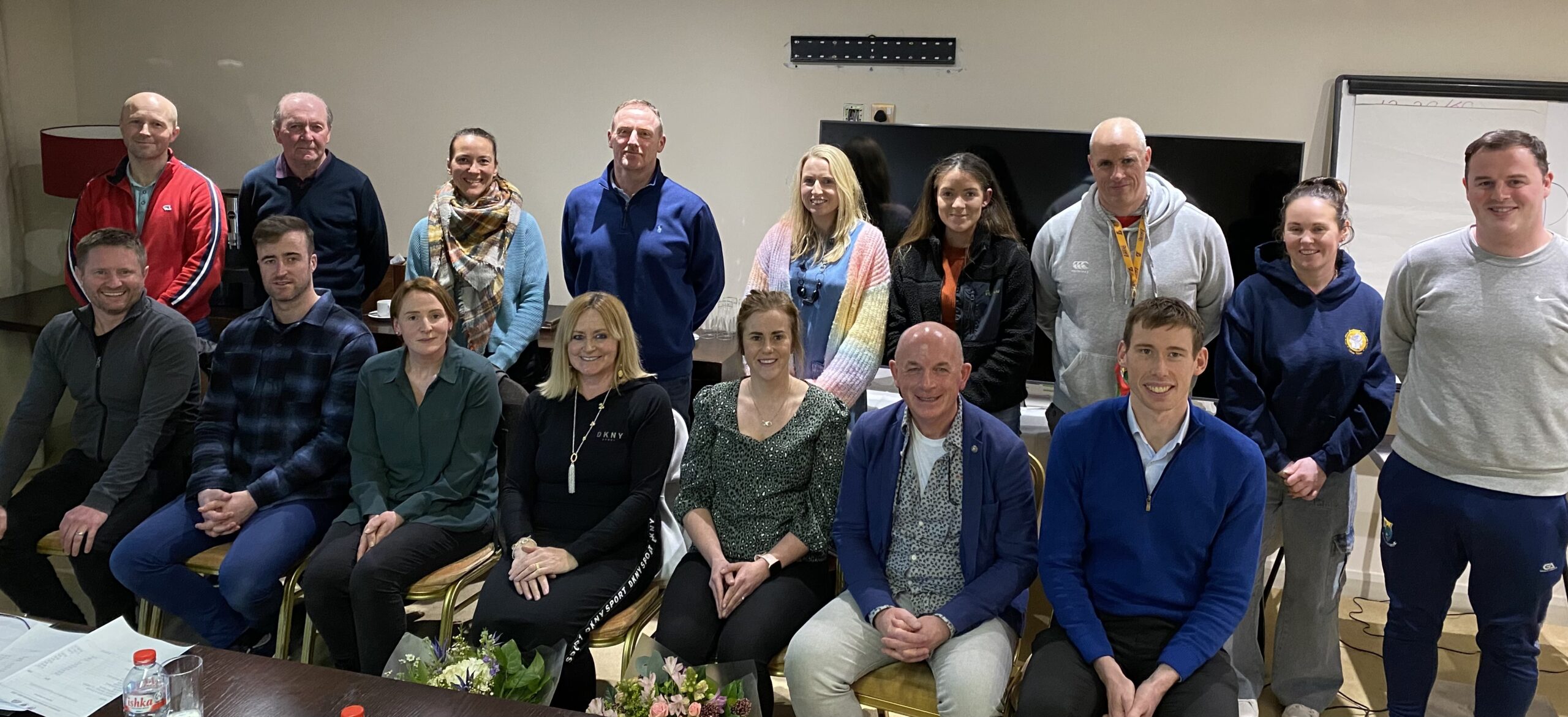 Successful AGM
Allianz Cumann na mBunscol Chill Mhantáin held their AGM on the 1st March in the Parkview Hotel, Newtownmountkennedy.  Sinéad Ní Chreán Loinsigh, Cathaoirleach, opened the meeting by welcoming those in attendance and acknowledging how good it was to be back planning for primary school Gaelic games.  She thanked those involved in facilitating Cumann na mBunscol activities in Wicklow, the teachers, retired teachers, clubs, County Board, G.D.A's and the Cumann na mBunscol Cóiste.
The first report was from Cisteoir Emer Fahy, who gave a comprehensive breakdown of any recent income and expenditure.  Next, PRO Pamela McDermott spoke about Wicklow's contribution to the national publication celebrating 50 years of Cumann na mBunscol and thanked both Tom Sargent and Dave Barry for their help in compiling articles/interviews on Katie Taylor and Darren Randolf who both graced the pitches of the Garden County at Cumann na mBunscol activities.  She also thanked Allianz for their continued support, and Wicklow GAA for their activities, aimed at primary school children, which were posted on social media during lockdown which motivated everyone to stay active and engaged.  She mentioned that the National Cumann na mBunscol AGM would take place on Saturday 5th March, and that Cumann na mBunscol week, which took place last year for the first time, will take place again this year from 13thto 17th June.  Finally, with the welcomed resumption of activities, she encouraged schools to send in articles, player profiles, match reports etc. for publication in local newspapers and on our website www.cnmbwicklow.ie and reminded schools to tag @AllianzIreland #AllianzCnmb in tweets as Allianz are the main sponsors of Cumann na mBunscol.  
Although the officers of the various codes were unable to report much due to the circumstances they were enthusiastic to begin planning ahead.  When drawing up a fixtures list it was decided to give precedence to those in 5th and 6th class, who had missed out during the pandemic, in the form of non-competitive participatory days in all codes (see fixtures list) in the north, south and west of the county.  
The voting of officers then took place, which saw officers old and new returned to the cóiste: Ciara Fagan, Cathaoirleach; Jim O'Riordan, Leas-Cathaoirleach; Brian Cornyn, Rúnai; Pamela McDermott, PRO; Eamonn Hughes, Cisteoir; Billy Cuddihy, Quiz Co-ordinator; Gary McGillycuddy, Boys Football Officer; Brendan Doyle, Hurling Officer; Ronan Keddy, Girls Football Officer; Ciara Fagan/Emer Fahy, Camogie Officer; West Representative (to be confirmed); Padraig Murphy, South Representative and committee member Paddy Mullen.  
Apologies were sent from Bridget Kenny, Wicklow County Board; Garrett Doyle, GDA and Breda Donnelly, Wicklow Camogie who unfortunately were unable to attend.
Before the meeting drew to a close Jim O'Riordán, Leas-Cathaoirleach, congratulated Sinéad Ní Chreán Loinsigh and Tommy Brennan on their recent retirements; and Rúnaí Claire Frawley on her move to a new job in Kildare.  He thanked them for their years of service to Cumann na mBunscol Chill Mhantáin.  Sinéad Ní Chreán Loinsigh, the current Cathaoirleach, also served as Rúnaí and could always be seen flying the flag for Scoil Chualann at Cumann na mBunscol events.  Tommy Brennan did trojan work over the years in Dunlavin and acted as the link from the west to Cumann na mBunscol in the north and south of the county. Claire Frawley, the current Rúnaí, also served as Ladies Football Officer and was instrumental in Kilcoole Primary School's success at the National Cumann na mBunscol awards.  All in Cumann na mBunscol Chill Mhantáin wish them well in the years ahead, with the knowledge that while their shoes are difficult ones to fill, they have left a strong foundation for those coming behind on which to build.
Fixtures List 2022
The objective for the final term of this school year is that the senior classes (5th/6th class), who missed out during the pandemic, get to play for their school in a non-competitive, participatory environment.
Rules:
•
Matches will be 9 a-side but if both participating schools have larger numbers they can agree between them to increase to 11 a-side so that larger numbers get as much playing time as possible.
•
Matches will follow the 2 touch rule (1 hop, 1 solo; 2 solos).  Goals and points can be scored and a goalkeeper used.  If matches are becoming one-sided the referee can use his/her discretion and decide to throw the ball up in the middle of the field after a score rather than the goalkeeper kicking it out.
Fixtures/Dates for your diary:
Allianz 5th and 6th Class Boys Football Participation Day 1
28th April​11:45 a.m. ​Bray Emmets (North Wicklow)
Ballinakill (South Wicklow)
Venue to be confirmed (West Wicklow)
*Schools will be contacted by email before the event and they can decide which venue suits them best to attend
Allianz 5th and 6th Class Boys Football Participation Day 2
5th May​11:45 a.m. ​Bray Emmets (North Wicklow)
Ballinakill (South Wicklow)
Venue to be confirmed (West Wicklow)
*Schools will be contacted by email before the event and they can decide which venue suits them best to attend
Allianz 5th and 6th Class Girls Football Participation Day
12th May​11:45 a.m. ​Bray Emmets (North Wicklow)
Ballinakill (South Wicklow)
Venue to be confirmed (West Wicklow)
*Schools will be contacted by email before the event and they can decide which venue suits them best to attend
Allianz 5th and 6th Class Hurling Participation Day
19th May​11:45 a.m. ​Bray Emmets (North Wicklow)
Ballinakill (South/West Wicklow)
*Schools will be contacted by email before the event and they can decide which venue suits them best to attend
Allianz 5th and 6th Class Camogie Participation Day
26th May​11:45 a.m. ​Bray Emmets (North Wicklow)
Ballinakill (South/West Wicklow)
*Schools will be contacted by email before the event and they can decide which venue suits them best to attend
National Cumann na mBunscol Week
13th – 17th June​Details to follow by email
Please send results, reports or photos to pro.cnmb.wicklow@gaa.ie, follow us on twitter @cnmbwicklow  If tweeting please tag our sponsors @AllianzIreland and use #AllianzCnmb
Keep up-to-date with all Allianz Cumann na mBunscol news in Wicklow on our website www.cnmbwicklow.ie