Allianz Cumann na mBunscol Chill Mhantáin (Article 20)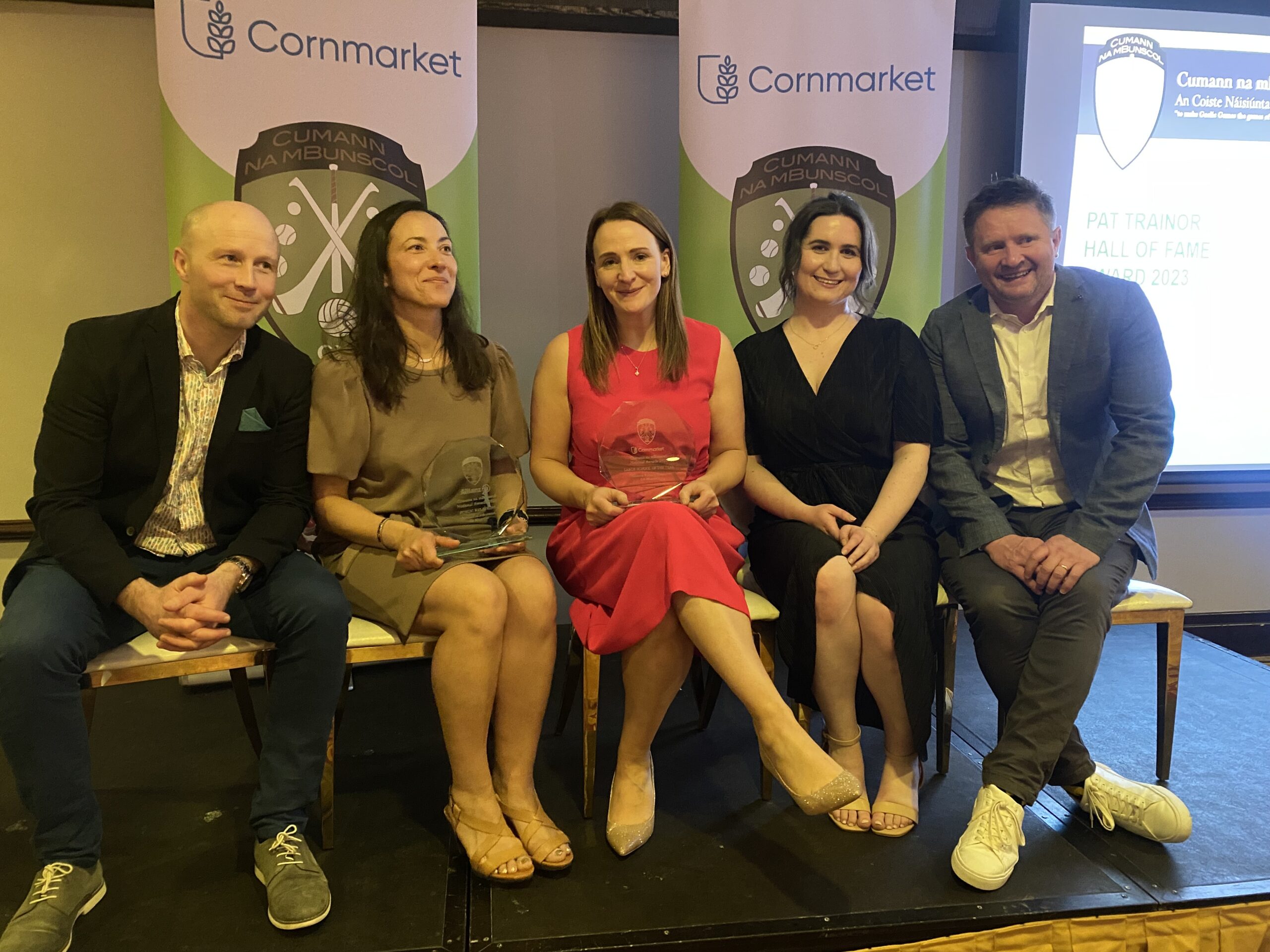 2 National Awards for Wicklow – 2nd Place in School of the Year for Kilcoole and Award for Public Relations for Wicklow
A fantastic evening was had by those attending the Cornmarket National Awards in Letterkenny, Co. Donegal.  Kilcoole Primary School was awarded 2nd place in the School of the Year category for the work being done in promoting Gaelic games and culture.  This is a countrywide competition so it is a huge honour for the school.  Allianz Cumann namBunscol Chill Mhantáin was given a Merit Award for its work in Public Relations.  Thanks to the local media for all their exposure of Gaelic games in primary schools across the county, without this such an award would not be possible.  Kilcoole Primary School was represented on the night by Brian Cornyn (Rúnai Cumann na mBunscol Chill Mhantáin), Emily Murphy and Pamela McDermott (PRO Cumann namBunscol Chill Mhantáin); and Allianz Cumann na mBunscolChill Mhantáin was represented by Cathaoirleach Ciara Fagan and Cisteoir Eamonn Hughes.  
A Fantastic Day at Day 1 of the Allianz Coughlan Cup
Day 1 of the Allianz Coughlan Cup started with a bang in Bray Emmets on 2nd March. The competition for 5th and 6th class boys from North/East Wicklow was very well subscribed with 29 teams taking part, representing 17 different schools. The boys certainly made the most of the opportunity to practise their skills with some fine team work and point taking on show on the day. Sincere thanks as always to Bray Emmets for hosting the event and to Dave Barry for setting up the pitches. Referees Jonah, Leo, Ted, Donncha, Ella and Amelie were also a fantastic help in the smooth running of the day. 
We now look forward to Day 2 of the competition which takes place on March 16th at the same venue.
Participating teams: Kilmacanogue (2), St. Joseph's, Glenealy, St. Brigid's, Greystones (2), St. Laurences, Greystones (2), Greystones ETNS (3), St. Cronan's, Bray (2), Ravenswell, Kilcoole, St. Fergals (2), St. Peters, Newtown (2), Gaelscoil na gCloch Liath (2), Holy Rosary, Ashford (2), Gaelscoil CillMhantáin (2), Roundwood, St. Kevins (2).
Great Day at 1st and 2nd Class Girls Indoor Football Blitzin Aughrim
A great day was had by those in attendance in Aughrim on the 2nd March at the 1st and 2nd Class Girls Indoor Football blitz.  Schools in attendance included Ballycoog/Annacurra, Coolafancy, Nuns Cross, Laragh, Aughrim, Kilcommon and St. Saviours.
1st and 2nd Class Indoor Hurling/Camogie Fun in An Tóchar
On Thursday 23rd February there was a great day of indoor hurling/camogie for 1st and 2nd classes in An Tóchar GAA hall in Roundwood. 6 teams participated from 2 different schools: St. Fergal's and Holy Rosary. A big thanks to all teachers who brought teams and to GDA Conor Daly who was there on the day to help out.
1st and 2nd Class Boys Indoor Football Skills on Show in Aughrim
There was a great day of indoor football held in Aughrim on Thursday 23rd February. Schools represented included Laragh, Rathdrum, Aughrim, St. Saviours, Coolafancy, Kilcommon, Ballycoog/Annacurra, Crossbridge, Nuns Cross.  Well done to all involved in organising the day and a particular word of thanks to the Young Whistlers who did a fine job officiating.
5th and 6th Class Girls Football in Baltinglass
There were some super skills on show in Baltinglass on Thursday 23rd February by the 5th and 6th class girls who took part in a football blitz.  The sun shone and all had a great day.  Well done to all involved in organising such a successful event.
INTO Skills Challenge – A Chance to Play in Croke Park
The annual Cumann na mBunscol Chill Mhantáin Skills competition will take place in regional venues on the week beginning March 13th.
North/East Skills Competition – Monday 13th March in Bray Emmets.
West Skills Competition – Tuesday 14th March in Blessington.
South Skills Competition – Wednesday 15th March in Ballinakill.
Football and Hurling Skills Test @11:00am
Girls Football and Camogie Skills Test @12:30pm
County Final in Ballinakill – Wednesday 22nd March
* Please note – any teachers in attendance will be required to assist in the marking of tests.
Schools are asked to fill out a Google form (see link below) to enrol players in the Skills Test competition.  This form must be filled by Thursday 9th March.  This helps the GDAs ensure the smooth running of events as it provides them with key details in terms of names, numbers, etc. in advance.
Form:
https://forms.gle/SG2bApMCSnH2W6Xy6
Please take particular notice of the age restriction regarding this event. Note that the age limit has changed and is now the same for all schools regardless of enrolment numbers. 
                     Participants must be born on or after January 1st 2011
Each school is permitted to send 2 representatives per code to compete in 
·        ​Gaelic Football (boys)
·        Gaelic Football (girls)
·        Hurling
·        Camogie
Each pupil will only be permitted to compete in one code.
If a child has represented Wicklow in Croke Park previously in any code they cannot take part at any level of the skills test again e.g. regional skills day, etc. 
The top 2 pupils in each code from each area will be invited to compete in the County Skill Tests scheduled for Wednesday March 22nd in Wicklow GAA Centre of Excellence, Ballinakill. 
The top performing pupils in the County Skills tests will have the opportunity to represent their school and county during the half-time of selected All Ireland Series games during the summer.
It is encouraged that each school host their own internal tests to aid selection of their representatives before forwarding them to the regional skill tests. Best of luck to all involved!
Rounders Coaching Course
A rounders coaching course will take place on Monday April 24th in Kilcoole Primary School (St Brigid's Building) from 12 – 3 p.m. It will be run by retired teacher, Michael Dowling from Laois, who established rounders as a firm favourite on the Cumann na mBunscol calendar of events in Laois.  He has very kindly offered to provide this coaching course to teachers free of charge. This course will cover the basic rules of the game, how to set up the pitch and give valuable coaching tips. It should inform the teaching and learning of PE within your schools as well as providing an opportunity for like–minded teachers to get together in the hope of creating our own mini rounders blitzes between schools. It is envisaged that these would happen in the summer months of May/June and would be non-competitive in nature with the emphasis on having fun and embracing the core skills of the game.  If you are interested in participating in this rounders course please fill in the google form below. Places will be allocated on a first come, first serve basis (maximum 20 participants).
Form to register:
https://forms.gle/nySVPeWwAezPwQeh9
Upcoming Fixtures – North/East Wicklow
Girls' Wicklow Times Shield Day 1
Day 1 of the Allianz sponsored Cumann na mBunscolWicklow Times Shield for Girls' Football takes place on Thursday 9th March in Bray Emmets GAA Grounds at 11.45am.
This is a 9-a-side tournament, no age limit, goalkeeper, with 3 points awarded for a score over the bar and 1 point awarded into the net (the emphasis on point scoring).
Date: Thursday 9th March
Time: 11:45am
Location: Bray Emmets GAA Club
Rules: 9-aside, goalkeeper, 3 points awarded for over the bar, 1 point awarded for under the bar.
Please let Ronan Keddy, Oifigeach Peil na gCailíní Cumannna mBunscol, know via WhatsApp (086 3021594) no later than Tuesday 7th March if your school will be in attendance and, if so, how many teams you will be sending.
The results from Day 1 will be used to grade and assign teams to a particular division for Day 2 of the competition which will take place on Thursday 30th March. Trophies and medals will be awarded to the winners and runners up of each division on Day 2 of the competition.
Finally, Cumann na mBunscol relies on the generosity of GAA clubs to host events. We ask all schools to remind students to be respectful of facilities during a Blitz e.g use of bathrooms, taking rubbish with them etc. 
Boys' Football Allianz Coughlan Cup Day 2​
23rd March at 11.45am in Bray Emmets
Eleven-a-side. This is a competitive competition. Full rulesapply.
Girls' Wicklow Times Shield Day 2
30th March at 11.45 a.m. in Bray Emmets – 9 a-side.  This is a competitive competition. Full rules.
Upcoming Fixtures – South Wicklow
3rd and 4th Class Girls Football – 9th March in Ballinakill
The registration link is included below for the 3rd and 4th class girls football blitz.  This is an outdoor blitz and will take place in Ballinakill.  Please register teams by 2 p.m. on Monday.
https://docs.google.com/forms/d/e/1FAIpQLSfvudoHWnttXjpjv3RVQG4PLw5HM1tGy4uzPOmGgMQFkTKw0Q/viewform?usp=sf_link

3rd and 4th Class Boys Football 23rd March at 10:30 a.m. in Ballinakill – 9-a-side
Upcoming Fixtures – West Wicklow
2nd March​3rd/4th Class Boys Hollywood @ 11.00am
14th March​INTO skills challenge for Boys & Girls Blessington @ 11.00am*
*Winners go to finals day on the 20th March Ballinakill @ 11.00am
23rd March ​5th/6th Class Boys Dunlavin @ 11.00am
20th April ​3rd/4th Class Girls Baltinglass @ 11.00am
27th April​5th/6th Class mixed (Small Schools) Stratford @ 11.00am
4th May​5th/6th Class Boys Blessington @ 11.00am
25th May​5th/6th Class Girls Dunlavin @ 11.00am
15th June​1st/2nd class mixed Baltinglass @ 11.00am
Please send results, reports or photos to pro.cnmb.wicklow@gaa.ie, follow us on twitter @cnmbwicklow  Keep up-to-date with all Allianz Cumann namBunscol news in Wicklow on our website www.cnmbwicklow.ie