Allianz Cumann na mBunscol Chill Mhantáin (Article 7)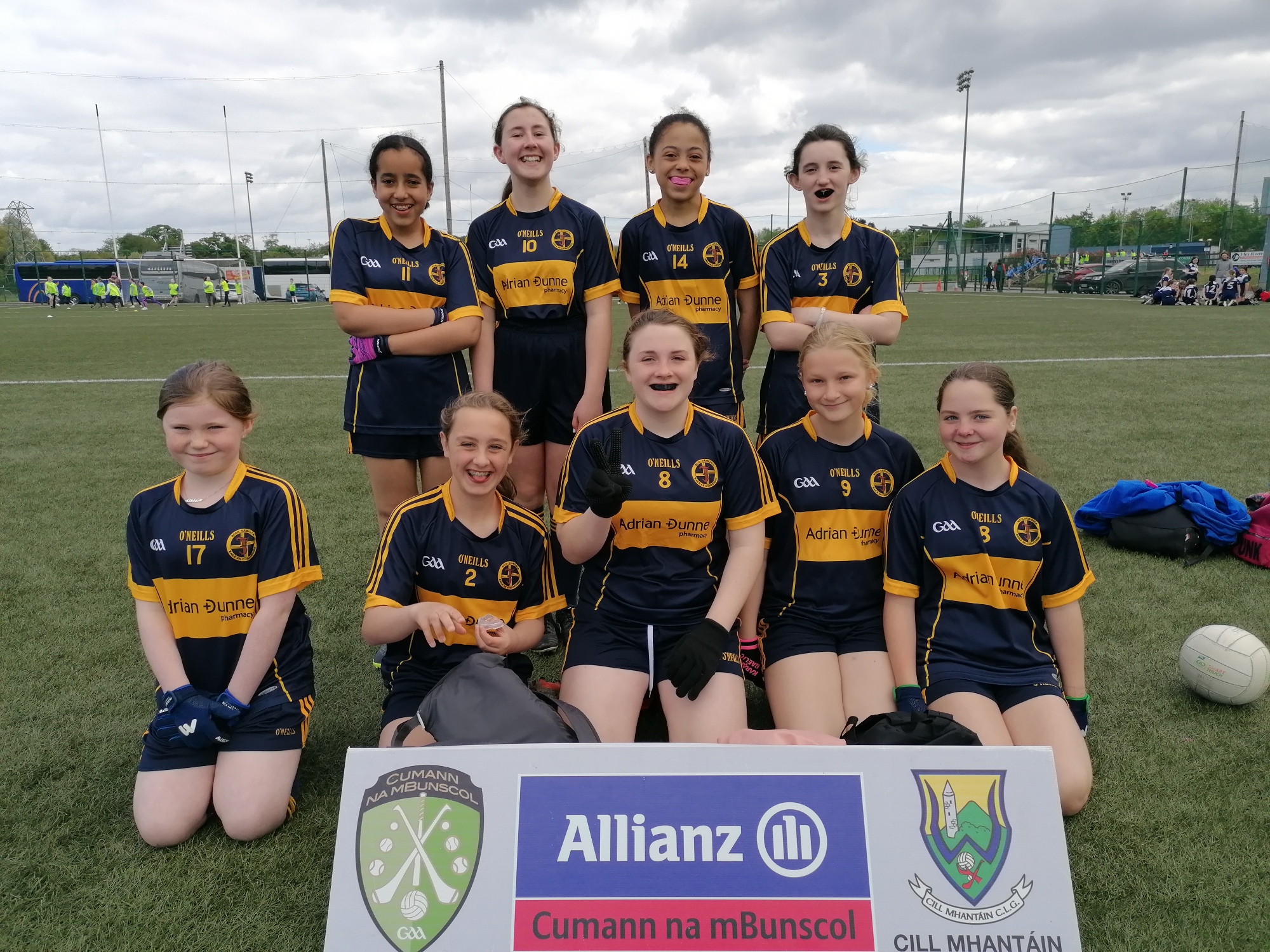 Time for the Ladies to Shine
Allianz 5th and 6th Class Girls Football Participation Day(North/East Wicklow)
A Girls Football Participation Blitz for 5th and 6th class took part in Bray Emmets GAA Club on Thursday 12th May.  Schools represented included St. Laurence's, Kilcoole, ScoilChualann, Ashford, Roundwood, St. Brigid's, Gaelscoil naClocha Liath, Greystones Educate Together, Newtown, Kilmac, Greystones Community National School and St. Peter's.  There were some great displays of teamwork and score taking as well as fast paced skilful football.
Thanks again to Dave Barry and Willie Braine of Bray Emmets and the Young Whistlers from Coláiste Ráithín andPres Bray who contributed hugely to the smooth running of the blitz.
South Wicklow Allianz 5th and 6th Class Girls Football Participation Day
Simultaneously a Girls Football Participation Blitz for 5th and 6th class took place in Ballinakill for the ladies in the south of the county.  Schools represented included Annacurra, Aughrim, Gaelscoil, Ballyconnell, Moneystown, Nun's Cross, Carnew, St. John's SNS, Avoca, Réalt na Mara, Laragh and Crossbridge.  Again there were entertaining games and great skills on show.  Thanks to Darren Hayden, GDA, for all his assistance in the smooth running of the blitz.
Future Hurling Stars put on Show in Bray Emmets
Skill levels were through the roof in a sun kissed Bray Emmets as 8 teams took part in the Cumann na mBunscolhurling blitz last Thursday. There were goals and points galore as some of Wicklow's finest young hurlers put on a show for the lucky spectators that were there to witness it. The schools represented included St. Cronan's, St. Laurence's, GreystonesCommunity National School, Gaelscoil na Clocha Liath, St. Patricks (Wicklow Town), Kilcoole N.S and Scoil Chualann. There were some great contests with each team getting 5 matches each. The enthusiasm for hurling was just as evident from the teachers as it was from the children who deserve great credit for turning teams out on the day. Relationships between the schools participating were enhanced with future matches being arranged across different class levels. 
Thanks to Willie Braine and his team of young whistlers who did a fantastic job in organising the pitches and officiating the games. 
We look forward to full programme of hurling in Wicklow primary schools for the coming 2022/23 academic year.
Fantastic Display of Sportsmanship and Comradery at Camogie Blitz
The Allianz Cumann na mBunscol Camogie Participation Blitz took place on Thursday May 26th 2022. Bray Emmett's GAA Ground played host to the blitz that had 7 teams eager to take part. These teams included Kilcoole Primary School, St. Peter's Primary School, St. Laurence's Primary School, St. Kevin's Primary School, Scoil Chualann and Gaelscoil nagClocha Liath entered 2 teams. Luckily the light showers on the day did not deter our camogie players or dampen their spirits. A high level of skill was evident throughout the day and there was a fantastic display of sportsmanship and comradery between schools. Each team played 6 matches and all games were closely contested. Local transition year pupils, all of whom have completed their refereeing courses, refereed the games. A huge thank you to these fantastic referees for their assistance setting up pitches and ensuring the blitz ran smoothly on the day. A sincere word of thanks to Willie Braine for all his help coordinating the day, Bray Emmett's for the use of their facilities and all the schools, teachers and parents that made the day such a success.
Great Turnout at the South Camogie Blitz
South Wicklow Cumann na mBunscol Camogie Participation Blitz saw teams from Crossbridge, Bearna Chlé, Avoca, Talbotstown, Annacurra and Carnew.  This 7 a-side blitz was played off in a sporting manner with some great skills on show.  Well done to all involved.
No Sports Day This Year
Just a reminder that there is no Sports Day happening this year due to scheduling issues caused by covid and a lack of availability of substitute cover for organising teachers. This year priority was given to 5th and 6th class participation blitzes as well as the skills competition. Many thanks to all our volunteers who have ensured that these games have gone ahead safely and that the children have really enjoyed themselves.
National Allianz Cumann na mBunscol Week
National Allianz Cumann na mBunscol Week will take place this year from the 13th to the 17th June where schools will get the opportunity to celebrate all that is good in Cumann namBunscol.  Some of the activities your school can chose from include daily skills challenges with county stars, tráth nagceist, colours day, art competitions, interviewing county stars, crossbar challenge and lots more.  Your school can get creative and come up with its own ideas.  What a fun way to end the school year!
Please send results, reports or photos to pro.cnmb.wicklow@gaa.ie, follow us on twitter @cnmbwicklow  If tweeting please tag our sponsors @AllianzIreland and use #AllianzCnmb
Keep up-to-date with all Allianz Cumann na mBunscol news in Wicklow on our website www.cnmbwicklow.ie