Allianz Football League 3 South R.3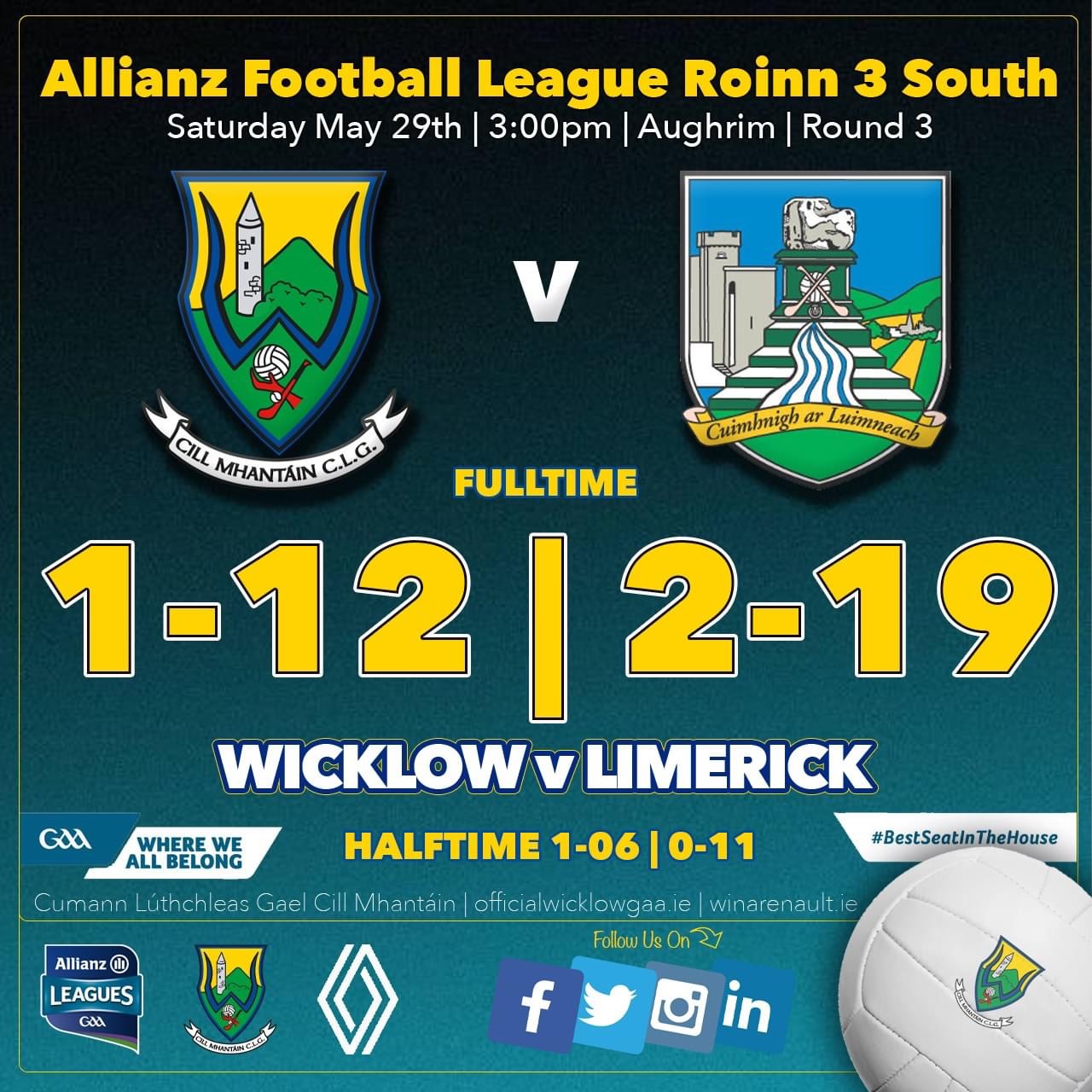 WICKLOW 1 – 12
LIMERICK  2 – 19
Limerick took the spoils in this Allianz Football League Division 3 South, Round 3 encounter in a sundrenched Aughrim
on Saturday afternoon
, in ideal conditions for football.This loss sends Davy Burke's charges into a relegation play-off against reigning Ulster champions Cavan next month,at a venue to be decided in the coming days. Two goals midway through the final quarter were clinical for Billy Lee's side, who now proceed to a promotion play-off to division 2 against Derry.
Gordon Browne opened the scoring with a point from close range for the Treaty side after a turnover from a short kickout in the 3rd minute. They doubled their lead before Padraig O'Toole got the Garden County on the scoreboard with a well worked point from the Kiltegan man.However Limerick replied with a further brace of points. Dave Devereux made a darting run breaking through 3 tackles, before offloading to Tinahely's Eoin Darcy, who fired over Wicklow's second point in the tenth minute. Adrian Enright replied with a point before a mazy run up the wing by Kevin Quinn, who left 3 defenders in his wake, the young Blessington man fisted his shot over the bar from an acute angle, as Wicklow found some momentum. Eoin Darcy pointed from a free after Seanie Furlong was fouled in the next attack.Moments later Darcy had the ball in the back of the Limerick net, however the Monaghan official deemed the Tinahely man had showed the ball just before he shot on goal and a free out was awarded. From this Limerick broke up the field and Hugh Bourke pointed just before the water-break was signalled as Limerick led 0-6 to 0-4. Tommy Griffin and Iain Corbett stretched out the Limerick lead with a point apiece before Mark Jackson landed another pointed free. just before a key score arrived for Davy Burkes charges. A high looping ball was played from the wing into the dangerzone where the alert Eoin Darcy was first to react and flick the size 5 to the net, to level matters 1-5 to 0-8 with 20 odd minutes played. Wicklow gave away a cheap score when a free was moved in 13m more advantageous for dissent, as Limerick retook the lead. Mark Jackson restored parity from another placed ball, however the Bourke brothers each pointed in additional time, before the half time whistle sounded, as Billy Lee's side led 0-11 to 1-06.
Kevin Quinn pointed on the restart to cut the deficit to the minimum, however a number of stoppages for injuries followed, taking any pace out of the opening third quarter. Danny Neville and Seanie Furlong traded points before Hugh Bourke harvested Limerick's 13th point, their first from a placed ball. Bourke and Darcy both traded pointed frees as the second half water break was signalled, as Limerick now led by 2pts, 0-14 to 1-09, going into the final quarter. Wicklow rode their luck as Robbie Bourke cannoned a shot of the upright early on, Hugh Bourke tallied a brace of points from placed balls before Limericks first major arrived, Danny Neville found the back of the Wicklow net after a stray kickout was punished. Patrick O'Connor landed a fine point for Wicklow, but moments later Neville turned provider as Hugh Bourke palmed home Limericks 2nd major, a huge dent to Wicklow's hopes at this stage, as the visitors now led
2-16 to 1-11
. Limerick put the result beyond doubt with a brace of late points before Mark Jackson landed Wicklow's final point of the game.
SCORER'S :
Wicklow : Eoin Darcy 1-03, (2f), Mark Jackson 0-3 (3f), Kevin Quinn 0-2, Padraig O'Toole 0-2, Dean Healy 0-1, Seanie Furlong 0-1.
Limerick : Hugh Bourke 1-05 (5f), Danny Neville 1-03, Robbie Bourke 0-2, Gordon Browne 0-1, Tommie Childs 0-1, Tommy Griffin 0-1, Adrian Enright 0-1, Seamus O'Carroll 0-1, Gerard Stack 0-1, Iain Corbett 0-1
Wicklow : Mark Jackson (Baltinglass); Jamie Snell (Rathnew), Ross O'Brien (Rathnew), Oisin Manning (St. Judes); Kevin Quinn (Blessington), Niall Donnelly (St. Pats),Dave Devereux (Ballinteer St. Johns); Padraig O'Toole (Kiltegan), Dean Healy (St. Pats); Darragh Fitzgerald (AGB), Mark Kenny (Ballymanus), Conor Byrne (Avondale); Eoin Darcy (Tinahely), Seanie Furlong (Kiltegan), Jp Hurley (AGB)
SUBS : Eoin Murtagh (Dunlavin), Fintan O'Shea (Eire Og), James Sheerin (Garycastle), John Crowe (St. Pats), Patrick O'Connor (Blessington) Daniel Keane (Eire Og), Chris O'Brien  (AGB)
Limerick : Donal O'Sullivan; Sean O'Dea, Brian Fanning, Michael Donovan; Robert Childs, Iain Corbett, Gordon Brown; Darragh Treacy, Tommie Childs; Tommy Griffin, Robbie Burke, Adrain Enright; Danny Neville, Cillian Fahy, Hugh Bourke.
SUBS ; Paul Maher, Gerard Stack, Seamus O'Carroll, Luke Murphy, Cian Sheehan, Padraig De Brun,
Ref : Niall McKenna (Monaghan).