ALLIANZ HURLING LEAGUE Div. 2A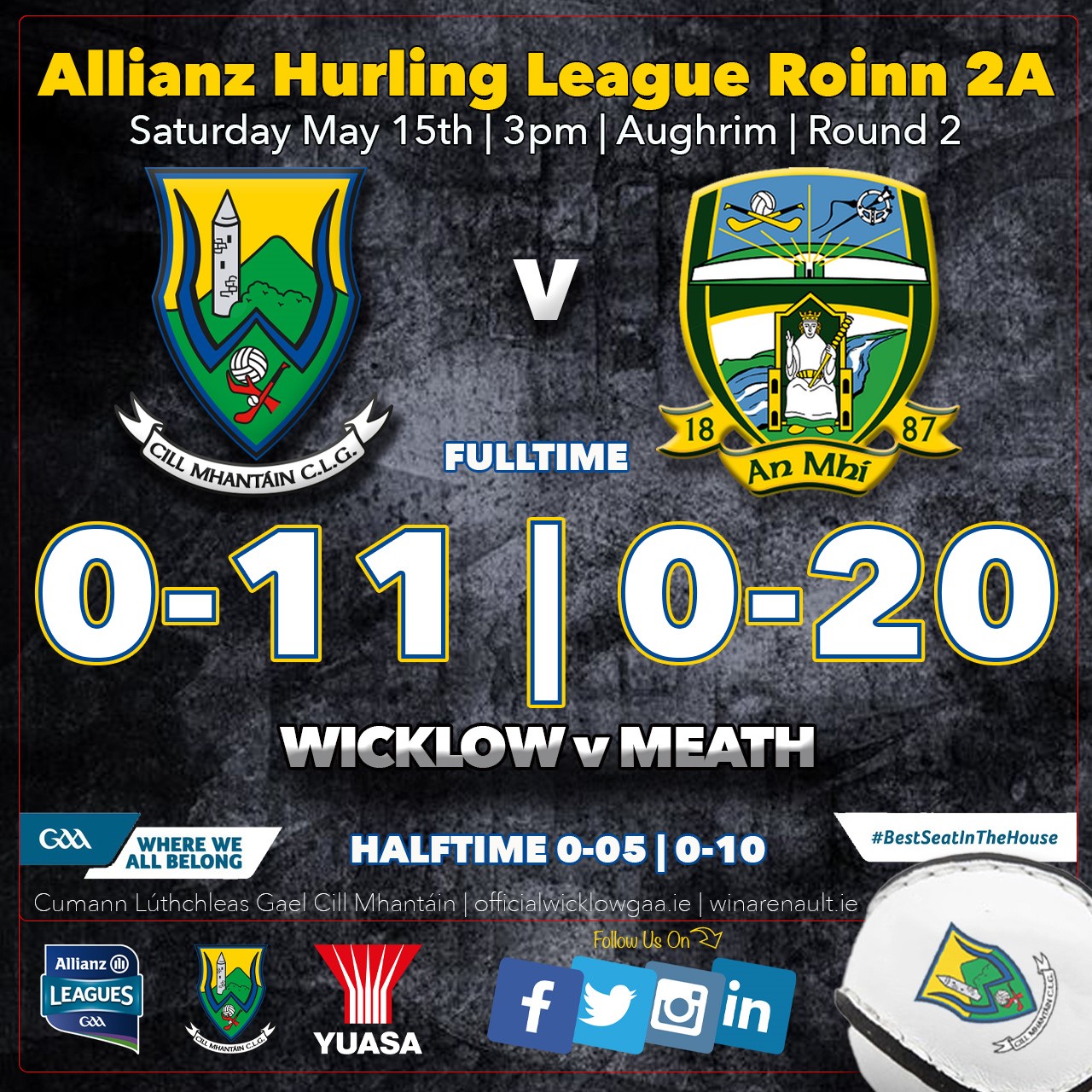 WICKLOW  0 – 11
MEATH       0 – 20
Meath were the visitors to Aughrim for this Round 2 encounter of the Allianz Hurling League  and the Royals took home the spoils in a very wet, damp and miserable Aughrim. Wicklow lined out with a number of changes in personel from last weekends starting fifteen in Carlow.
Eamonn Scallan's side started the brighter in the opening exchanges with Bray's Eoin McCormack firing over a sweet point for the opening score in the third minute. Meath replied with full forward Mark O'Sullivan levelling matters in the next attack. Christy Moorehouse opened his account from a placed ball after great play by the Danny Staunton to edge Wicklow ahead. Tenacious defending by the Wicklow backs, with two great blocks, denying certain points for the Royals in the next period followed. However, Patrick Conneely restored parity in the next play with a long range point.
A powerful high ball into the danger zone was gathered by Andy O'Brien who left two defenders in his wake and Andy's rocket of a shot was brilliantly tapped over the crossbar by the Meath netminder, from the first real goal chance of the game. Again Meath replied with a pointed free before Luke Evans cut a dashing run through the heart of the Meath rear guard, and Evans himself struck over a sublime point. Wicklow lost possession after a late hit went unpunished by the referee, Meath broke up the field to add a point, then Daithi McGowan picked up a yellow card for the late hit after a linesman call. Wicklow were guilty of turning over possession and were punished when Gavin McGowan levelled proceedings, just before the 1st water break was summoned.
Well if both sides didn't get enough water on board during the interval, they got it in bucketful's as they lined up for the restart, monsoon conditions with driving rain followed over the next couple of minutes. The Meath men were finding their range far easier, accumulating three pointed frees on the bounce. James Kelly and Mark O'Sullivan stretched out the Royal's lead out to 5, with a point apiece as Wicklow struggled in the wet conditions. As the half time whistle sounded the scoreboard read 0-10 to 0-5.
Meath pointed on the restart from another placed ball. Good work and quick thinking by Danny Staunton bought a free for Andy O'Brien who fired over to stem the Royal onslaught. However Meath were finding their comrades with greater ease all over the pitch and tagged on a couple of points to stretch out the lead, one following from a blatant push in the back on John Henderson. Christy Moorehouse and Jack Regan traded pointed frees as Wicklow brought on fresh legs. Christy fired over another pointed free as the water break was signalled, with Meath now leading 0-14 to 0-8.
Another Regan point was followed by a powerful score from Danny Staunton as the home side found some momentum. However some wayward shooting from placed balls went amiss from a number of Wicklow free taker's in the next period before Moorehouse landed Wicklow's tenth white flag. Regan added a brace of points for Meath going into the closing stages. Michael Mangan who was keeping full forward Mark O'Sullivan fairly quiet through out proceedings took one for the team, when he took out an opponent bearing down on goal. This resulted in a penalty and a yellow card for the Wicklow fullback, who was off into the bin under the new rule in hurling, was signalled by the match referee. Up stepped Jack Regan to look for the first major of the game, however goalie, Conor McNally was up to the task and saved the peno.
Andy O'Brien was clean through on goal and it appeared like he was cleaned out as he was going to pull the trigger, "play on" was the call from the ref as we entered the dying minutes of the game. Gary Byrne was busy defending in the next couple off plays, clearing anything that came his way. However, Adam Gannon fired over a brace of points as the full time whistle sounded. Wicklow will seriously have to improve on a tally of 5 points from play going forward into the next Sunday where they will meet Down in Aughrim at 2pm.
Wicklow MOTM : Danny Staunton.
SCORERS :
Wicklow : Christy Moorehouse 0-5 (5f), Danny Staunton 0-2, Andy O'Brien 0-2 (1f), Luke Evans 0-1, Eoin McCormack 0-1.
Meath : Jack Regan 0-6, (5f), Padraic O'Hanrahan 0-3 (2f), Gavin McGowan 0-3, Mark O'Sullivan 0-2, Alan Douglas 0-2 (1f), Adam Gannon 0-2, Patrick Conneely 0-1, James Kelly 0-1.
Wicklow : Conor McNally (Bray Emmets), David Maloney (Bray Emmets), Michael Mangan (Stratford/Grangecon), Martin O'Brien (Annacura)' Gary Byrne (Glenealy), John Henderson (Bray Emmets), Peter Keane (Eire Óg Greystones), Jack Doyle (Carnew Emmets), Luke Evans (Kilcoole); Daniel Staunton (Glenealy), Andy Walsh (Eire Óg Greystones), Eoin McCormack (Bray Emmets); Christy Moorehouse (Bray Emmets), Andy O'Brien (St Patricks), Michael Boland (Bray Emmets)
SUBS : Wayne Kinsella (Shillelagh/Coolboy), Torna Mulconry (Avondale), Mark Murphy (Stratford/Grangecon), Matthew Traynor (Glenealy),Padraig Doran (Carnew Emmets), Gavin Weir (Glenealy), Ciaran Breen (Barrow Rangers)
Meath : Charlie Ennis, Michael Burke, Shane Whitty, Sean Geraghty, Keith Keoghan, James Toher, James Kelly, David Reilly, Padraic O'Hanrahan, Daithí McGowan, Jack Regan, Alan Douglas, Gavin McGowan, Mark O'Sullivan, Patrick Conneely.
SUBS : Damien Healy, Stephen Morris, Jack McGowan, Adam Gannon,
Ref : David Hughes