Carnew Emmets to host Scór Sinsir 2022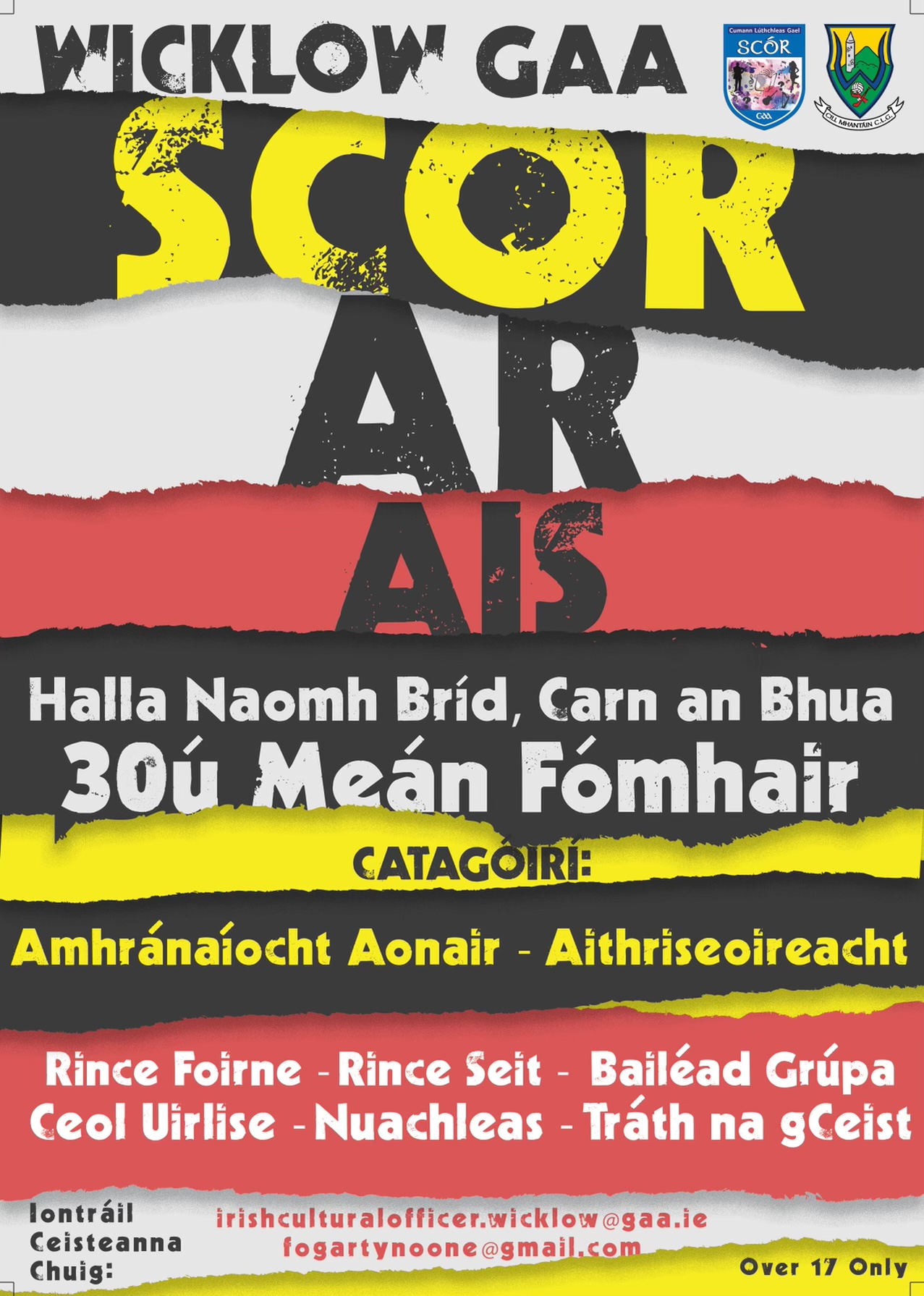 Scór Sinsir (Senior Scór) is making its return to the clubhouses, theatres and halls of Ireland this autumn. After their notable success in Scór na nÓg earlier this year (county titles in Aithriseoireacht and Nuachleas, and a Leinster title in the former category for Abbey Ní Dheoráin), Carnew Emmets will host this year's Scór Sinsir County Final which takes place in St Bridget's Hall on Friday September 30th.
After the huge success of our Scór na nÓg County Final, hosted by Blessington GAA in early March, Scór Sinsir promises to be another brilliant event which will no doubt showcase the wonderful talents of club members throughout the county. Scór Sinsir is the adult equivalent of Scór na nÓg so participants must be 18 years or older by 31st of December 2022. Essentially, that means you need to be born in 2004 (or any year before that – there's no upper age limit!) to be eligible.
The categories are the same as Scór na nÓg – Amhránaíocht Aonair (Solo-Singing), Aithriseoireacht (Recitation), Ceol Uirlise (Instrumental Music), Nuachleas (Novelty Act), Bailéad Grúpa (Ballad Group Singing), Rince Foirne (Figure Dancing), Rince Seit (Set Dancing) and Tráth na gCeist (Question Time).
Keep an eye on Wicklow GAA's social media over the coming weeks for more information. If you're interested in taking part, contact your club's Irish Officer or Secretary. Clubs can enter by downloading the entry form from the Scór section of the website and sending it to Wicklow GAA's Oifigeach Gaeilge agus Cultúir, Shane Byrne, at irishculturalofficer.wicklow@gaa.ie or Rúnaí Scór, Kathryn Noone, at fogartynoone@gmail.com.