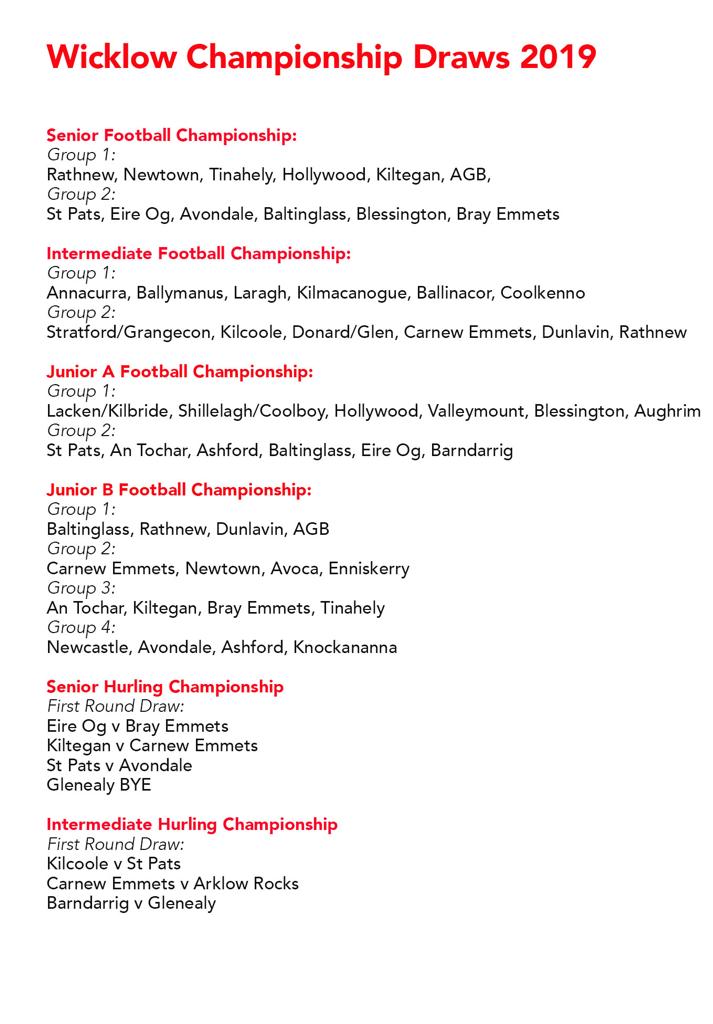 Wicklow Championship Draws 2019 took place on Monday evening.
In the Senior Football Championship last years winner St. Patricks and county finalists Rathnew were seeded so avoided each other in the group stages. In group 1 Rathnew will take on newly promoted Tinahely, a young and improving AGB team and also the more experienced teams from Newtown, Kiltegan and Hollywood. In group 2 St. Patricks will be looking for wins over Eire Óg, Avondale, Baltinglass, Blessington and Bray Emmets if they are to qualify for the later stages of the championship.
In the Intermediate Football Championship newly relegated Annacurra and Coolkenno will face Ballymanus, Laragh, Kilamc and Ballinacor in Group 1. Meanwhile Stratford/Grangecon, Kilcoole, Donard/Glen, Carnew Emmets, Dunlavin and Rathnew play in Group 2.
In the Junior A Football Championship newly amalgamated Shillelagh/Coolboy are grouped with last years Junior B winners Hollywood along with Lacken/Kilbride, Valleymount, Blessington and Aughrim. In Group 2 are St. Patricks, An Tochar, Ashford, Baltinglass, Eire Óg and Barndarrig.
The Junior B Football Championship is made up of 4 groups. In group 1 are Baltinglass, Rathnew, Dunlavin and AGB. In Group 2 are Carnew Emmets, Newtwon, Avoca and Enniskerry. Group 3 is made up of An Tochar, Kiltegan, Bray Emmets and last years Junior C winners Tinahely. Newcastle, Avondale, Ashford and Knockananna make up Group 4.
The first round fixtures for the Senior Hurling Championship are:
Eire Óg v Bray Emmets
Kiltegan v Carnew Emmets
St. Patricks v Avondale
Glenealy BYE
Intermediate Hurling Championship Round 1:
Kilcoole v St. Patricks
Carnew Emmets v Arklow Rock Parnells
Barndarrig v Glenealy