Cumann na mBunscol 2023 – Article 3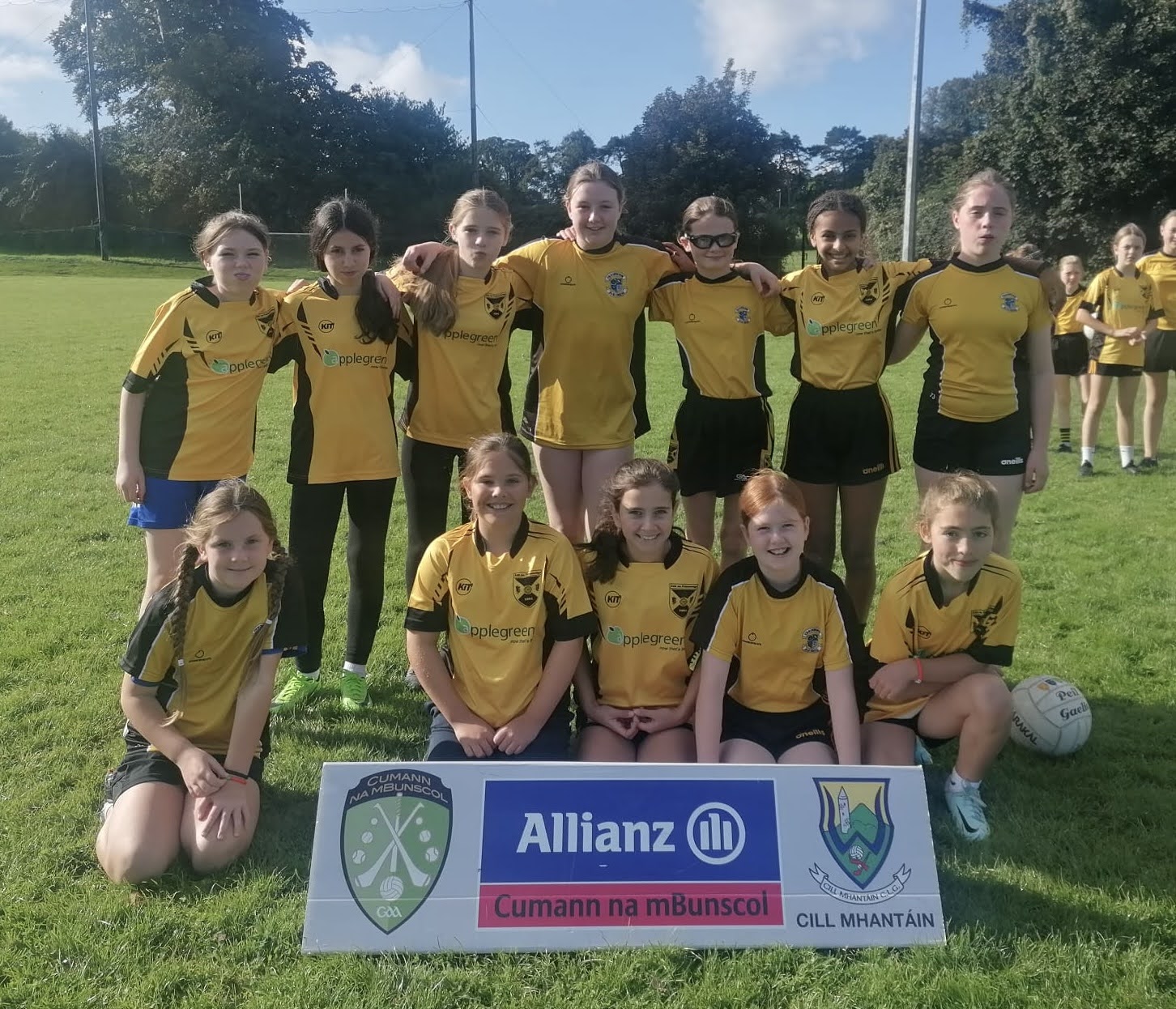 Allianz Cumann na mBunscol Chill Mhantáin
Welcome back to the start of another school year.  Let's hope it's a happy, healthy and successful one. We have an exciting calendar of events planned for 2023-2024 and are looking forward to it.  Well done to those who represented the Garden County in Croke Park during the summer in both a playing and refereeing capacity, what an amazing achievement, you should be very proud of yourselves.
Girls Football is Booming with Huge Numbers!
There was a huge turnout for the opening blitz of the Allianz Cumann na mBunscol fixture list on Thursday 21st September in Bray Emmets GAA Club. 16 different schools were represented on the day, bringing 31 teams for a festival of football on a sunny September morning! The schools in attendance were: Newtownmountkennedy PS, Greystones Community NS, St Peter's, St Laurence's, Ravenswell, St Brigid's, Scoil Chualann, Roundwood, Gaelscoil na gClochLiath, Gaelscoil Chill Mhantáin, Kilmacanogue NS, Nun's Cross, Greystones ETS, Gaelscoil Uí Chéadaigh, Holy Rosary Wicklow and Scoil Na Coroine Mhuire, Ashford. It was great to see a range of schools in attendance and giving the opportunity to over 300 girls to take part in the participation blitz. The games were spread out across 13 pitches. Many thanks to team mentors for the refereeing of games and huge thank you to Dave Barry for co-ordinating the pitches on the day. Each school played up to 5 games on the day. The games were played in great spirit and were an enjoyable watch for all spectators. There was a fantastic display of and team work in each match. The coaching in clubs and schools is evident with the level of skill that was on display in the games. Mile buíochas to all schools for making the day an enjoyable experience for all.
5th and 6th Class Boys Football Participation Blitz
A Boys Football Participation Blitz for 5th and 6th class will take place on Thursday 28th September in Bray Emmets GAA Club.
Please note an earlier start time for the Blitz this year – 10:30am. 
We kindly ask schools to arrive 15 minutes earlier in order to start the Blitz at 10:30am.  
Matches will be 9 a-side.
Matches will follow the 2-touch rule (1 hop, 1 solo; 2 solos).
Points only 
Date: Thursday 28th September.
Time: 10:30am
Location: Bray Emmets GAA Club.  
Please let Áine Quinn, Oifigeach Peil na mBuachaillí, know via email/WhatsApp (086 8803729) by Tuesday 26th September if your school will be in attendance and, if so, how many teams you will be sending.
Please note Cumann na mBunscol blitzes are all teacher-led events – team mentors must make themselves available to referee games. We also ask all schools to assist with tidying up pitches at the end of the blitz i.e. goals moved to sidelines, poles and cones collected and returned to container by astro.
Schools must be registered with Cumann na mBunscolto participate in CMB activities.
Young Whistlers Course (Football)
If you are interested in participating in the Young Whistler training course, please fill in the registration google form below. The course details are below:
Young Whistler referee course
Wednesday September 27th from 3:30 to 4:45 p.m.
Kilcoole Primary School (St Anthony's building)
The course is run in conjunction with the GDA (Games Development Administrator) Garrett Doyle. Course participants should consist of one boy/one girl from 5th/6th classes (maximum 2 participants from each school). Each child receives a course certificate, a whistle and a Young Whistler rain jacket. These Young Whistlers will be strongly encouraged to referee at the upcoming football blitzes (non-competitive).
Young Whistlers Registration Form:
https://forms.gle/bKRwpDbWrGcj1HUNA
The course closing date is Friday 22nd September, and places are limited.
Registration and County AGM
A big thank you to those who attended the Cumann namBunscol Wicklow AGM in Laragh on the 13th September. A special thanks to Pádraig Murphy for hosting the AGM in Scoil Chaoimhín Naofa. Some lucky AGM participants won sports equipment such as a Wicklow jersey, footballs, sliotars, helmets, hurls, water bottles, bibs and cones for their schools.
Registration and Payment of Membership
If you have not yet registered and paid your school's yearly membership of Cumann na mBunscol Wicklow please do so by filling out the google registration form (see link below). This form provides details of how to pay as well as recording your school's contact details etc.
Cumann na mBunscol Wicklow Registration Form 2023:
https://forms.gle/1q4tHFy3gtPHCM4x6
WhatsApp Groups
If you would like for yourself or any other staff member to be added to the appropriate WhatsApp group, please contact the administrator of these groups (see below). The organisation of blitzes is often organised exclusively through this medium so it is important to join these groups.
North East: Brian Cornyn – 0879710224
South: Pádraig Murphy – 0873481540
West: Michael Moran – 0868842181
New Committee Members
We would like to remind all Cumann na mBunscol Wicklow members that we are a teacher led organisation reliant on the good will and volunteering spirit of teachers. They give up their time and energy so children in our schools can enjoy Gaelic games and athletics in a fun and encouraging environment. In this respect we thank all committee members who give up their time freely to assist in achieving this aim. We also welcome new members to join us in helping keep Gaelic games alive and well for the next generation. A special welcome to our new committee members: Camogie Officer(s): Cliona Keddy and Jennifer Small (Gaelscoil nagCloch Liath) and Assistant Secretary: Mick Dunne (St. Laurence's).
If you would like to help out in the areas of Assistant PRO or Rounders Promotion Officer please contact runai.cnmbwicklow@yahoo.ie or Brian Cornyn (0879710224).
Hurling Promotion
A set of 30 indoor/outdoor hurls as well as 30 helmets areavailable for hire from Cumann na mBunscol Wicklow. These can be borrowed for a maximum of 6 weeks for use in the promotion of hurling within your school. Feedback from GDAs (Games Development Administrators) is that a lack of equipment can be the biggest impediment to coaching hurling in our schools. If your school is interested in availing of this option, please contact Eamonn Hughes at eamonn.hughes1@gmail.com.
Promotion of Cumann na mBunscol Activities
If sharing photos/reports on your school Facebook/twitter/Instagram pages the use of Allianz is crucial for their continued sponsorship to Cumann namBunscol.  Please tag:
@AllianzIreland
#AllianzCnmb
Appeal for articles:
Please email photos/reports to pro.cnmb.wicklow@gaa.ie by Friday each week so it can be sent on in time to be included in the local papers/media.  It is great to get representation from all over the county, undoubtedly there is great work being done it's just a matter of showcasing it.  Cumann na mBunscolChill Mhantáin loves to see work from the children as young journalists who are encouraged to write a report of their first-hand experience.  To then see it published, it is a keepsake for years to come. Thanks to those who played/refereed in Croke Park during the summer for sending on their accounts of their special day.
Cornmarket Cumann na mBunscol National Awards 2024
Wicklow has a tradition of success in these awards.  In 2023 Wicklow Cumann na mBunscol won a merit award for Public Relations and Kilcoole Primary School came 2nd in the School of the Year category.  It is a competition well worth entering with prizes such as a trip to Croke Park for a class.
Categories in the awards for this coming year are as follows:
Pat Trainor Hall of Fame
Category 1: Allianz Public Relations
Category 2: Social Media Award
Category 3: Cumann na mBunscol Publication
Category 4: Promotion of Gaelic Games and Culture (Schools)
Category 6: School of the Year
All information can be found here: 
https://www.cnmbnaisiunta.com/awards/entries-and-information/
Closing Date for Entries is Wednesday 10th January 2024.
Allianz Cumann na mBunscol Chill Mhantáin
North East Fixtures List 2023-2024
**N.B. Please be aware that the new start time for blitzes is 10:30am!!!!
Term One – Focus on participation-based games
Allianz Camogie League Day​
Thursday 5th October at 10:30am in Bray GAA grounds.  Nine-a-side and no age limit.  
Boys' Allianz Hurling Blitz Day ​
Thursday 12th October – at 10:30am in Bray GAA grounds.  Nine-a-side and no age limit.  
Allianz Girl's Football Participation Day (3rd and 4th Class Girls Football)
Thursday 19th October at 10:30am in Bray GAA grounds – Girls' football blitz, nine-a-side and no age limit.  Points only. Young Whistlers can be used.
Allianz Football Participation Day (3rd and 4th Class Boys)
26th October at 10:30am in Bray GAA grounds. Boys' football blitz, nine-a-side and no age limit. Points only. Young Whistlers can be used.
Hurling Young Whistlers Course
North East – Wednesday 8th November in Kilcoole Primary School at 3.30 p.m.
South – TBC
West – Wednesday 15th November, venue to be confirmed
Allianz Tráth na gCeist​
Thursday 9th November at 7.30 p.m. in Lynhams, Laragh
Term Two
Focus on Indoor Blitzes are participation–based
(3rd / 4th Class) Indoor Hurling/Camogie Blitz
Week of 17th, 18th, 19th January  Boys Hurling    Venue to be confirmed.  (Young Whistlers)
Week of 24th, 25th, 26th January  Girls Camogie  Venue to be confirmed.  (Young Whistlers)
Boys' Football Allianz Coughlan Cup Day 1
Thursday 29th February      Bray Emmets​
Eleven-a-side and no age limit at 10:30am
Points only, goalkeeper. 3 points for a point, 1 point for a goal.
Girls' Wicklow Times Shield Day 1
Thursday 7th March at 10:30am in Bray – 11-a-side.
Points only, goalkeeper. 3 points for a point, 1 point for a goal.
Boys' Football Allianz Coughlan Cup Day 2​
11th April at 10:30am in Bray Emmets – 11-a-side.
Points only, goalkeeper. 3 points for a point, 1 point for a goal.
Girls' Wicklow Times Shield Day 2
18th April at 10:30am in Bray Emmets – 11-a-side.
Points only, goalkeeper. 3 points for a point, 1 point for a goal.
INTO Skills Challenge​
(Two pupils per school may participate in each discipline – Boys' and Girls' Football, Camogie and Hurling.)
9th April 9th (Tuesday) ​North East – Bray Emmets
10th April (Wednesday) ​South – Ballinakill
11th April (Thursday) ​​West – Blessington
17th April (Wednesday)​County Skills Test Final in Ballinakill
Credit Union Cup (Hurling)​
15th May at 10:30am (Ballinakill). One day boys' nine-a-side hurling blitz.  Competitive games.
Allianz Camogie Day​
22nd May at 10:30am (Ballinakill).  One day girls' nine-a-side camogie blitz.  Competitive games.
Sports Day Meeting​​
Wednesday 29th May at 8.00 p.m. in NewtownmountkennedyPrimary School
It is imperative that any school participating in Sports Day 2024 is represented at this meeting.
Sports Day​
Wednesday 12th June at 10.00 a.m. in Charlesland Sports and Recreational Centre (There are strict age limits for Sports Day)
Please send results, reports or photos to pro.cnmb.wicklow@gaa.ie, follow us on twitter @cnmbwicklow  Keep up-to-date with all Allianz Cumann namBunscol news in Wicklow on our website www.cnmbwicklow.ie