Cumann na mBunscol (Article 22)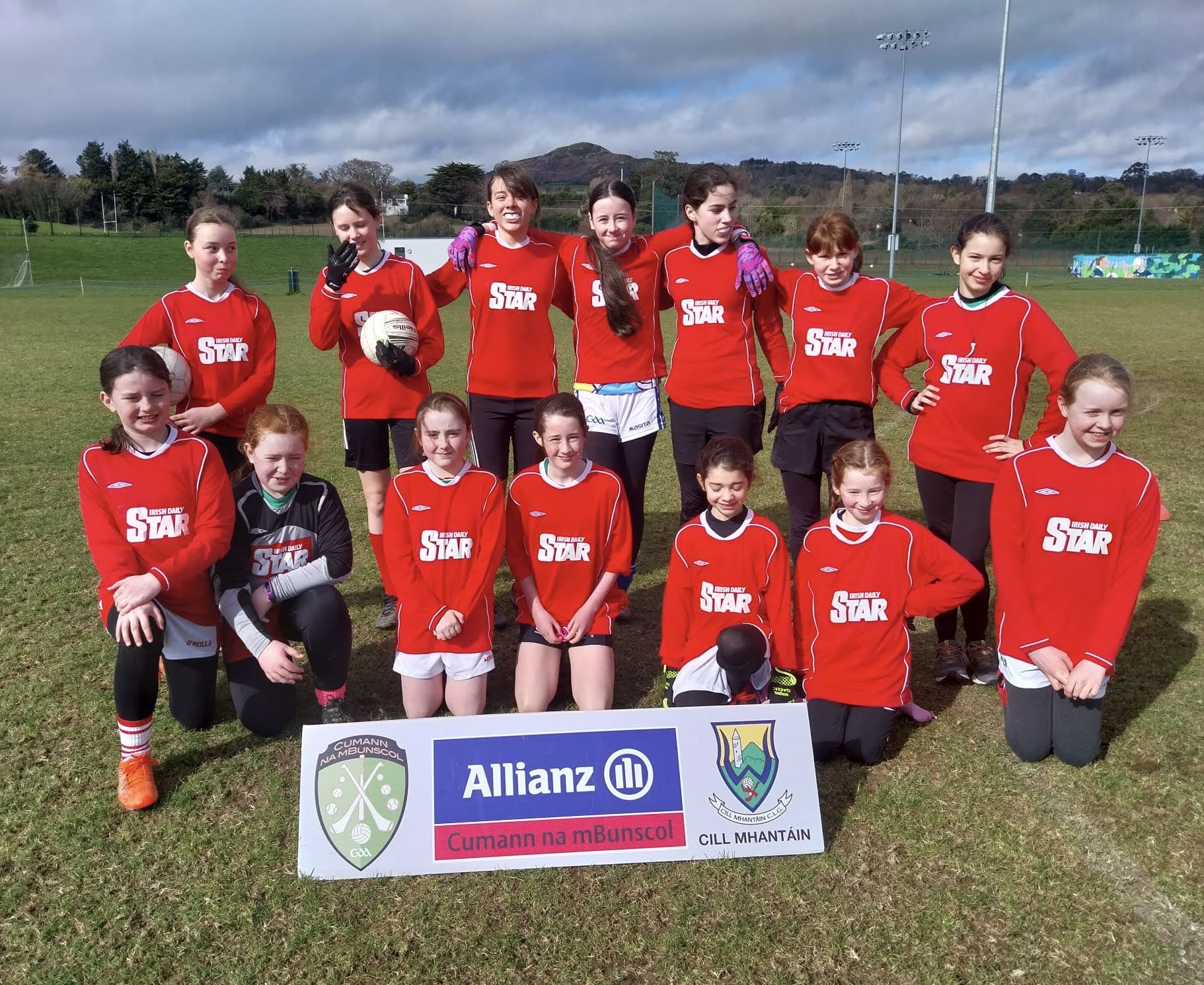 Great Day Out at Girls' Wicklow Times Shield Day 1
Bray Emmets GAA club played host to Day 1 of the rescheduled Wicklow Times Shield Girls Football Blitz on Thursday 16th March. 19 teams participated in the Blitz on a day where the weather presented all four seasons to us! Teams from the following schools were present; Newtownmountkennedy PS, Kilcoole PS, St Peter's, St Fergal's, St Joseph's Glenealy, Gaelscoil na gCloch Liath, Gaelscoil Chill Mhantáin, Roundwood, St Patrick's Wicklow Town, Ravenswell, Greystones ETNS, Holy Rosary Wicklow Town and Kilmacanogue NS. Each school got the opportunity to play at least four matches. There was a high standard of football skills on display and we are all now looking forward to the competitive blitz day at the end of the month. Many thanks to our TY referees and Bray Emmets GAA club for facilitating the event at short notice. Day 2 of the Wicklow Times Shield takes place on Thursday 30th March in Bray Emmets GAA club.
West Wicklow – Blitzes in Baltinglass and Hollywood
There was a 5th and 6th class girls blitz as well as a 3rd and 4th class boys blitz held in Baltinglass and Hollywood respectively. The focus of these blitzes was on participation. Schools represented at the girls blitz in Baltinglass included Valleymount, Dunlavin, Baltinglass and Hollywood national schools.  The same schools attended the boys' blitz in Hollywood, with the addition of Donard NS.  Well done to all involved.
INTO Skills Challenge – A Chance to Play in Croke Park
South on 22nd March, County Final on 24th March
Due to the weather the South Skills Regional Test had to be postponed and has now been rescheduled for Wednesday 22ndMarch in Ballinakill; and as a result the County Skills Test Final will now be held on Friday 24th March in Ballinakill. Thanks to the Wicklow GDAs for running the tests and for all their organisation.
Event venues and dates:
Wed 22nd March in Ballinakill (South qualifiers)
Fri 24th March in Ballinakill (County Skills Test final)
Time: 
Football and Hurling @11:00am
Girls Football and Camogie @12:30 
(These same times apply for each event above).
Please take particular notice of the age restriction regarding this event. Note that the age limit has changed and is now the same for all schools regardless of enrolment numbers. Participants must be born on or after January 1st 2011.
If a child has represented Wicklow in Croke Park previously in any code they cannot take part at any level of the skills test again e.g. regional skills day, etc. 
The top performing pupils in the County Skills tests will have the opportunity to represent their school and county during the half-time of selected All Ireland Series games during the summer. Best of luck to all involved!
Congratulations to those who qualified in both the North/East and West Skills Tests.
North/East Regional Winners
Boys Football
– Kevin McCart, Ravenswell
– Sean Levins, Kilmacanogue
Girls Football
– Isabella McLeod, Kilcoole
– Heidi Clucas, St Peter's
Hurling
– John Hogan, St Cronan's
– Donnacha de Brún, Gaelscoil na gCloch Liath
Camogie
– Blaithín Keating, Kilcoole NS
– Anna Lucia Gunter, Scoil Chualann
West Regional Winners
Boys Football 
– Harry Kavanagh, Scoil Naomh Íosaif, Baltinglass
– Harry Daniels, Blessington
Girls Football
– Lily Monahan, Scoil Naomh Íosaif, Baltinglass
– Lauren Doyle, Scoil Naomh Íosaif, Baltinglass 
Hurling
– Padraig Byrne, Tynock National School Kiltegan
– Conor Grace, Scoil Niocláis Naofa
Camogie
– Elisha Young, Tynock NS Kiltegan
– Lily Foley, Tynock NS Kiltegan 
Upcoming Fixtures – North/East Wicklow
Boys' Football Allianz Coughlan Cup Day 2​
Day 2 of the Allianz sponsored Cumann na mBunscolCoughlan Cup takes place on Thursday 23rd March in Bray Emmets GAA Grounds at 11.30am (please take note of the slightly earlier start time).
This is a 9-a-side tournament, no age limit, goalkeeper, with 3 points awarded for a score over the bar and 1 point awarded into the net (the emphasis on point scoring). The 'two play' rule will also be applied during games i.e., a player must release the ball after two plays e.g., one hop/one solo or two solos.
Date: Thursday 23rd March
Time: 11:30am
Location: Bray Emmets GAA Club
Rules: 9-aside, goalkeeper, 3 points awarded for over the bar, 1 point awarded for under the bar. Two play rule will apply i.e., one hop/one solo and the ball must be moved on.
Please let Áine Quinn, Oifigeach Peil na mBuachaillí Cumannna mBunscol, know via WhatsApp (086 8803729) no later than Tuesday 21st March if your school will be in attendance and, if so, how many teams you will be sending.
We hope to award trophies and medals to the winners and runners up of each division.
Please pay particular attention to the slightly earlier start time of 11.30am – it is vital that the blitz starts promptly so please allow sufficient time to reach the venue, find your pitch, warm up and be ready for a throw in time of 11.30am.
Finally, we ask all schools to be respectful of the venue that has been so generously supplied to us by Bray Emmets GAA club – please be respectful of the toilet facilities and ensure all rubbish is brought home.
Girls' Wicklow Times Shield Day 2
30th March at 11.45 a.m. in Bray Emmets – 9 a-side.  This is a competitive competition. Full rules.
Upcoming Fixtures – South Wicklow
3rd and 4th Class Girls Football To Be Rescheduled
Unfortunately, this event could not take place due to the inclement weather.  It is hoped to reschedule it later in the year.

3rd and 4th Class Boys Football – 23rd March in Ballinakill
A 3rd and 4th class boys football blitz will take place in Ballinakill on Thursday 23rd March. This will be an outdoor blitz. Please fill out the form below to register by 2pm next Thursday 16th March. We will be organising pitches, referees and fixtures so it is very important that teams are registered on time.
https://docs.google.com/forms/d/e/1FAIpQLSfvudoHWnttXjpjv3RVQG4PLw5HM1tGy4uzPOmGgMQFkTKw0Q/viewform
Upcoming Fixtures – West Wicklow
23rd March ​5th/6th Class Boys Dunlavin @ 11.00am
20th April ​3rd/4th Class Girls Baltinglass @ 11.00am
27th April​5th/6th Class mixed (Small Schools) Stratford @ 11.00am
4th May​5th/6th Class Boys Blessington @ 11.00am
25th May​5th/6th Class Girls Dunlavin @ 11.00am
15th June​1st/2nd class mixed Baltinglass @ 11.00am
Please send results, reports or photos to pro.cnmb.wicklow@gaa.ie, follow us on twitter @cnmbwicklow  Keep up-to-date with all Allianz Cumann namBunscol news in Wicklow on our website www.cnmbwicklow.ie