Cumann na mBunscol (article 22)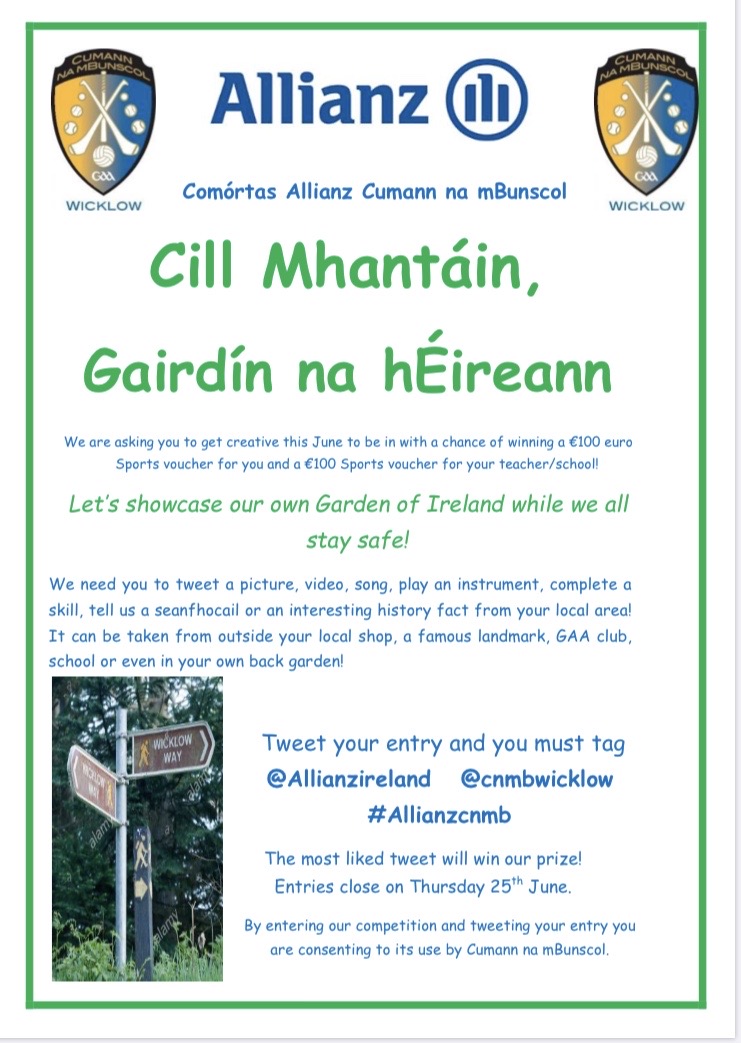 Allianz Cumann na mBunscol Chill Mhantáin
Exciting Competition
We hope that everyone is keeping safe and well. As we face into the final month of the school term our Allianz Cumann namBunscol fixtures would be nearing a close and we should be looking forward to the summer holidays. We are sure that you all, but most importantly the children, are sorely missing our Gaelic games.  As you will be aware our promotion of Allianz via our normal activities and competitions has been severely impacted as a result of the current situation.  As a result, the National Committee of Cumann na mBunscol have asked counties to come up with an activity or competition for their schools to be completed virtually and promoted via county twitter accounts.  Wicklow's competition is titled 'CillMhantáin, Gairdín na hÉireann' (see poster for details).  The entry must submitted via twitter and the following tagged in the tweet @Allianzireland   @cnmbwicklow #AllianzcnmbEntries will be accepted until Thursday 25th June and  the most liked tweet will win a prize of  a €100 euro Sports voucher for themselves and a €100 Sports voucher for the associated teacher/school.  By entering our competition through twitter, the entrant's consent is being given to Cumann na mBunscolfor its use.  Thank you for all your cooperation and support with this and we look forward to seeing your entries!
Questionnaire
Please find a link below in relation to a questionnaire from the GAA Games Development Committee in conjunction with Cumann na mBunscol.
The results of this questionnaire will form the basis to establish a club-school link template. It is therefore vital that this questionnaire is completed giving thought and consideration to your own situation.
We have clarified the meaning behind a few of the questions below.
Q. 2 Does your school have an official and organised Club–School Link in operation?
This means more than just someone from the club dropping in to say hello in the school or leaving in a few balls or sliotars.  
Q. 6 How was that person/s chosen/appointed? 
Please outline if you had any input in the appointment. 
If you don't know how they were appointed please just say you don't know.
Q.7 Are you aware of a Club–School Link template that is in use in your county?
This means an official template.
Q.11 What are the main issues you face in school promoting Gaelic games?
Please list all of these e.g. finance, equipment, coaching etc.
If finance an issue please state how much per year your school spends. 
The link for the survey is: 
https://forms.office.com/Pages/ResponsePage.aspx?id=hrxFrNSvpUKfwz6H4bd_zv6lttLQpjBLv9ryUF4vRT5UM0haMEg0VjdUT1lFUEZFWVhXVDlQRkpOTC4u
The closing date for completion of the survey is Friday 12th June 2020. 
If any child fancies being a journalist, reports are always welcome, please send to pro.cnmb.wicklow@gaa.ie, follow us on twitter @cnmbwicklow  Keep up-to-date with all Allianz Cumann na mBunscol news in Wicklow on our website www.cnmbwicklow.ie