Cumann na mBunscol – Article 30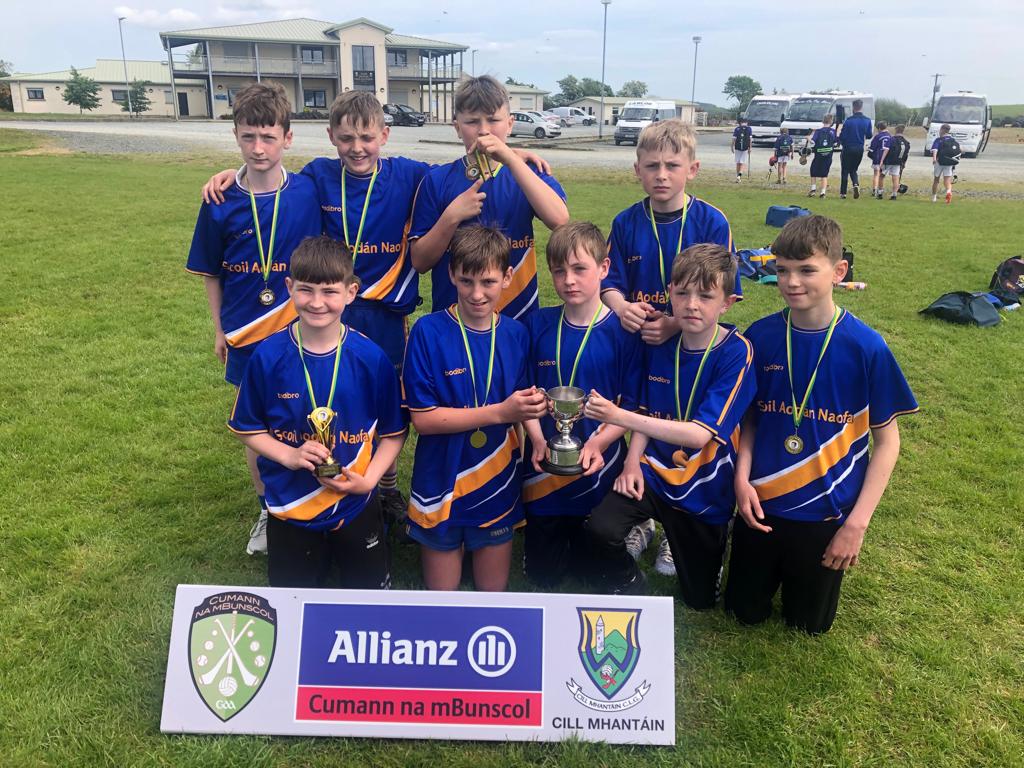 Carnew Claim the Credit Union Cup
Ballinakill was blessed with great weather along with a feast of hurling on the 18th May, as over 170 hurlers descended on the Wicklow Centre of Excellence. 13 teams competed across 3 divisions with all games played with a great level of skill, speed and sportsmanship. 
In the division 1 competition Carnew N.S, St Patrick's N.S, St. Cronan's N.S, Aughrim N.S and Kilcoole Primary School went to battle for the Credit Union Cup. Kilcoole who last won the cup did everything they could to try and retain their title. However, it was the class and skill of Carnew N.S who prevailed on the day with St. Patrick's N.S finishing runners up. Referee Eddie Leonard was complementary of all the players during the presentation and also wished St. Patrick's N.S teacher & mentor Billy Cuddihy all the best with the Wicklow senior hurling team in the Nicky Rackard hurling final. 
Glenealy have produced many brilliant hurlers for Wicklow over the years and they can be excited about a few more on the way, with the display from St. Joseph's N.S as they took the division 2 title.  
Gaelscoil na gCloch Liath, Scoil Chualann & Rathdrum N.S contested all games with a never say die attitude and on another day any of them could've come out on top.  
Greystones CNS, Scoil Chualann, St Patrick's NS and St. Cronan's did battle for the division 3 title. It was Greystones CNS who emerged victorious, playing in their very first Credit Union Cup. The other 3 teams can hold their heads up high with how they played, with many of them still eligible for this competition next year.  
Great credit most go to all the teachers and mentors who turned out teams on the day. They are setting a great example in promoting hurling in Wicklow. A special thanks must also go to Conor Daly GDA who helped out on the day along with the referees.  
We look forward to even more hurling events for 2023/24 academic year.  
All County Allianz Camogie Day on 25th May​
The Allianz Camogie blitz for 5th and 6th classes this year will take place on Thursday 25th May at 11.45 a.m., in Ballinakill Centre of Excellence. These games will be competitive based games. Matches will be 9 a-side but can be adjusted depending on the numbers of both teams.   
Date: Thursday 25th May  
Time: 11:45am  
Location: Ballinakill Centre of Excellence  
Please let Emily Stephenson and Saoirse Morgan, Camogie Officers Cumann na mBunscol, Wicklow know if you are interested in attending this blitz and if possible, how many teams you will be sending. Please can you also let us know if your teams are made up of club players or school-only players or a rough indication of standard of your team so that we can take that into consideration for setting fixtures for this blitz.  
Exact details & fixtures will be sent the week of the blitz once we have all the teams that are participating.   
*Team mentors may be needed to referee some games.  
Sports Day 2023 – Information and Registration
What: Allianz Cumann na mBunscol Sports Day
Where: Charlesland Sports and Recreation Park, Greystones
When: Wednesday 7th June at 10 a.m. sharp.
Sports Day Meeting
The Sports Day meeting will take place on Wednesday 31st May in Newtown Primary School at 8 p.m.
The entry fee of €50 must be returned at this meeting.
1.     The meeting will deal with the organisation of the sports day
2.     School participants' numbers will be handed out
3.     Jobs will be allocated to ALL schools.
Due to the large number of schools taking part, for this to be a successful event and in the interest of fairness, it is essential that each participating school be represented and take responsibility for a job.
N.B. NO LATE ENTRIES FOR SPORTS DAY WILL BE ACCEPTED DUE TO THE RESTRICTED NUMBER OF LANES IN THE VENUE.
Online Registration
As in previous years we are using the online system for registration. This MUST be done before the meeting on Wednesday May 31st. 
You can register online by clicking on the following link for the Allianz Cumann na mBunscol Wicklow Sports Day Registration Page:
Sports Day Guidelines 2023
· A school representative must be present at the meeting on May 31st.
· Age limits = Competitors must be under 8, 9, etc. on January 1st 2023
· Competitors can only take part in one event (Track or Field).
*Relay Teams are made up from 4 runners who are already competing in track events.
Field Events
Long Kick
· In the Long Kick event the ball is kicked from a dead ball position or from hand.
· Competitors may have three attempts.
· Distance wins.
Long Puck
· In the Long Puck event the ball is hit from the hands or from the ground.
· Competitors may have three attempts.
· Distance wins.
· Helmets must be worn.
Long Throw
· In the Long Throw event a sliotar is thrown using an overarm throw.
· Competitors may have three attempts.
· Distance wins.
Long Jump
· In the Long Jump event competitors may take a run to jump off the (spring) board. If part of the foot is over the jumping board the jump does not count!
The last part of the body to touch the sand is the distance recorded.
· Competitors may have three attempts.
· Distance wins.
Tug of War (No age limits for this event)
· There are 6 members on the tug of war team with one sub.
· Competitors may wear football boots and gloves.
*Relay Races
Relay Teams are made up from 4 runners who are already competing in track events.
Other points to note:
· No late entries will be accepted due to the restricted number of lanes in the venue.
· Each school is responsible for the supervision and safety of their own participants and supporters and the Garda vetting of their volunteers.
· Video recordings of races and events will not be accepted in affecting the judges' decision. The judges' decision will be final.
· Any grievances that arise are to be directed to the school's own sports day coordinator! As teachers, we are all volunteers on the day!
· Running shoes must be worn for all track events. No football boots, spikes or running shoes with spikes removed are permitted for these track events.
· Long Puck, Long Kick, Long Jump and Ball Throw contests for girls are separate from boys.
· Competitors may have three attempts in these events.
· Medals will be presented after each final.
· Each school is responsible for their own litter. Please bring litterbags.
South Wicklow
3rd and 4th Class Football – Boys and Girls Blitzes Running Simultaneously
This participation blitz will take place on the 15th June at 10:30 a.m. in Ballinakill.
West Wicklow
25th May​5th/6th Class Girls Dunlavin @ 11.00am
15th June​1st/2nd class mixed Baltinglass @ 11.00am
Please send results, reports or photos to pro.cnmb.wicklow@gaa.ie, follow us on twitter @cnmbwicklow Keep up-to-date with all Allianz Cumann namBunscol news in Wicklow on our website www.cnmbwicklow.ie