Cumann na mBunscol Article 34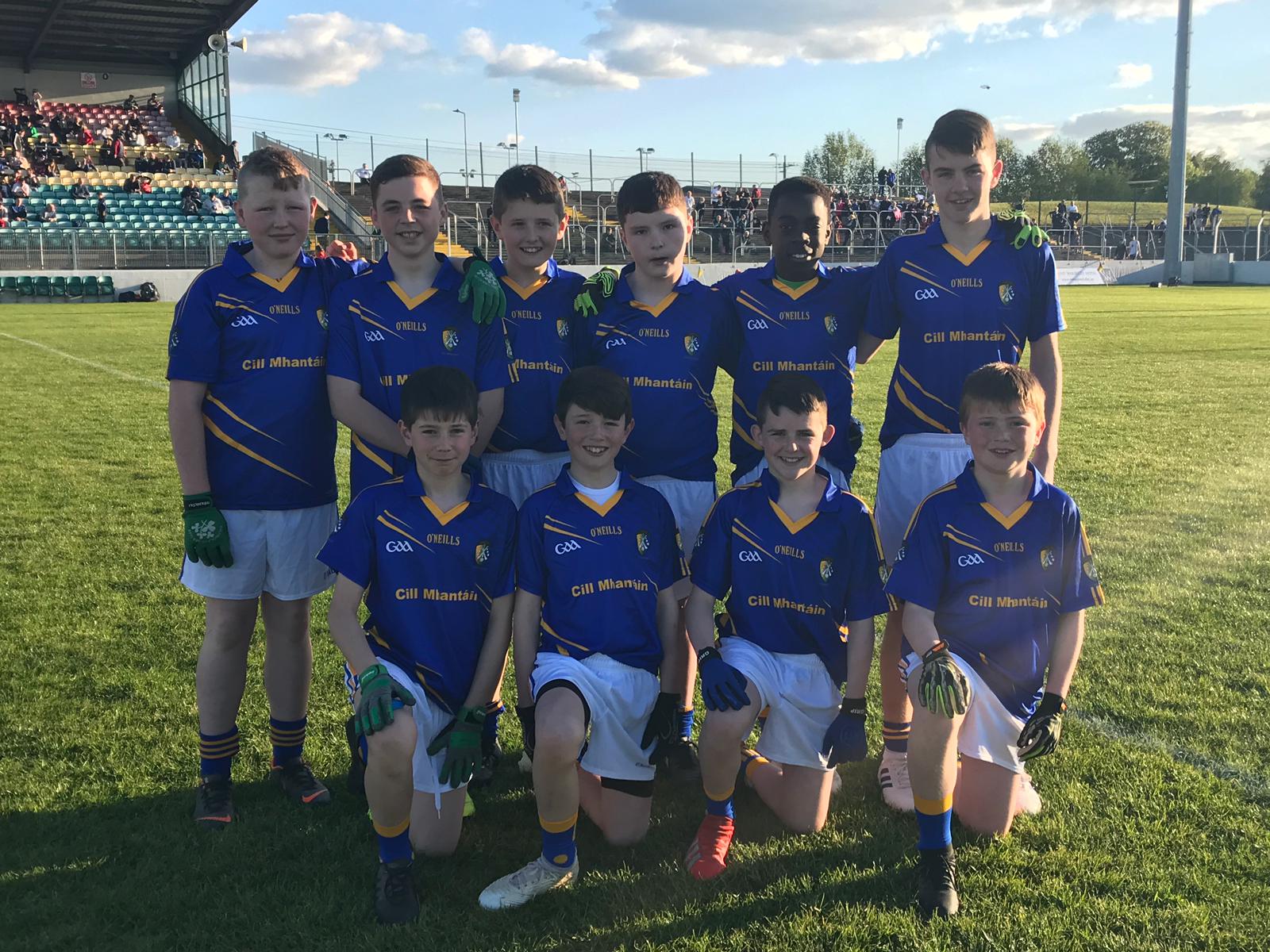 Allianz Cumann na mBunscol Chill Mhantáin
Wicklow v. Kildare Half-Time Game
By Martin Byrne, 6th class, Dunlavin
We were really excited to be asked to play at half time during the Wicklow vs Kildare Leinster Championship match which took place in Dr Cullen Park, Carlow on Saturday May 11 at 7 p.m. Five students from our school, Scoil Nioclais Naofa Dunlavin, and five from Scoil Naomh Iosaf Baltinglass were chosen to represent Wicklow. We met underneath the scoreboard at the pitch a few minutes before half time. Teachers, Sinead Keogh and Ciaran Walsh, organised us into positions just before we ran on to the pitch. It was a great feeling. We played very well and beat Kildare in our mini game. Unfortunately the senior team didn't follow our example.
Dunlavin N.S players: Martin Byrne, Ben Joyce, Toby Miley, Bradley Guing an Darragh Corrigan.
Scoil Naomh Iosaf players: Connor Doody, Kareem Matonmi, Diarmuid Woulfe, Eoghan Cooney and John-Paul Kearney- Keogh.
Carnew come out on top at Final Camogie Blitz
Mol an óige agus tiocfaidh sí agus b'shin an scéal nuair a chas imreoirí ó Chill Mhantáin ar Ráth Droma i gcomhair bliots camógaíochta deireadh na bliana. Go dtí seo bhíodar ag glacadh páirt i mbliotsanna rannphairtíochta ach inniu bhí an deis acu corn a bhuachaint chomh maith. Chuireadar an-iarracht isteach inniu agus d'éirigh leo ar fad go leor camógaíochta a imirt. The final Allianz Cumann na mBunscol Camogie blitz of the school year took place on the 15th of May in the Wicklow Centre of Excellence in Ballinakill. It was a fantastic day where more than 130 young camogie players took part. We had three divisions in this competitive blitz with fourteen teams taking part from eight different schools from across the county.
Skillful and enthusiastic players took to the field for a fun and camogie-filled day. Our three divisions were played across seven pitches which were expertly refereed by our referees. Míle buíochas leis na réiteoirí ar fad a chabhraigh ar an lá, gan iad ní bheadh muid in ann bliotsanna a reachtáil; Con, Micko, Breda, Catherine, Míchéal, Róisín and Alison go raibh míle maith agaibh ar fad!
In Roinn 1 we had teams from Scoil Chualann, Sacred Heart NS, Carnew NS, Our Lady's Rathdrum, Gaelscoil Uí Chéadaigh and Bearna Clé NS. The winners of this division would win Sciath Uí Choitir as well as the honour of representing Wicklow at a Leinster Blitz being held in Laois on the 11th of June. Many congrats to our winners Carnew National School who will go on to represent us in Leinster and to runners up Sacred Heart NS.
In Roinn 2 and Roinn 3 we had teams from Gaelscoil Chill Mhantáin, St Patrick's NS Wicklow Town, Our Lady's Rathdrum and Sacred Heart NS. What an incredible achievement that some schools were able to field two or three teams. The Roinn 2 winners were Gaelscoil Chill Mhantáin and the runners up were Our Lady's Rathdrum. In Roinn 3 the winners were Our Lady's Rathdrum with Sacred Heart NS coming in second place. Many thanks to Owen Doyle from Ballinakill and Breda Donnelly from Wicklow Camogie for all their help.
Kilcoole are the Champions of the Credit Union Cup!
Due to inclement weather, the original fixture for the Credit Union Cup was postponed and re-fixed. 8 teams took part in the blitz; St Pats 1 & 2, St Cronans, Scoil Chualann, Gaelscoil Uí Chéadaigh, Kilcoole PS, Newtownmountkennedy PS and Glenealy. The teams were divided into two groups to play against each other. After 3 rounds of competitive hurling, Glenealy, St Cronans, St Pats 1 and Kilcoole qualified for the Credit Union Cup Divsion 1 semi finals. Kilcoole defeated St Cronans while Glenealy beat St Pats to qualify for the Divsion 1 decider. After a keenly contested final that was full of silky hurling skills and fantastic scores, Kilcoole came out victorious on a scoreline of 1-6 to 1-4. Kilcoole will now represent Wicklow in a Lift & Strike hurling blitz in Carlow against teams from all over Leinster.
Scoil Chualann and Gaelscoil Uí Chéadaigh contested an all-Bray Division 2 final with Gaelscoil Uí Chéadaigh coming out on top in that battle. In the Division 3 decider St Pats 2 beat a young and improving Newtownmountkennedy team. Many thanks to Philip Campion, Johnny Tallon and Eoin Doyle for their help in hosting and co-ordinating this fantastic day of hurling. Well done to all the schools involved!
Ladies Football Season Draws to a Successful Close
Wednesday, the 29th May saw the last Allianz Cumann na mBunscol Ladies blitz of the year at Emmet Park in Bray. The rain that threatened held off but there was a deluge of good football on show from the 3rd and 4th class girls. In all there were 9 teams present from 8 schools in North East Wicklow. All agreed it was a hugely successful and fun day out.
The schools present were: Scoil na Coróine Mhuire Ashford, St Peter's Bray, Wicklow Educate Together, Kilcoole Primary School, Gaelscoil Uí Chéadaigh Bré Chualann, Kilmacanogue National school, Newtownmountkenneddy Primary School and Roundwood National School.
Lift and Strike in Carlow
On Thursday 13th June Wicklow were represented by Kilcoole Primary School at a Lift and Strike tournament in Èire Óg GAA Club, Carlow. After a re-shuffle of the groups (due to some teams unable to attend), the Wicklow boys played the following 3 games: Carlow (a), Carlow (b) and Offaly. Unfortunately they came away without a victory, but had a close final battle with a very strong Offaly team. The boys found the new "Lift and Strike" rules a challenge at first but got into the games as the day went on. They played with fantastic spirit and had some terrific individual performances. The rain did little to dampen their spirits. The boys that attended from Kilcoole Primary School were: Lochlainn Hughes, Finian Hughes, Darragh Shannon,
Bailey Stamp, Cillian Goff, Tom Gammell, William Cash, Alex Doyle, Cian O' Brien, Jack Ryan, Ronan O'Boyle and Dale Van Dalen. The boys were treated to a delicious Supermacs meal after the game and went home very happy!
Sports Day Re-Scheduled
This year's Allianz Cumann na mBunscol Sports Day has now been re-scheduled for Wednesday 19th June in Charlesland Sport and Recreation Park, Greystones at 10 a.m. sharp. All schools have been emailed guidelines in relation to Sports Day and we are looking forward to a great day.
Please send results, reports or photos to pro.cnmb.wicklow@gaa.ie, follow us on twitter @cnmbwicklow Keep up-to-date with all Allianz Cumann na mBunscol news in Wicklow on our website www.cnmbwicklow.ie