Cumann na mBunscol Article 4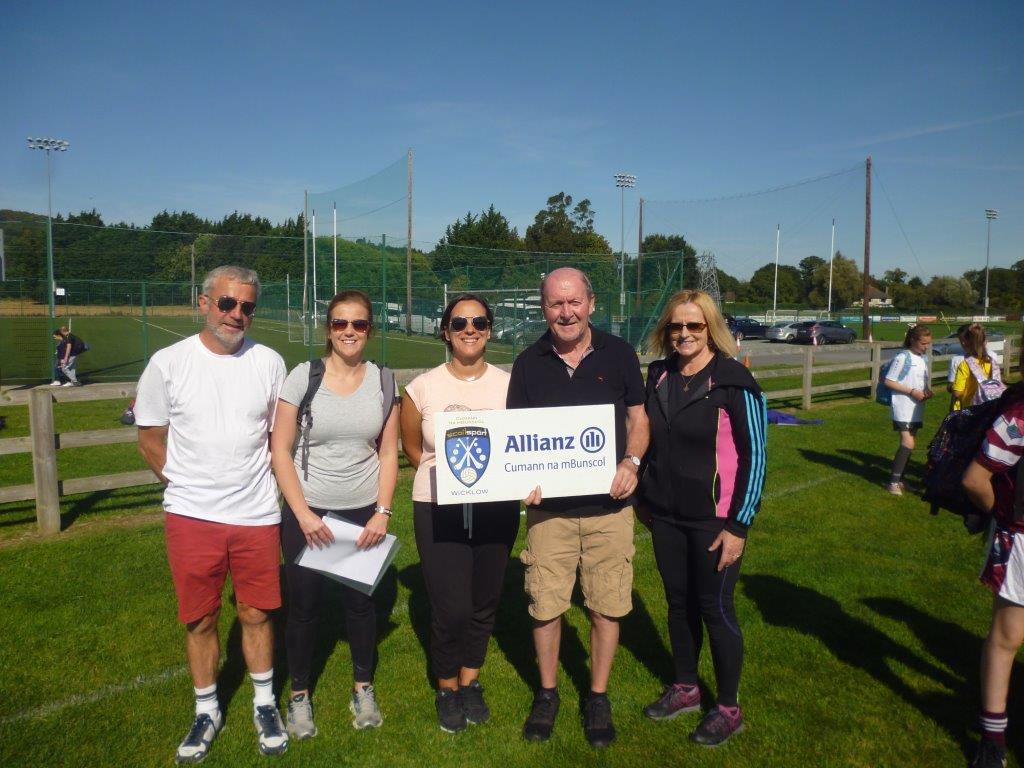 Allianz Cumann na mBunscol Chill Mhantáin
Skillful Ladies Get the Year Off to a Flying Start
After watching the exciting All Ireland Ladies football finals in Croke Park at the weekend, it was the turn of the girls in 5th & 6th class to put their footballing talents on display. 23 teams in total took part in the opening blitz of the Allianz Cumann na mBunscol GAA calendar. The schools that took part were Ravenswell, St Peters, Scoil Chualann, St Laurences, St Brigids, St Kevins, Newtownmounkennedy PS, Greystones ET, Ashford, Roundwood, Gaelscoil na Clocha Liatha, St Fergals, Moneystown, Kilmacanogue, Kilcoole, St Pats & Nun's Cross. It was great to so many different schools taking part and promoting Gaelic football for girls. There was great display of skills on show with examples of excellent shooting, high-fielding and great teamwork. Thanks to all the teachers involved for helping with refereeing and to Bray Emmets GAA club for the use of their facilities. The next girls' football participation blitz will be on 17th October for 3rd & 4th class.
Allianz 5th and 6th Class Boys Football Participation Day
Our on field activities for boys, for 2019-2020, starts next Thursday 26th Sept with a 5th & 6th class participation football blitz at 11.45am. It's a 9-a-side tournament, no age limit, no goalkeeper, with the emphasis on point scoring.
Date: Thursday 26th September
Time: 11:45am
Location: Bray Emmets GAA Club
Rules: 9-aside, no goal-keeper, points only.
Please let Gary McGillycuddy, Oifigeach Peil na mBuachaillí, know via email/WhatsApp (086 8729927) by Tuesday 24th September if your school will be in attendance and, if so, with how many teams you will be sending.
Team mentors may be needed to referee some games.
**Please note change of day for Blitzes is now Thursdays.**
Report from AGM
Allianz Cumann na mBunscol Wicklow held their annual AGM in Lynhams of Laragh on Thursday 12th September. This was an all-county AGM and registration evening, many thanks to the schools in attendance and to those who sent their apologies.
Sinead Ní Chreán Loinsigh, Cathaoirleach, opened the meeting by welcoming those in attendance and acknowledging and thanking all those involved in the promotion of Gaelic games and culture in our county, teachers, retired teachers, clubs, G.D.A's and the Cumann na mBunscol Cóiste. Sineád gave special mention and congratulations to leas-cathaoirleach Jim O'Riordan who was awarded the Pat Trainor Award at the Cornmarket Cumann na mBunscol National Awards last March. This award honours those who have made a lifetime of contribution to the promotion of Gaelic games in our schools.
Sinead was keen to acknowledge the very successful Young Whistler courses in both hurling/camogie and Gaelic football that have been rolled out across the county. Thanks to the support of our Games Development Officers in this initiative.
The Treasurer and PRO reports followed with Pamela McDermott PRO thanking local media outlets for their continued support to Allianz Cumann na mBunscol Chill Mhantáin. She reminded schools to send in articles, player profiles, match reports etc. for publication in local newspapers and on our website www.cnmbwicklow.ie and reminded us of the importance of using Allianz as much as possible in our tweets, articles and when taking photographs as they are the main sponsors of Cumann na mBunscol. #AllianzIreland #AllianzCnmb
Gary McGillycuddy, Boys Football Officer, Ronan Keddy, Hurling Officer and Cormac Ó Buachalla, Girls Football Officer all gave their respective reports, highlighting the success of the blitz days and noting the increase in the number of schools attending and the focus on skills development. Each praised the work of the Games Development Officers and thanked local grounds for the use of their facilities, the North East officers thanked Bray Emmets, Dave Barry and Micheál O Murchú especially for their help in organising and co-ordinating blitz days.
Tommy Brennan, West Wicklow, again thanked the GDA's for all that they do and recognised that without them the games and blitz days would not be as successful and enjoyable. He noted that the lack of indoor facilities in West Wicklow was proving a challenge to the promotion and participating in games over the winter months. Billy Cuddihy, Tráth na gCeist co-ordinator spoke on the growth in popularity of the quiz and gave a brief outline of the quiz night, while Padraig Murphy, South Wicklow again thanked the G.D.A's for having the pitches organised and referees at the ready to commence games on time.
GAA County board representative and coaching officer Brendan Smyth thanked schools for all that they do and ensured the continued support of the county board in the future. He stressed the importance of Games Promotion Officers in the development of GAA in our schools and clubs and his vision for the focus on skills development in our young players through the promotion of Garden County Academies.
Breda Donnelly, Development officer with Wicklow Camogie was keen to highlight that all camogie games for girls 12 years and under should be participation based and are so at club level, she said this focus has seen a huge improvement being made in skill level in recent years. Breda gave her support to the new Camogie officer Ciara Fagan and we look forward to seeing camogie grow and develop even further in our county through their work.
Officers new and old were returned to the cóiste:
Sineád Ní Chreán Loinsigh, Cathaoirleach; Jim O'Riordan, Leas-Cathaoirleach; Claire Frawley, Runai; Pamela McDermott, PRO; Emer Fahy, Cisteoir; Billy Cuddihy, Quiz Co-ordinator; Boys Football Officer, Gary McGillycuddy; Hurling Officer, Eamonn Hughes; Girls Football Officer, Ronan Keddy; Camogie Officer, Ciara Fagan; West Representative, Tommy Brennan; South Representatives, Padraig Murphy and committee member Orla McCarthy. Cathaoirleach Sineád Ní Chreán Loinsigh drew the AGM to a close and wished schools all the best in the years sporting activities.
Allianz Camogie League Day
3rd October at 11.45 a.m. in Bray GAA grounds. Nine-a-side and no age limit. Points only, no goalkeeper.
Boys' Allianz Hurling Blitz Day
10th October – at 11.45 a.m. in Bray GAA grounds. Nine-a-side and no age limit. Points only no goalkeeper
Wicklow Times Participation Day (3rd and 4th Class Girls Football)
17th October at 11.45 a.m. in Bray GAA grounds – Girls' football blitz, nine-a-side and no age limit. Points only, no goalkeeper. 6th Class Young Whistlers can used.
Allianz 3rd and 4th Class Boys Football Participation Day
24th October at 11.45 a.m. in Bray GAA grounds and Kilcoole GAA Grounds/venue to be confirmed – Boys' football blitz, nine-a-side and no age limit. Points only,no goalkeeper. 6th Class Young Whistlers can used.
Allianz Tráth na gCeist
Thursday 7th November at 7.30 p.m. in Lynhams, Laragh
Please send results, reports or photos to pro.cnmb.wicklow@gaa.ie, follow us on twitter @cnmbwicklow  Keep up-to-date with all Allianz Cumann na mBunscol news in Wicklow on our website www.cnmbwicklow.ie