Cumann na mBunscol (Article 8)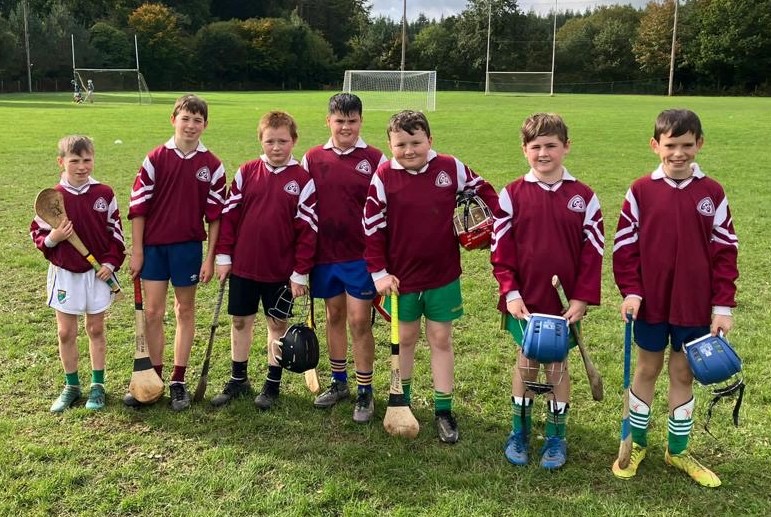 Great Turnout at Young Whistlers
Allianz Cumann na mBunscol Chill Mhantáin held a Young Whistlers referee course for Gaelic football in the North East of the county on Wednesday September 28th in KilcoolePrimary School. There was a great turnout, with eleven different school represented on the day. The participants were made up of mature, responsible 6th class boys and girls who share a passion for Gaelic football and are interested in learning more about refereeing.
The coaching session was led by North East GDA (Games Development Administrator) Garrett Doyle, who engaged the group in discussion about the basic rules of the game and how best to communicate those rules to players, coaches and spectators alike. There was a high level of genuine interest from participants, as evident from the very pertinent questions asked. It is heartening to see the next generation of young whistlers begin their refereeing journey, as without referees, we have no game! Thank you to all the 6th class boys and girls who volunteered and we look forward to seeing you refereeing your local Gaelic football games in the future!
Some reasons for getting involved in refereeing (childrens' answers):
Interested in GAA
Want to learn the rules better
Have fun
What does a good referee look like (childrens' answers):
Be fair and firm.
Like to be fair to both teams.
Know rules.
Explain to players what they did wrong.
Course participants: Ezra Doyle-Matthews (St Cronans, Bray), George Donnelly (St Cronans, Bray), Ruairi O'Brien(Kilcoole PS), Ronan O'Brien (Kilcoole PS), OrnaghMcDermott (Kilcoole PS), Saoirse Byrne (Moneystown NS), Jack Magee (Moneystown NS), Cillian Mac an Airchinnigh(Scoil Chualainn), Kate MacNamara (Greystones CNS), Tom Malone (Greystones CNS), Jack Campbell (Roundwood NS), Niamh Carpenter (Roundwood NS), Jack Gavin (Newtown PS), Clara Kirwan (Newtown PS), Jasper Kitson (Réalt naMara, Brittas Bay), April Donohoe, (Réalt na Mara), Niamh Holohan (St Brigids, Greystones), Sal Maxwell (St Brigids, Greytones), Sean Minto (Kilmacanogue NS), Eva Morgan (Kilmacanogue NS), Kate McGillicuddy (Greystones ET) and Arlo Thompson (Greystones ET).
Boys Football Kicks Off the Year in Style in Bray and Ballinakill
Thursday, 29th September saw some fine footballing talent in the 5th and 6th Class Boys Allianz Football Participation Blitz in both Bray Emmets and Ballinakill.  It was a sunny autumnal day and conditions were perfect for playing fast-paced and entertaining football.  The beauty of participation blitzes is that teams play in a non-competitive environment which encourages an atmosphere of teamwork and creativity, but most of all joy in playing the game.
In Bray Emmets 21 teams represented their twelve schools with pride and the pitches were a hum of activity for the afternoon. Thankfully we were blessed with a dry day and the boys made the most of the opportunity to practise their skills. Huge thanks to Bray Emmets for hosting the event and to retired teacher Dave Barry for setting up the pitches. We are also very grateful to referees, Ella, Orla, Luke, Josh and Éanna who helped to keep proceedings running smoothly in a very fair and friendly manner.  
Participating teams: St. Peter's Bray, St.Fergal's Bray, St. Cronan's Bray (2), Kilmacanogue NS (2), Newtownmountkennedy (2), Kilcoole (1), Scoil na CoroineMhuire Ashford (2), Gaelscoil na gCloch Liath (2), Greystones Educate Together (3), Gaelscoil Uí Chéadaigh (2), Holy Rosary Wicklow (2), St. Brigid's Greystones (1), Greystones CNS.
Participating teams in Ballinakill: Annacurra, Laragh, Ballycoog, Avoca, Moneystown, Shillelagh, Gaelscoil an Inbhear Mór, Carnew, St. John's SNS, Aughrim, Nun's Cross, Brittas, Bearna Chlé.
The Future of Camogie is Bright with Super Skills on Show in Bray and Aughrim
There was a great day of camogie held on the 6th October in both Bray Emmets and Aughrim.  
In Bray the schools represented included St. Pat's Wicklow, St. Peter's, Gaelscoil na gCloch Liath, Kilcoole Primary School and three Greystones schools (Greystones Educate Together, Greystones Community National School and St. Brigid's) teamed up to field two teams.
In Aughrim the schools represented included Crossbridge, Annacurra/Ballycoog, Aughrim, Avoca and Carnew. All the girls showed great skills, rising the ball, catching and blocking.  The future of camogie in Wicklow is an exciting one with these girls involved.
Fantastic Day for Boys Hurling Blitz 
North/East Wicklow
Conditions were ideal for hurling as teams from Kilcoole P.S., Greystones C.N.S, St. Cronans' N.S Bray, St. Patricks Wicklow Town and Gaelscoil na gCloch Liath descended on Bray Emmets' GAA Club. It was also brilliant to see five players from Delgany N.S team up with Greystones C.N.S to attend their first ever blitz. Each team played at least 4 matches each.  
One could not only be impressed by the skill, bravery and sportsmanship on show with each team playing every match like it was an All–Ireland final. Those in attendance were lucky enough to witness a point being scored from a sidelineas well as a point from a puck out! 
A big thank you to all the teachers who attended. They are doing a fantastic job at promoting hurling within the county. Make sure and keep an eye out for the rest of our hurling events over the course of the year.  
South Wicklow
In Aughrim participating schools included: Carnew, Annacurra/Ballycoog, Coolafancy, Rathdrum and Aughrim.  A great day was had by all.
South Wicklow Young Whistler (Gaelic Football) Course on 18th October
South Wicklow Allianz Cumann na mBunscol will be holding a Young Whistlers' (Gaelic Football) course on Tuesday 18th October from 3:30-4:30pm in The County Grounds, Aughrim. Schools are asked to send a 5th/6th class boy and a girl on the day. These Young Whistlers will be asked to help referee at our upcoming blitzes. A responsible, reliable pupil who shows enthusiasm and initiative would be a fantastic candidate!
Parents are required to drop and collect children as this will take place after school.  Please fill out the registration form by clicking the link below:
https://forms.office.com/Pages/ResponsePage.aspx?id=hrxFrNSvpUKfwz6H4bd_zhmQ-UCEhxpDkxnkBOdjId1URFBMU1A2WFIzSFhWOUU2T01WTjRSQkVONy4u
The closing date to register is  Friday 14th October.
Plans Afoot in West Wicklow for Cross Country, Football and Hurling
18th October – Cross Country Running – Valleymount
25th October – 9 a-side Football Blitz (mixed) – Dunlavin
18th November – 9 a-side Hurling Blitz – Kiltegan
Contact West Wicklow Allianz Cumann na mBunscolRepresentative Michael Moran, Scoil Nioclais Naofa, Dunlavin on 045-401495 if interested in participating.
Calling All 3rd and 4th Class Girl Footballers!
A Girls Football Participation Blitz for 3rd & 4th class will take place on Thursday 20th October at 11.45am in Bray Emmets GAA Club. 
Matches will be 9 a-side.
Matches will follow the 2–touch rule (1 hop, 1 solo; 2 solos).
Points only 
Date: Thursday 20th October
Time: 11:45am
Location: Bray Emmets GAA Club
Young Whistlers are invited to attend as referees. 
Please let Ronan Keddy, Oifigeach Peil na mBan know via email/WhatsApp (086 3021594) by Tuesday 18th October if your school will be in attendance and, if so, how many teams you will be sending.  Team mentors may be needed to referee some games.
Allianz Football Participation Day (3rd and 4th Class Boys)
27th October at 11.45 a.m. in Bray GAA grounds. Boys' football blitz, nine-a-side and no age limit. Points only. Young Whistlers can be used.
Allianz Tráth na gCeist is on the 10th November​
It's time to get those thinking caps on again as the annual Cumann na mBunscol Tráth na gCéist is coming up.  It will take place on Thursday 10th November at 7.30 p.m. in Lynham's Hotel in Laragh.  Any school that is interested in attending should contact Billy Cuddihy by email (cuddihybilly@gmail.com) by Friday the 25th of October. There is a maximum of 4 pupils per team (no subs allowed sit with a team) and each school is allowed to bring up to three teams if they wish. Parents may attend but seating has been limited in the past.  Each school is asked to bring some small GAA related prizes for the raffle on the night. It is always an enjoyable night and we look forward to seeing you there.
Wicklow Times Participation Day (5th and 6th Class Girls Football)
This day, which had to be cancelled due to the bad weatherhas been rescheduled for the 10th November at 11:45 a.m. in Bray Emmets – Girls' football blitz, nine-a-side and no age limit.  Points only
Please send results, reports or photos to pro.cnmb.wicklow@gaa.ie, follow us on twitter @cnmbwicklow  Keep up-to-date with all Allianz Cumann namBunscol news in Wicklow on our website www.cnmbwicklow.ie