Deserved Electric Ireland All-star award for Eoin Darcy.
Wicklow GAA would like to congratulate Eoin Darcy from the Tinahely club who was selected as part of the Electric Ireland Minor Football Team of the Year for 2018.
This is a fantastic achievement by Eoin, and a huge honour for him, his parents Kevin and Andreina, sister Aine and extended family. Credit also to his Club and indeed the Garden County Academy that Eoin has been part of for five years.
Wicklow lost to Kildare in a replay of the Leinster semi-final after wins along the way over Dublin, Meath and Westmeath.
Eoin will be presented with his award at an event on Saturday next in Croke Park.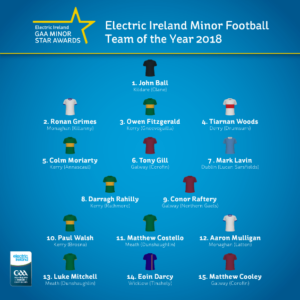 Congratulations also to Mathew Ging Tinahely who along with Eoin collected a Player of the Week Award during the Electric Ireland Leinster Minor Football Championship 2018.