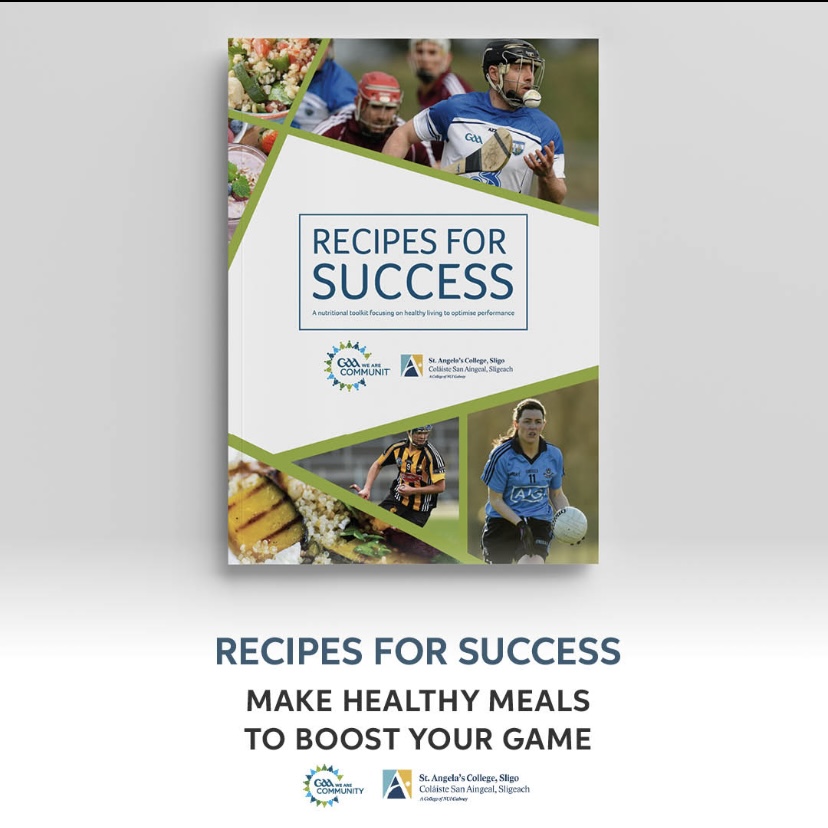 Nutrition & Healthy Eating
Any club looking to purchase additional Recipes for Success booklets can now do so online, at the following link: http://www.printcomp.ie/gaa-products. Please also see attached images which can be used to promote Recipes for Success across your networks
Dr. Sharon Madigan, Head of Performance Nutrition with the Sport Ireland Institute did an interview with GAA.ie on the importance of proper nutrition advice to protect physical and mental health of our players. Read the full interview here: https://www.gaa.ie/news/proper/
At last weeks Healthy Club Conference, Nutritionist Kate McDaid suggested placing a Urine Chart in your club bathrooms to help players and members recognise if they are dehydrated. This is a very simple way to support the health of your members and we would encourage all clubs to follow this advice once we are permitted to re-open. Please see attached urine chart for you to use in your own clubs, feel free to edit and add your own clubs logo to this also.
Spectrum Health have developed a free e-book called 'Feel Good In February' and have launched it for February 2021. It is filled with tips on moving more, improving sleep, and eating well! There is also a handy calendar to help you set goals and a weekly meal planner, plus easy-to-make tasty recipes. Download it now for free by clicking here: Digital Resources — Ireland's Leading Provider of Allied Health Services (spectrumhealth.ie)
Operation Transformation
Last weeks episode of Operation Transformation featured Seamus Casey, Chair of St. Johns GAA Sligo, how his involvement in the Healthy Club Project, Ireland Lights Up & the Irish Life Step Challenge promoted a transformation in his health. You can watch this back here: Seamus Casey, St.John's GAA Club in Co. Sligo – Operation Transformation 2020 – YouTube
Operation Transformation are looking for more personal interest stories that capture and promote the importance of physical activity and the My Life Every Step Counts Challenge for GAA clubs during these winter months. Videos (landscape) and stories can be sent to otgaaclubs@gmail.com
Ireland Lights Up
Unfortunately due to the current level of restrictions it is not possible to start ILU today as was originally planned. We are currently in discussions with representatives from both Sport Ireland and the Department of Health to determine when the programme is most likely to start. We will continue to keep you updated on these discussions. We want to reassure you that Ireland Lights Up 2021 will take place this year.
Future Leaders – GAA Solo
GAA Solo is back. The very successful initiative to keep teenagers active during Lockdown 1 is back! The initiative is designed to promote positivity, physical activity and wellbeing among young people, while encouraging them to stay at home and follow HSE guidelines at the same time. There will be different challenges each week for the next 4 weeks. To get involved, students and teachers record videos of themselves doing the various challenges and upload them to Twitter, Facebook or Instagram. There will be prizes each week sponsored by O'Neills. To find out more visit https://learning.gaa.ie/gaasolo
Healthy Club Officer Training
This module aims to help new Healthy Club Officers and club members understand the Healthy Club Officer role and responsibilities. The training is open to all club members and registration in advance is required through the links below. Further details can be found at the following link:
Sports Capital Grants (26 counties only)
The Sports Capital Programme (SCP) is operated by the Department of Tourism, Culture, Arts, Gaeltacht, Sport and Media and provides grants to assist in the development or refurbishment of sports facilities and the provision of sports equipment. It is part funded from the proceeds of the National Lottery. The 2020 Round of the Programme will be open for applications from 9am on Friday 11 December 2020 until 5pm on Monday 1st March 2021. The deadline for registration is 5pm on Monday 15th February 2021. Further details can be found at the following link: https://www.sportscapitalprogramme.ie/. For support with your application please contact your Local Sports Partnership as many are running application support webinars over the coming weeks.