GAA Health & Wellbeing Update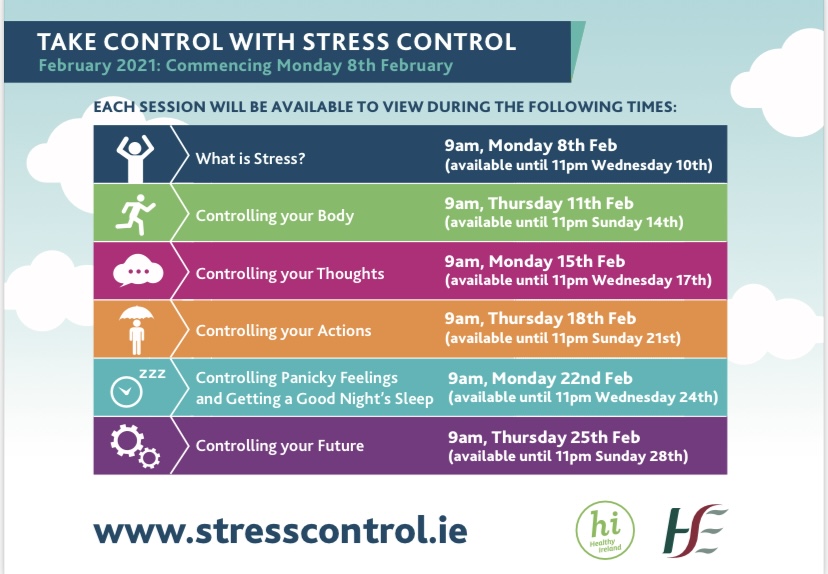 D&I Webinar Postponement
As you know two of the Diversity & Inclusion webinars had to be postponed. Geraldine, our National Diversity and Inclusion Officer, once back at work will provide an update on re-scheduling the postponed webinars. We can however, ensure you that all of our scheduled D&I webinars will be delivered in the coming weeks and that they are webinars not to be missed.
HSE Stress Control Programme
The next round of online Stress Control classes commences on Monday 8th February (available until 11pm Wednesday 10th). Stress Control will teach you great skills to fight stress (for most of us, a mix of anxiety and depression) and boost your wellbeing. All the course details can be found on www.stresscontrol.ie and please see attached timetable for further information.
Operation Transformation 5K
The Operation Transformation 5K in association with Athletics Ireland and Sport Ireland is back! On Thursday, Friday and Saturday, the 18th 19th and 20th of February, we are inviting you to take part this year by participating in a VIRTUAL OT 5K. You MUST register to take part in this event. Register at https://ot.rte.ie/events/the-operation-transformation-5k/ . Once registered you can select the day that you want to do your 5k. We want to see your 5K Journey!! Please send any footage you take before, during or after you 5K experience to otvirtual5k@gmail.com
GAA Museum Virtual Book Club
While it's not possible to visit the GAA Museum or its Library & Archives in person right now, you can still learn more about Gaelic Games and the history of the Association by becoming a member of their new virtual GAA Museum Book Club. Each month the GAA Museum team will choose a well-known GAA book to read and review. At the end of the month, the museum will host a free online interview with the author, in which members can submit questions and comments. The ambition of the book club is to review some of the great GAA books and to give us all a much-needed sporting boost as we stay at home. You can find out more and how to get involved via the following link: https://crokepark.ie/bookclub
Irish Life Steps Challenge
Well done to everyone who is taking part and has been involved with achieving an amazing 2.3million steps to date. An incredible 25,000 walkers representing 616 GAA clubs have been traversing every inch of their 5km radius in an attempt to win for their club one of the €2,500, €1,500, and €1,000 O'Neill's gift vouchers up for grabs in each province with thanks to Irish Life. Any club that registers on the App and whose team records at least 4,000km – the equivalent of walking around the coast of Ireland – is in with a chance to win. The competition will run until March 3rd: GAA & Irish Life's MyLife App 'Healthy Club Steps Challenge' a big hit
February Wellbeing Calendar
Irish Life Health have developed a Calendar of resources for February, with a Focus on Women's Health & Cancer Care, it is available to view and download here: WorkLife-February-Wellbeing-Schedule_Health.pdf (irishlifehealth.ie)
Upcoming Webinar – 'Where We All Belong' – bringing the GAA manifesto to life through the work of the Community & Health Department
This webinar will be held on Thursday the 25 February from 7-8.30pm. Presented by Colin Regan (Head of Community and Health), Geraldine McTavish (National Diversity and Inclusion Officer) and members of the Community and Health team.  It will cover:
An overview of the work of the department, including Community & Health committee structures, the Healthy Club Project, Social Inclusion/GAA for All, Youth leadership, Social Games & Physical Activities, Mental fitness, Substance abuse & Gambling Awareness, Healthy Eating, Community and Personal Development, and the new Green Clubs programme.
Case studies of the benefits experienced by rural, urban, commuter belt, and international GAA units.
The role of partnership at all levels of the Association, including how to connect with and attract under-represented populations and maximise access to public funding opportunities.
Engaging with young digitally savvy volunteers who can also bring new ideas and opportunities.
To enrol in the webinar please click on the following link: 'Where We All Belong' – bringing the GAA manifesto to life through the work of the Community & Health Department, 25 February
Funding – Community Grant Scheme (26 Counties)
The Community Grant Scheme 2021 is operated through County Councils, community groups and organisations may apply for funding to assist with actions and projects being undertaken in their local area.  Further information can be accessed on your relevant County Council website.
Please note: Each county council sets their own criteria for eligibility and closing dates for funding applications which differs from county to county, it's important to check criteria and closing dates with the county council prior to applications being submitted.