Glenealy exit Leinster in Joule Park thriller.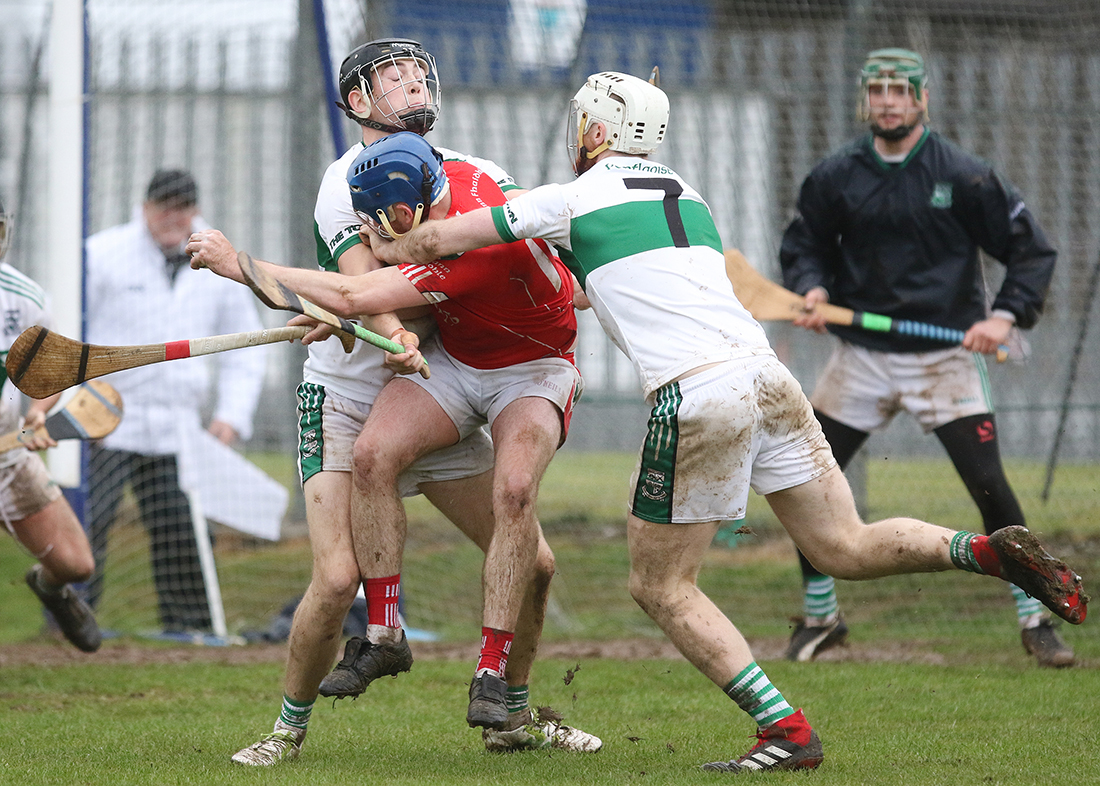 Glenealy 1-10 Portlaoise 0-16
Saturday was a day far from ideal for any sporting activity but the hurlers of Glenealy and Portlaoise battled through tough conditions to serve up a decent battle in Joule Park. Glenealy had a good start with free-taker Jonathan 'Bosco' O'Neill shooting two early scores. Portlaoise midfielder Gary Bergin brought Portlaoise level by the tenth minute and corner forward's Cathal Duggan and Gavin Weir were to swap points by the end of the first quarter. Bosco again pushed the Glenealy men ahead for the last time in the match in the 18th minute and then Portlaoise opened up an 0-11 to 0-5 gap by half time.
Portlaoise full-forward Cian Taylor was causing all sorts of problems for his marker Danny Staunton and the full back was yellow carded early after a number of fouls. Warren Kavanagh moved back to the edge of the square soon after.
After the restart Bergin drove another nail in Glenealy's coffin but Jonathan O'Neill pulled a free wide of the target. By the end of the third quarter Portlaoise had extended their lead to 0-15 to 0-7. To their credit Glenealy believed the could still pull this game out of the fire and kept coming forward leaving massive gaps at the back at times. Glenealy were awarded a penalty and Danny Staunton obliged with a tonic goal blasting low to the corner of the net.  The Wicklow champions put in a storming finish that yielded two points by Jonathan O'Neill from a '65' and a free and a second point from corner-forward Gavin Weir. Then in the tense dying moments they peppered the Portlaoise goal but the winner's defence remained as rock solid as it had been throughout the match even surviving a second penalty attempt from Staunton that was batted away by Eoghan Nealon.
Scorers: Jonathan 'Bosco' O'Neill 0-7 (0-5 frees, 0-1 65), Danny Staunton 1-0 (pen), Gavin Weir 0-2, Robert Byrne 0-1.
GLENEALY Team: Cian Staunton; Emmet Byrne, Danny Staunton, Ronan Manley; Garry Byrne, Warren Kavanagh, Joe Driver Jnr; Jonathan O'Neill Snr, Robert Byrne; Jamie Byrne, Martin Traynor, Paul O'Brien; Jonathan O'Neill Jnr, Alan Driver, Gavin Weir. Subs: Subs: Leighton Glynn for M Traynor, Tom Doyle for J Driver, Gary Hughes for P O'Brien, Wayne O'Gorman for J Byrne.
Scorers: Cormac Rigney 0-4 (0-2 frees, 0-1 65), Gary Bergin, Cathal Duggan, Cian Taylor 0-3 each, Tommy Fitzgerald 0-2, Cahir Healy 0-1.
PORTLAOISE Team: Eoghan Nealon; Joe Geaney, Chris Lynch, Frank Flanagan; Brian Mulligan, Cahir Healy, Ciaran McEvoy; Dean Lynch, Gary Bergin; Tommy Fitzgerald, Colm Gleeson, Cormac Rigney; Keith Murphy, Cian Taylor, Cathal Duggan. Subs: Subs: Lee Davis for K Murphy, Dylan Feane for D Lynch, Shane Cuddy for G Bergin.
Referee: S Stack (Dublin).