Goals the difference in Carlow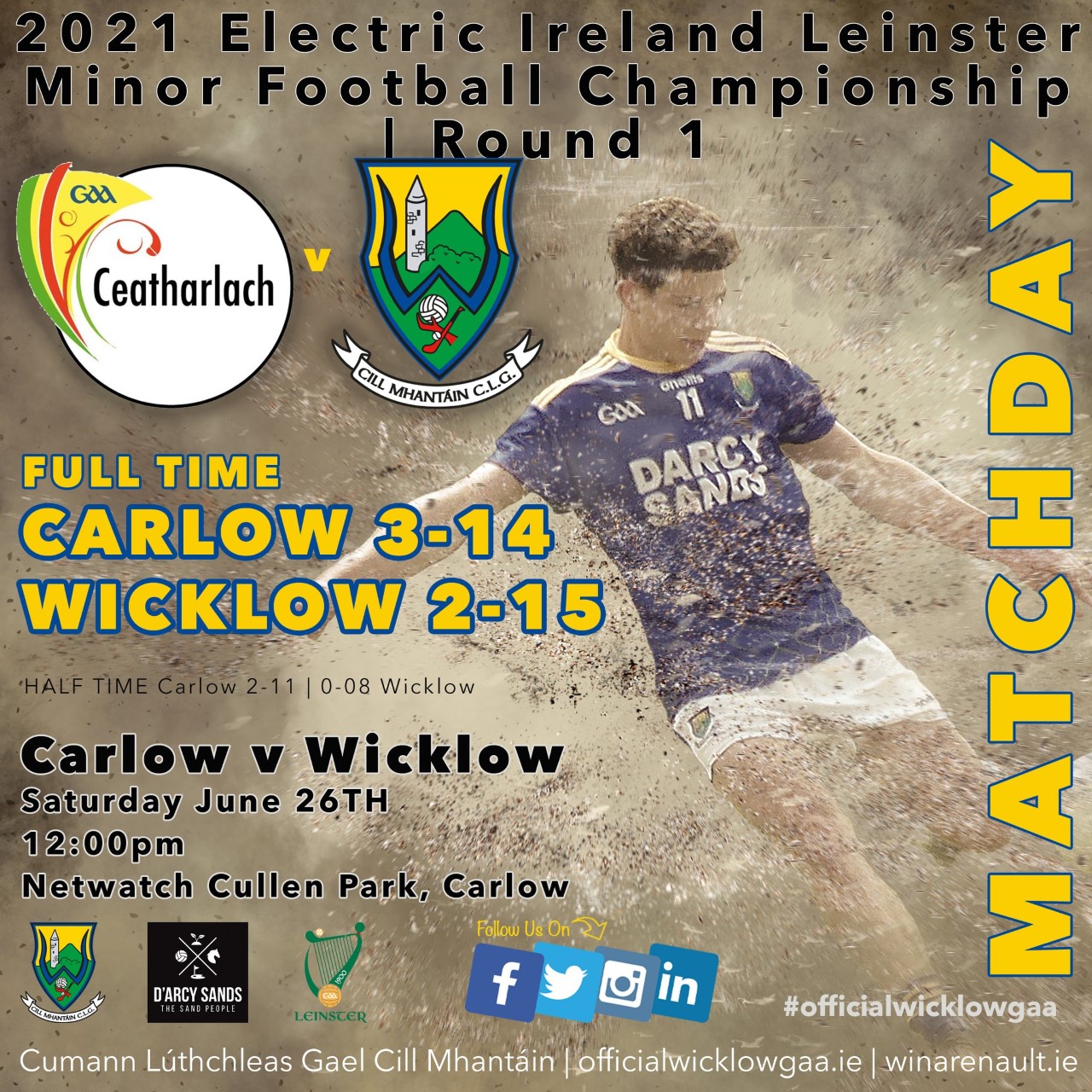 LMFC
At Netwatch Cullen Park
CARLOW   3 – 14
WICKLOW 2 – 15
Carlow took the spoils in the Electric Ireland Leinster Minor Football Championship game played in ideal conditions in Carlow on Saturday afternoon. Lorcan Smyth had a great save in the opening minute to deny the home side an early goal. Wicklow got on the board in the 2nd minute with Brays Finn Treacy pointing from distance, Sean Doyle followed with another point that was tipped over the crossbar by the keeper. Corner forward, Ronan Quinlan put in a huge display for Carlow through-out the sixty-odd minutes, Quinlan goaled in the 6th minute. An Tochar's Conor Fee landed a beast of a point after fine work by Tom Hodgkinson. Quinlan tallied 3 more points on the trot for Carlow who were on fire early on. Both sides traded points before the 1st half water break was signalled by the Kildare referee, as the scoreboard read 1-6 to 0-5 in favour of Carlow. Carlow added another 1-02 with-out reply, with Oisín Doyle landing the goal. Austin Brennan was fouled going through and Conor Fee pointed the resultant free. Wicklow didn't convert a number of goal chances that came their way in this period and were punished by further points from Carlow. Finn Treacy landed a mighty 45, right between the uprights before the industrious Conor Fee tallied another point for the Garden County side. Sean Doyle drew a powerful save of the Carlow goalie before the half time whistle sounded, as the scoreboard now read 2-11 to 0-08 in favour of Carlow. Both sides introduced a number of fresh legs in the second period, Wicklow's Cathal Baker burst upfield an landed the opening score of the half with a point. Carlow suffered a huge blow when losing their talisman, Ronan Quinlan to a Black Card into the sin bin for the next ten minutes. Conor Fee tags on another point after good work by Finn Treacy, another goal chance goes amiss for the Wicklow side. Eoin Sheridan had another goal chance that was thwarted by the Carlow goalie as Wicklow upped the ante. The major soon followed after Wicklow overturned a Carlow kick-out, with Conor Fee to leave the score 2-12 to 1-10, however Wicklow were hit with a sucker punch as Carlow rose their 3rd green flag of the day, a huge setback for Paddy Dalton's charges. Austin Brennan pointed from distance before William Moorehouse added another point from a placed ball. Donagh Murphy fired over a sweet point for Carlow going into the dying embers of the game. Finn Treacy landed a monster of a point from another 45, as Wicklow rallied at this late stage. A high ball across the danger zone was palmed home by Finn Treacy to provide a grandstand finish deep into injury time. Wicklow went in search of a winning goal, but it proved to late as the final whistle sounded. Wicklow will be very disappointed they weren't a little bit more clinical with the chances they had for goals through-out the match, which proved the difference at the finish. Best for Carlow were Ronan Quinlan and Oisin Doyle while Wicklow had excellent showings from Finn Treacy and the lively Conor Fee.
Wicklow MOTM : Conor Fee (An Tochar)
Scorers :
Wicklow : Conor Fee 1-05, Finn Treacy 1-04,Sean Doyle 0-2, William Moorehouse 0-2,Cathal Baker 0-1, Austin Brennan 0-1.
Carlow : Ronan Quinlan 1-09, Oisin Doyle 1-02, Brad Bolger 1-00, Donagh Murphy 0-2, Cillian Fegan 0-1.
Wicklow : Lorcan Smith (An Tochar); Cian Deering (St Nics), Adam Mullervy (Agb), James Healy (Bray); Tom Hodgkinson (St Pats), Austin Brennan (Blesso), Adam Kinsella (Knockannana); Cathal Baker (Avondale), Finn Treacy (Bray); William Moorehouse (Rathnew), Conor Fee (An Tochar), Aaron O'Brien (Agb); Alex Kavanagh (Aughrim), Sam Gough (Blesso), Sean Doyle (St Nics)
SUBS : Eoin Sheridan (St Nics), Callum Clarke (Rathnew), Robert McHugh (Balto), Jack Bookle (Balto), Cathal Sheehan (Knockannana).
Carlow : Mark McDermott; Petewr Burgess, Aaron Bolger, James Whelan; Cillian Carthy, Kieran Nolan, Kyle Foley; Kyle Nolan, Stephen Smyth; Cian Doran, Cillian Fegan, Donagh Murphy; Brad Bolger, Oisin Doyle, Ronan Quinlan.
SUBS : Cillian Brady, Alex Delaney, Jack Decey, Pa Kavanagh.
REF : Kieran Harris (Kildare)