H&W: Healthy Food Made Easy & Smoke Free Community Information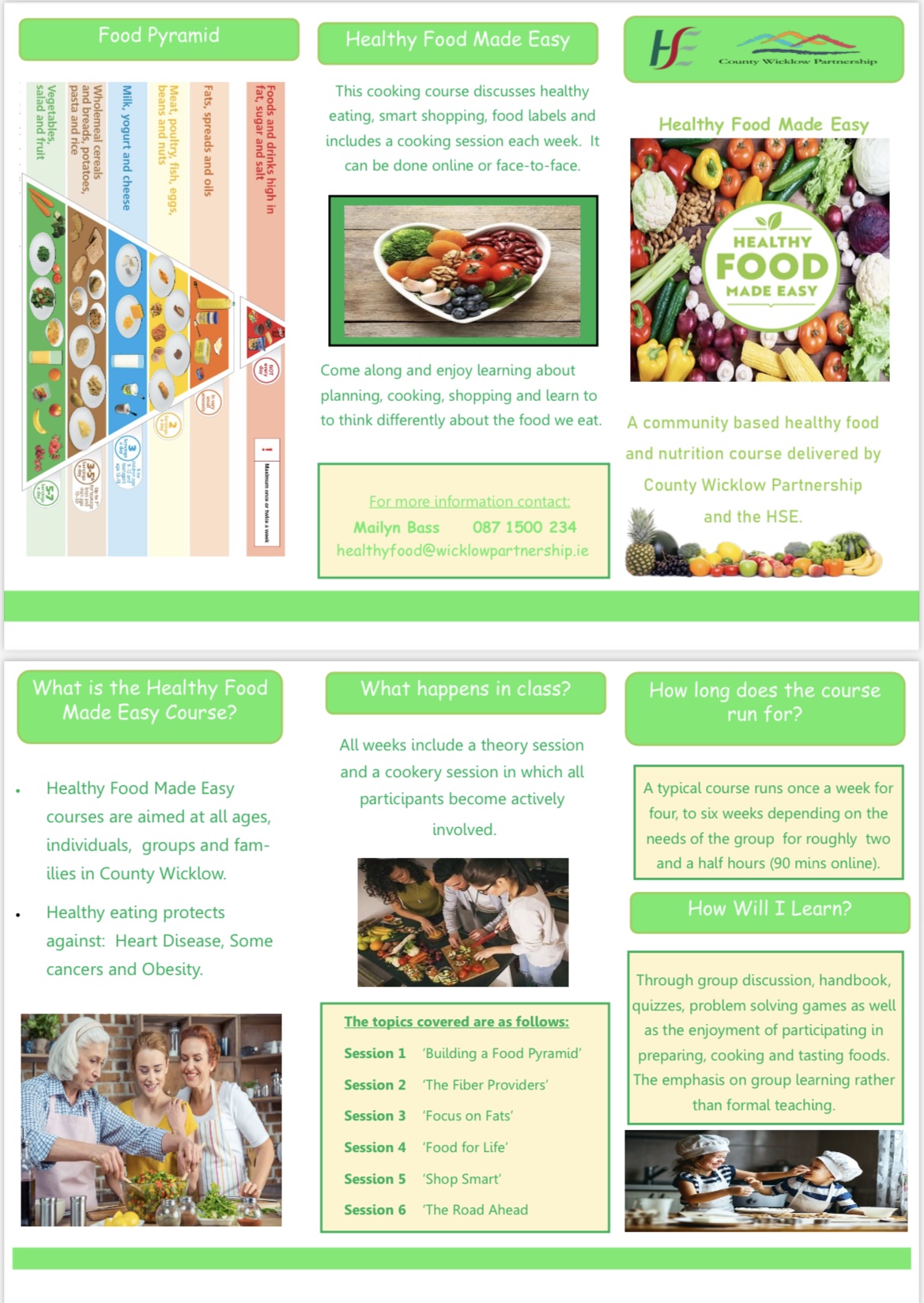 To whom it may concern
My name is Mailyn Bass.  I am the current co-ordinator, in County Wicklow Partnership, of the Community Tobacco Project.  The Community Tobacco Project has been established in 2017 and working strong to promote smoke free zones.  Our signage can be seen in playgrounds (Aughrim, Arklow, Annacurragh) and several GAA ground.  Healthy Ireland and the HSE Tobacco team, along with County Wicklow Partnership are supporting this great new initiative
What we hope to do now is bring it further afield and make Wicklow a Smoke Free Community.  The Smoke Free Together Initiative was launched in November 2021, where we are calling all businesses, organisations and individuals to go smoke free.  
To avail of the services of the Community Tobacco Project is easy.Sign up on our website at www.wicklowpartnership.ie/smoke-free-community/, it only takes 30 seconds.  On registration you will have receive a call/email from me welcoming you on board, a Smoke Free Pack.  Inside your resource pack you will find a guide, a policy, sign to display and a Quit pack.  You will also receive a poster with the local HSE Quit Service.  In your information guide booklet, you will get accurate statistics and facts around tobacco and smoke free resources.  The sign that you will receive in this pack must be put up for display creating a very visual message that Wicklow is Smoke Free.  If your club wants to get their own sign created with your club name on it just email me and the sign with the GAA logos can be emailed to you and you can get your own signs printed.  Our signs are already on the Wicklow GAA County Grounds and in the BallinakillCentre of Excellence.  We would love a picture of your sign once it is up so we can also display your success on our social media.  Let's make Wicklow Smoke Free Together.
If you need any further assistance please do not hesitate to contact me.  We could Organise a meet and greet at one of your training nights with a few Quit goodies or a presentation on benefits of smoking can be given to your club.  I can also talk to members and give an engaging talk to members, parents and young people.  My number is 087-1500234 or email on tobaccocessation@wicklowpartnership.ie .
Kind regards,
Mailyn Bass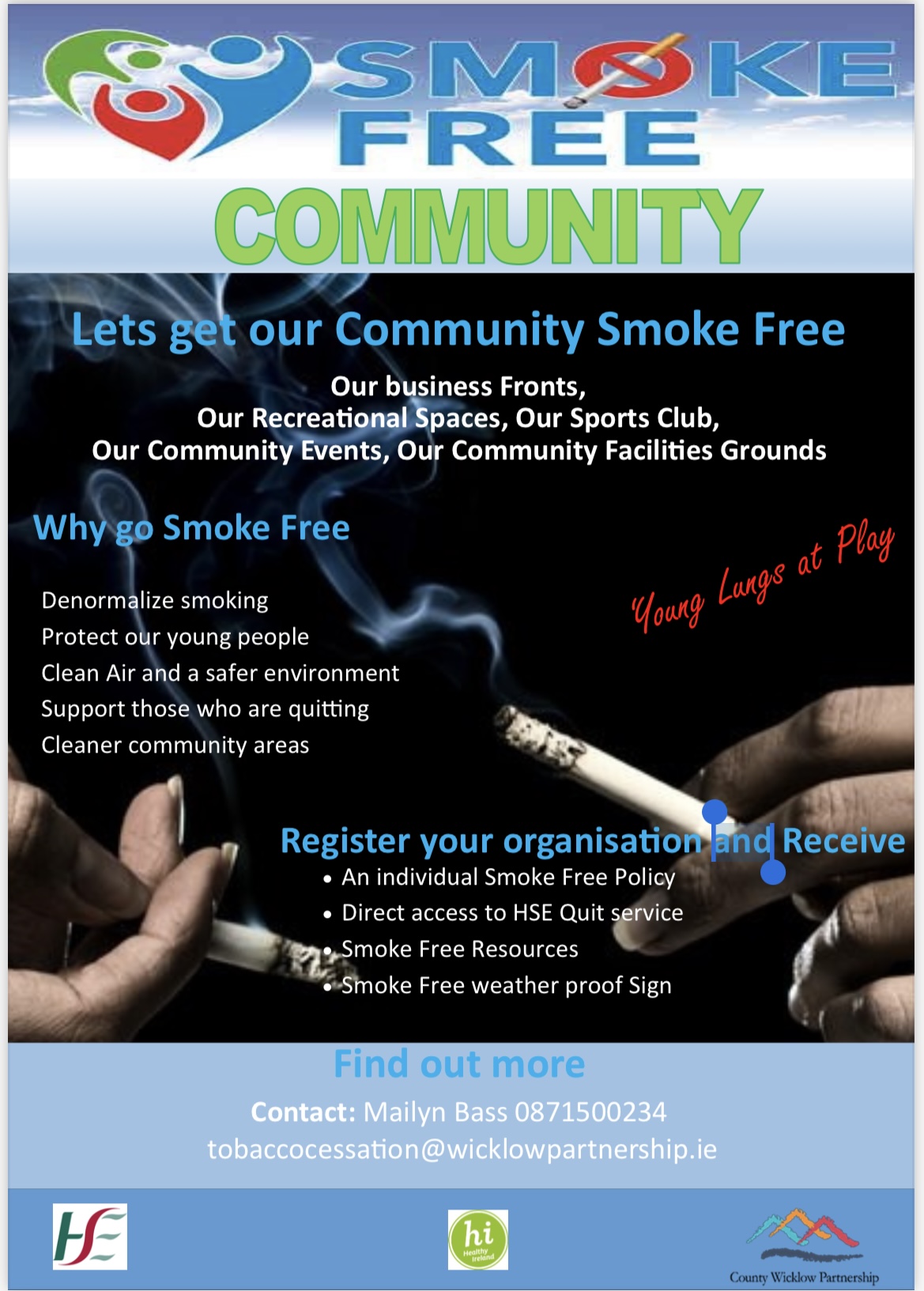 Healthy Food Made Easy is a healthy eating cooking course that is extremely versatile and can be run in a way to best suit the group.  In the past we have done several groups with GAA clubs; we have one just for parents, we have ran family cooking courses, seasonal courses e.g. Easter , Summer, Halloween camps and members only courses.  The course runs the way that best suits the group.  Below is more information on the course.  If you are interested in running the course or finding out more please do not hesitate to contact me on 087-1500234 or healthyfood@wicklowpartnership.ie
Warm regards
_____________________
Mailyn Bass
Healthy Food Made Easy courses were developed nationally by HSE senior dietitians and are delivered in CHE in County Wicklow by the CWP in partnership with the HSE Dietetics service.    Courses are interactive in delivery, allowing participants to consider their current food habits and giving them the tools and skills to make informed choices that will positively change their food choice behaviour.  Activities specifically encourage participants to consider eating habits identified as a poor in the Healthy Ireland survey such as cooking meals using fresh, local ingredients, increasing portions of fruit and vegetables per day, eating breakfast daily, reducing consumption of fats through cooking methods and reducing consumption of sugars by reducing treats and sugary drinks.  Participants receive support materials such as HFME Participant handbook and the 101 square meals cookbook.
Courses are delivered over 5 to 6 sessions of approximately 2.5hours depending on group needs and dynamics.  A typical class includes interactive theory delivery and group cookery session on specific topics.  Peer Leaders (community facilitators) are trained by the senior community dietitian to deliver the courses. Course materials are approved by NALA.  
The expected benefits/outcomes for participants on the courses are;
•
Increased nutritional knowledge
•
Increase number of participants cooking meals at home
•
Encourage healthy eating practices  
•
Increased access to information and activities relating to healthy lifestyle for families
•
Increased participation of young people in the programme
The Co. Wicklow HFME programme delivers:
•
Healthy Food Made Easy courses – targeted at those aged 15 and over
•
Cool Dude courses – targeted at 10 to
14 year
olds
•
Family HFME/Cool Dude courses