Ireland Lights Up and the Step Challenge return in 2022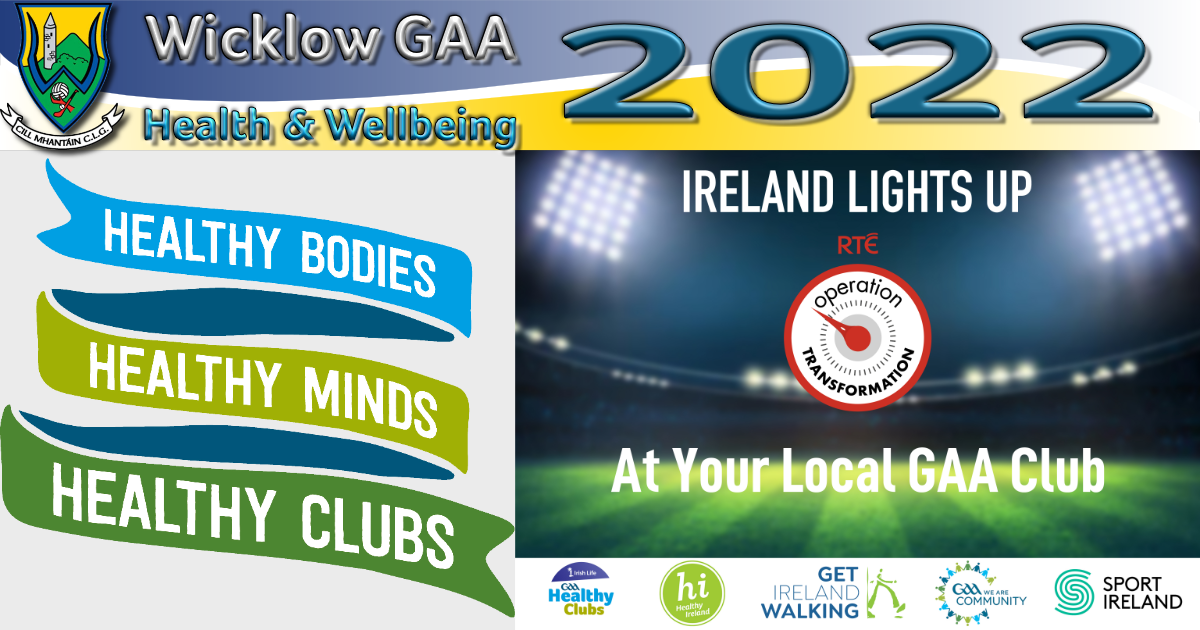 "Ireland Lights Up" and the "Step Challenge" return in 2022
The GAA & Wicklow GAA's Health & Wellbeing Committee are delighted to announce the Department of Health has confirmed that "Ireland Lights Up" and the "Step Challenge" have been given the green light to proceed.
Ireland Lights Up
• Participating clubs must take every due diligence to ensure that all relevant public health guidelines are being adhered to throughout the Ireland Lights Up campaign.
• Participating clubs will be asked to open their gates on any or all evenings for the duration of the campaign from Wednesday 19th January to Wednesday 2nd March 2022 (If your club would like to start earlier that is no problem).
• Attached is a number of useful resources that will promote the initiative; Poster, Insurance, Risk Assessment, Incident Report Form and Sign In Sheet (for insurance purposes and participant numbers).
• Please note that due to current restrictions in respect Covid-19 physical distancing should be maintained during any walks while family households may walk in pods.
Step Challenge
• Running in conjunction with Ireland Lights Up, the GAA's Community & Health department has once again teamed up with Irish Life's My Life app to create a Steps Challenge to further incentivise club and community members to increase their physical activity levels in 2022.
• The challenge will commence on the 19th January and run for five weeks until midnight on the 23rd February.
• In each province, 3x O'Neills vouchers – €2,500, €1,500 & €1,000 are once again available to participating clubs
Reminders
• Clubs can participate in both initiatives or a club can choose to participate in just one.
• A club does not necessarily need floodlights to get involved with Ireland Lights Up, if they have a safe walk around a town/village/walkway they can get involved with the initiative.
• No walking facility or route is required for the Steps Challenge as individuals record their weekly steps on the MyLife App