Jim O' Riordan receives Pat Trainor Award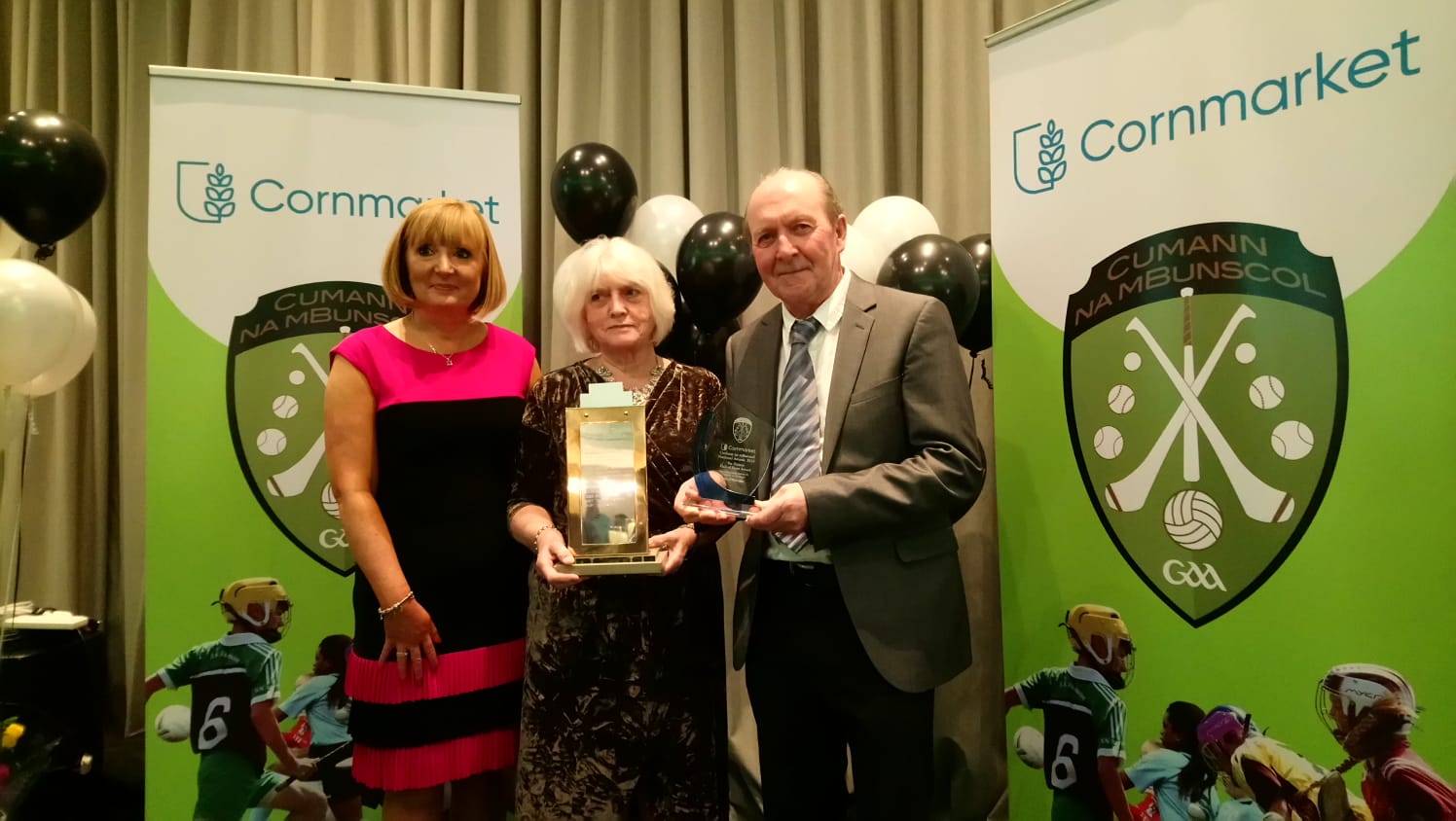 Allianz Cumann na mBunscol Chill Mhantáin
Jim O'Riordan receives Pat Trainor Award and Success for Kilcoole
The annual Cornmarket Cumann na mBunscol National Awards took place this year in the Sligo Park Hotel on the 8th March.  The Garden County had a very successful and enjoyable night.  Jim O'Riordan, stalwart of Allianz Cumann na mBunscol Chill Mhantáin, and current Leas-Cathaoirleach was a most worthy recipient of the Pat Trainor Memorial Award for 2019, for lifetime achievement and commitment to the promotion of Gaelic games in our primary schools.  Jim attended the awards, with his wife Ann, and after the presentation received a standing ovation for his speech.  Jim, a proud Cork man, began his lifelong obsession of Gaelic Games in St. Finbar's GAA club in Togher, Cork, where the famous Jimmy Barry Murphy (a dual All Ireland Winner with Cork) was fortunate enough to share the same pitch as him once upon a time! He spread his love for Gaelic games across the Atlantic to the Windy City in the summer of 1974 where he was highly sought after by the local GAA clubs there!  It was no surprise that after his move to the Garden County in 1978 that he became pivotal to the promotion and development of Gaelic games and culture in his local club and school in Newtownmountkennedy and throughout Wicklow.  Jim and his family have strong links to the local GAA club.  Both of his sons have represented Wicklow at a senior intercounty level, an achievement of which he is very proud.  His grandchildren today grace the field of the local club, following in the footsteps of their grandad.  Briseann an dúchas trí shúile an chait.  Jim, a friend to all, a man of his word, but most of all a true gentleman.  The influence of teachers like Jim O'Riordan should not be underestimated.  All in Allianz Cumann na mBunscol Chill Mhantáin thank him for his continued service, wish him well in his retirement and congratulate him on his award, what an honour!  Tá an coiste thar a bheith brodúil as an sár-obair atá déanta aige thar na blianta fada a chaith sé linn mar runaí, mar oifigeach peile, mar chathaoirleach agus go mór mhór mar chara.
The success of the night did not end there! Kilcoole Primary School also brought home awards, claiming 2nd place in both the 'Large School of the Year' and the 'INTO 150th Year Celebration Award' categories; as well as 3rd place in 'Promotion of Gaelic Games and Culture' category.  This is a countrywide competition so it is wonderful news that Wicklow was so well represented and achieved such success.  Well done to all involved, it is testament to the commitment of those involved in the promotion of Gaelic games and culture in our schools.  Representatives from the Garden County on the night included Jim O'Riordan, Sinéad Ní Chrean Loinsigh, Míchéal Ó Murchú, and from Kilcoole PS, Joanne McDonagh, Emer Fahy, Claire Bowden, Claire Frawley, Eve Whyte and Pamela McDermott.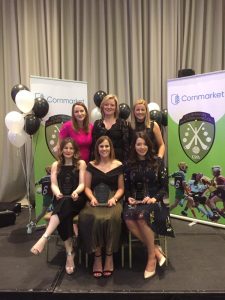 Kilcoole group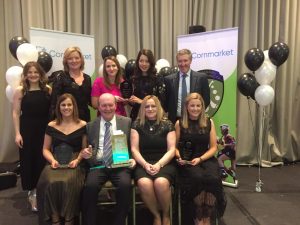 National Awards Group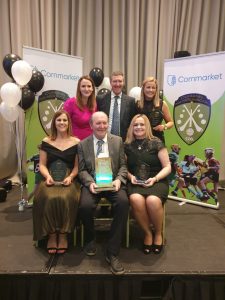 Wicklow Committee
Weather holds out as Girls' Football Shines
Wednesday 6th March saw Day 1 of the Girls' Wicklow Times Shield. The weather that threatened to put a dampner held out and the football more than brightened spirits. The emphasis was on points scoring and the girls definitely gave a great demonstration of scoring them.  In all 16 teams took part from different schools from North East Wicklow. There were some great games and really close battles but great fun was had by all.  A huge thank you goes to Liam McGraynor and Bray Emmets for hosting, to Micheál Ó Murchú and Garrett Doyle for setting up the pitches and to all those who looked after teams or refereed games.  Huge thank you and well done to all the girls who played and made it such a success.  The schools involved were Scoil na Coróine Mhuire Ashford, St Laurence's Greystones, Kilcoole National School, St Brigid's Greystones, Scoil Chualann Bré Chualann, Greystones Educate Together, St Fergal's National School Bray, Kilmacanogue National School, Newtownmountkennedy National School. Wicklow Educate Together, Gaelscoil Chill Mhantáin, St Brigid's Greystones, Scoil Chualann Bré Chualann.
Day 2 of Boys' Football Allianz Coughlan Cup is up Next!
Day 2 of the Allianz Cumann na mBunscol Coughlan Cup, for 5th & 6th Class Boys, will take place on Wednesday 13th March at 11:45 a.m. in Bray Emmets' Grounds.  It's an 11-a-side blitz with no age limit.  Please note there will be goalkeepers this week but over the bar will be worth 3 points and a goal will be worth 1 point, similar to the children's club rules.  Schools can enter as many teams as they wish, grading players accordingly to their ability.  Each school can have a panel of 16 players per team as the games will be longer in duration this week.  Please let Gary McGillycuddy, Oifigeach Peile know as soon as possible, via email or text/WhatsApp 086-8729927 if you'll be attending on Wednesday 13th and, if so, with the number of teams attending from your school.
Girls' Wicklow Times Shield Day 2
20th March at 11.45 a.m. in Bray – 9 a-side (This is a competitive competition; goalkeeper, points worth 3, goals worth 1 point).
INTO Skills Challenge
The annual Allianz Cumann na mBunscol Wicklow Skills competition will take place in regional venues on the week beginning March 25th.  Please take particular notice of the age restriction regarding this event. Note that the age limit has changed and is now the same for all schools regardless of enrolment numbers.  Participants must be
born on or after January 1st 2007.
Each school is permitted to send 2 representatives per code to compete in:
* Gaelic Football (boys)
* Gaelic Football (girls)
* Hurling
* Camogie
Each pupil will only be permitted to compete in one code.
The top 2 pupils in each code from each area will be invited to compete in the County Skill Tests scheduled for April 3rd in Wicklow GAA Centre of Excellence, Ballinakill at 11am.  The top performing pupils in the County Skills tests will have the opportunity to represent their school and county during the half-time of selected All Ireland Series games during the summer, which is a wonderful opportunity.  All schools have been emailed the football and hurling/camogie skills tests with the 2019 Skills Challenge Enrolment Form, which must be brought along on the day.  It is encouraged that each school host their own internal tests to aid selection of their representatives before forwarding them to the regional skill tests.
The North-East test will take place on Wednesday March 27th in Bray Emmets, Boys/Girls Football at 11 a.m. and Hurling/Camogie at 12.15 p.m.
Dates and venues for the South and West regions will be confirmed as soon as possible but the competition is due to take place on the week beginning March 25th.  Please pay attention to the rules and date of birth outlined as they are very specific and must be adhered to.
If a child has represented Wicklow in Croke Park previously in any code they cannot take part at any level of the skills test again e.g. regional skills day etc.
Please be advised for those participating in the upcoming INTO Skills Tests that there are new skill tests for Gaelic football, while hurling remains the same.
Any school wishing to participate in the skills competition and other Cumann na mBunscol activites MUST have registered with Allianz Cumann na mBunscol Chill Mhantáin.
To register please send the attached Registration form and €50 cheque/cash to our Cisteoir, Emer Fahy, St. Anthony's Building, Kilcoole Primary School, Kilcoole, Co.Wicklow.
Please send results, reports or photos to pro.cnmb.wicklow@gaa.ie, follow us on twitter @cnmbwicklow  Keep up-to-date with all Allianz Cumann na mBunscol news in Wicklow on our website www.cnmbwicklow.ie