Rhode take advantage of overworked St Pats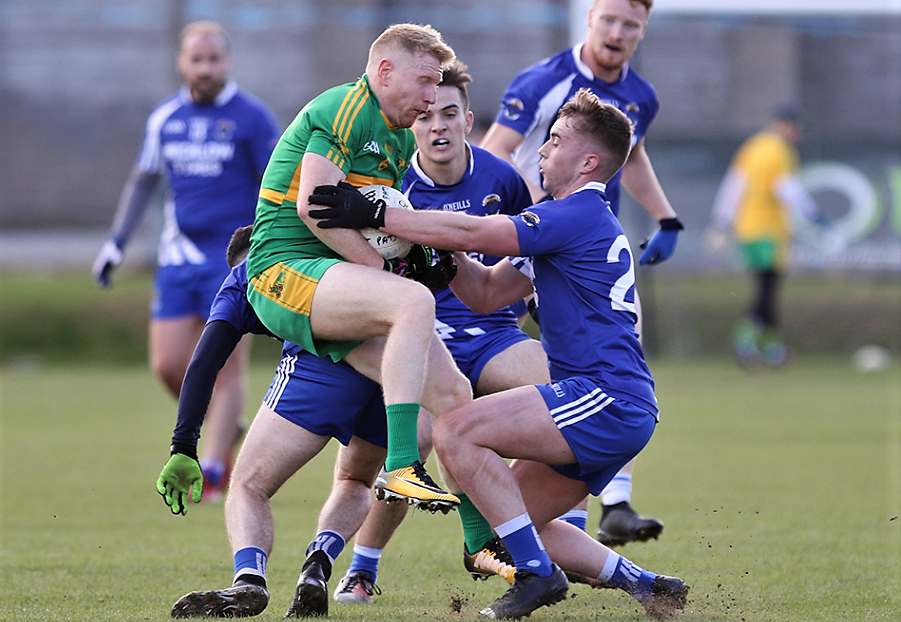 St Patrick's 1-9 Rhode (Offaly) 2-16
St Patricks bowed out Leinster club contention today but the newly crowned Wicklow champions did so with plenty of effort and pride. Just 22 hours after their energy sapping win over their biggest rivals Rathnew they had to take the field again in Joule Park to face three in a row Offaly champions Rhode.
Rhode are up there with the best of them when it comes to the club championship and having a forward the calibre of Niall McNamee in their ranks will always make them a threat. The former Offaly star kicked 11 points in a super forward display.
St Pats started well with the wind, taking a 0-3 to 0-1 lead in the first eight minutes but then McNamee started to show his class Ciaran Heavey and Anton Sullivan alongside McNamee were also causing havoc and the Offaly men went on to lead 0-10 to 0-5 at the break.
Stephen Duffy scored his fifth point for St Patrick's immediately after the break in another flawless display of kicking from man of the match in yesterdays replay. All hopes of a revival were quashed inside two minutes as Ciaran Heavey finished to the net. Duffy departed soon after on a deserved black card.
Anton Sullivan scored the second goal for Rhode on 45 minutes. Tommy Kelly's goal for Patrick's on 52 minutes just served to put a better complexion on the final scoreboard coming at the end of a fine passing move involving plenty of Pats players.
The St Pats players tried to the end with Dean Healy, Shane Murley, Conor Ffrench, Paudge McWalter and Tommy Kelly leading the way. Casey O'Brien got the chance to give game time to young players like Aidan Dunne, Patrick O'Kane, Jack Dunne, Hugh Humby and Ronan Murray and they didn't look out of place.
Tiredness most definitely played a big part in the defeat and maybe too the celebrations that would justifiably be had after such a great win yesterday. Questions would have to asked as to why this game could fall so awkwardly in the calendar given the outcry over player welfare in recent times. Answers, sadly, they seldom come.
St Patrick's: Collie Byrne, Ciaran Doyle, Shane Murley, Wayne Doyle, Aidan Dunne, Conor Ffrench, John Crowe, Dean Healy (0-1), Patrick O'Kane (0-1), Jordan Pettigrew, Paudge McWalter, Paul Earls, Stephen Duffy (0-5, frees), Jack Dunne, Tommy Kelly (1-2, one free).Subs: Paul O'Brie for J Dunne, Hugh Humby for W Doyle, Ronan Murray for A Dunne, Bryan Doyle for P Earls, Johnny Delahunt for J Pettigrew, Ciaran McGettigan for S Duffy (BC)
Rhode: K Garry, S Sullivan, E Rigney, J Kavanagh, B Darby, N Darby (0-1, free), J McPadden, C McNamee, A McNamee, P McPadden, R McNamee, P Sullivan, C Heavey (1-2), A Sullivan (1-2), N McNamee (0-11, four frees). Subs: G McNamee for C Heavey, D Kavanagh for C McNamee, S Lowry for P Sullivan, M Rigney for B Darby, D Garvey for P McPadden
Referee: Brendan Cawley, Kildare.