Scór na nÓg Tráth na gCeist County Final 2019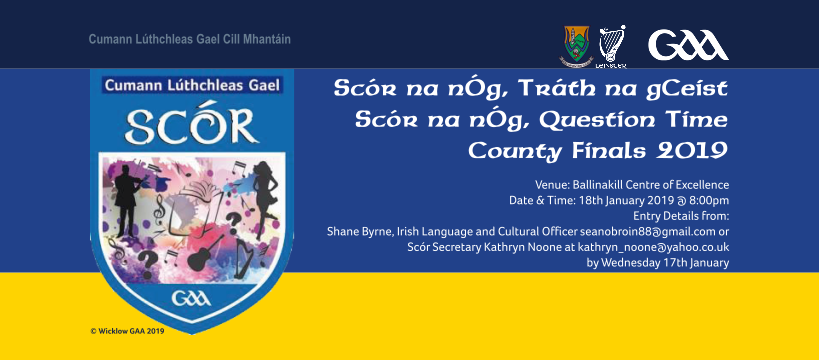 The first cultural event of the year takes place shortly. This is the Annual Scór na nÓg Tráth na gCeist (Question Time) County Final. This is scheduled for Friday the 18th of January at 8pm in Ballinakill Centre of Excellence. Participants are asked to be there at 7:45pm.
Some pertinent details regarding the Tráth na gCeist are as follows:
Age category is under 17 (born on 1 of January 2002 or later)
Teams of 4 (clubs can enter more than one team)
10 rounds of 8 questions
Topics include: 1. Gaelic and Ladies Football 2. Hurling and Camogie 3. General GAA 4. Irish History 5. World History and Geography 6. Irish Geography 7. Irish Current Affairs 8. World Current Affairs  9. Irish Culture 10. General Knowledge
Current Affairs Questions will relate to 2018 and early 2019
GAA questions will not cover any events prior to 1998
1 question as Gaeilge in each round
Engraved medals for winners
Forward entries to myself at seanobroin88@gmail.com or Scór Secretary Kathryn Noone at kathryn_noone@yahoo.co.uk by Wednesday the 17th January
The winners of the Tráth na gCeist County Final will have the honour of representing the county in the All Ireland Final which takes place on the 16th of February in Castlebar.