Scór Sinsir Finals – Scór turns 50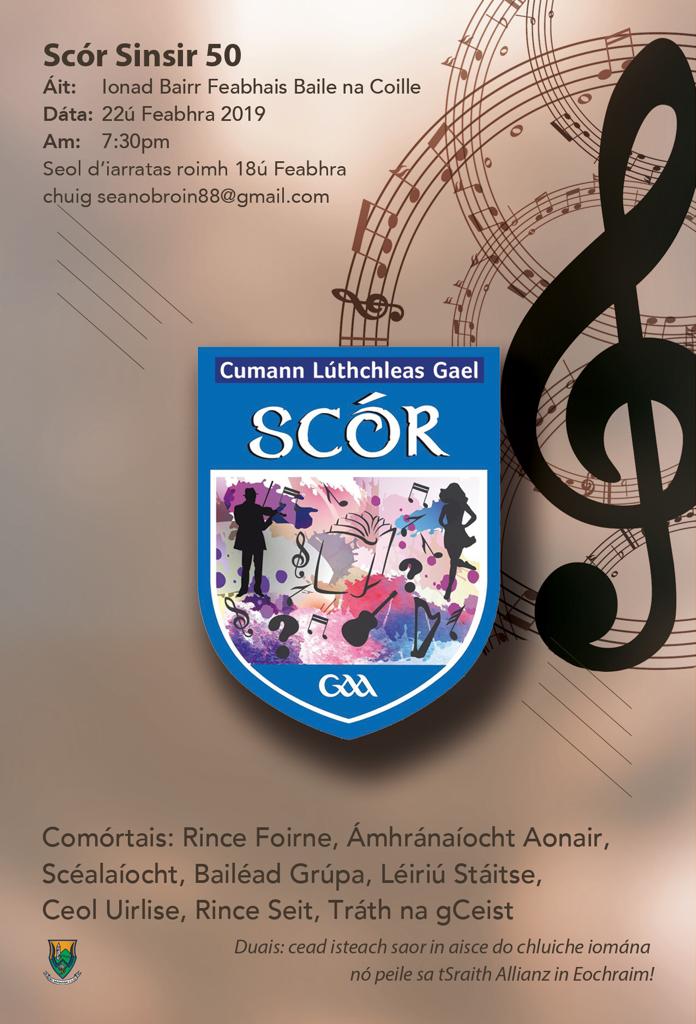 Scór turns 50!
50 years on from the first ever edition, our Scór Sinsir Finals will take place in Ballinakill Centre of Excellence on the night of the 22nd of February commencing at 7:30pm.
The following are the categories in which clubs can enter contestants:
Rince Foirne  (Céilí or Figure Dancing)
Amhránaíocht Aonair                (solo-singing)
Aithriseoireacht/Scéalaíocht       (recitation/storytelling)
Bailéad Grúpa                             (Ballad Group)
Léiriú Stáitse                                (Stage Presentation)
Ceol Uirlise                                   (Instrumental Music)
Rince Seit                                      (Set Dancing)
Tráth na gCeist                               (Question Time)
The winners of the above competitions advance to the Leinster semi-finals which take place on Saturday March 2nd in Myshall, Co. Carlow. The fee for entry is just €10 per competition payable on the night.
An interval raffle will take place on the night. Refreshments will also be provided. As well as usual prizes, all winners will also receive a free pass to a home Wicklow Allianz League match of their choice in hurling and football.
Please forward your entries to Shane Byrne, the Oifigeach Gaeilge agus Cultúir, at seanobroin88@gmail.com or to Scór Secretary Kathryn Noone at kathryn_noone@yahoo.co.uk by Monday 18th of February 2019. Should you have any queries, contact Shane on (087) 2291548 or Kathryn on (086) 866 4931. 
Scór Sinsir participation levels have been rising year on year and we're looking to build on that in 2019 as Scór celebrates the half century! Scór is always a thoroughly enjoyable competition, is a great way of building club spirit and can put your club on the map at a provincial and national level.
Go n-eirí an t-ádh libh le bhur gcuid ullmhúchán! Best of luck with your preparations!