SOUTH LEINSTER SENIOR TITLE FOR SCOIL CHONGLAIS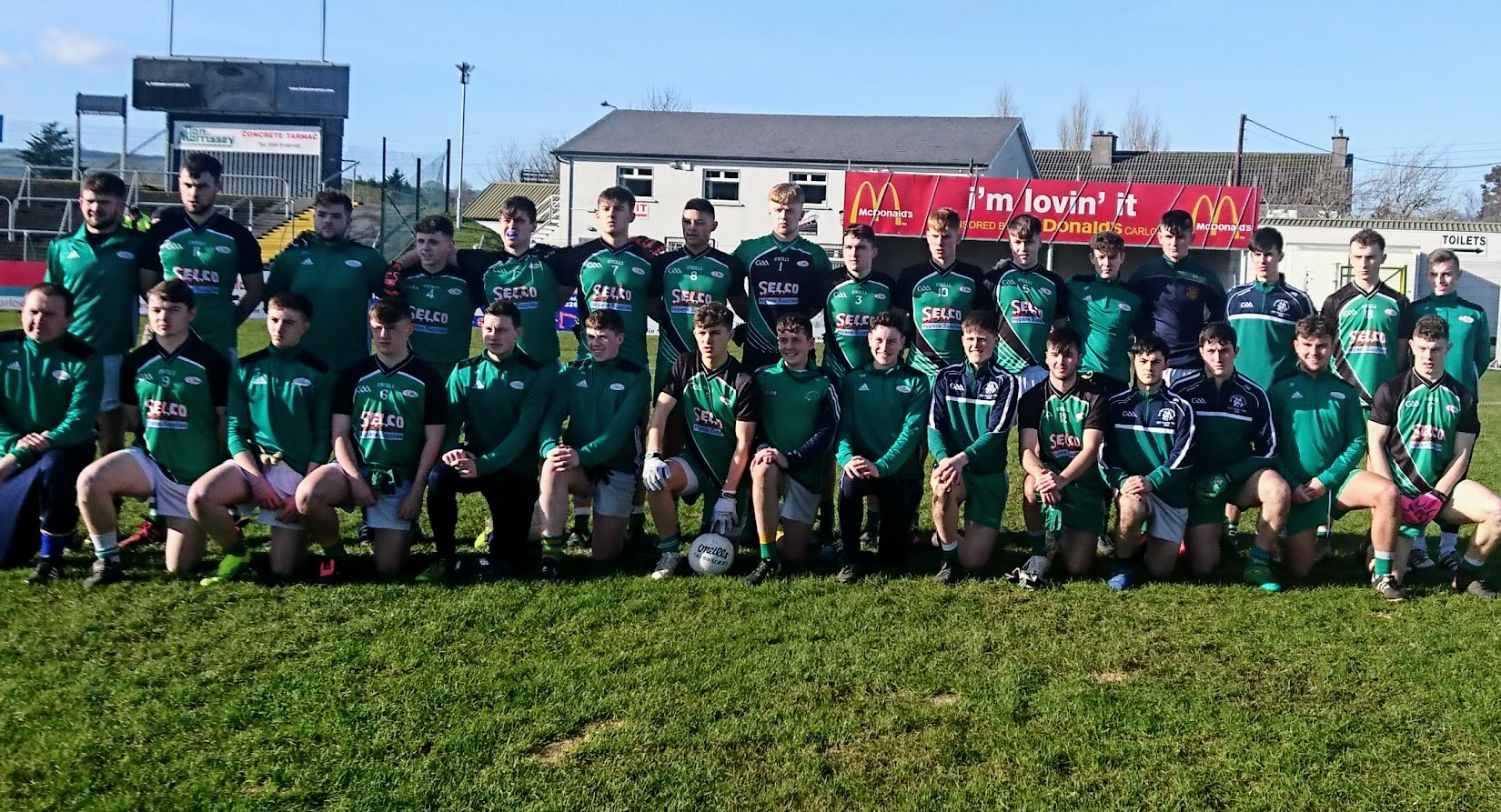 SOUTH LEINSTER SENIOR TITLE FOR SCOIL CHONGLAIS
Scoil Chonglais Baltinglass 3-10  Colaiste Eoin Hacketstown  1-9
The final of the Top Oil South Leinster Post Primary senior football D championship between Scoil Chonglais Baltinglass and Colaiste Eoin Hacketstown in Netwatch Dr Cullen Park on Monday was keenly contested.
Colaiste Eoin had five players from Wicklow clubs including the captain Eoghan Byrne of Tinahely and it was Knockananna man Noel Byrne who found the net for them in the 3rd minute following a strong run by Luke Connolly.
After 7 minutes the Hacketstown school led by 1-1 to 0-1. Jason Sinnott soon kicked a Baltinglass point and then his team had a golden patch between the 9th and 12th minutes as they scored goals in rapid succession from Jordan Deans, Alan Barrett and Jack Fleming. Inspired by these scores they went on to lead by 3-7 to 1-4 at half time.
Colaiste Eoin started the second half in determined mood and scored some nice points. The incisive running of Jake Hickey was causing bother but he was called back a few times by Laois referee Ronan Devaney for over carrying. Despite having the majority of play Colaiste Eoin never looked like scoring another goal against a well drilled defence. Scoil Chonglais only managed a single point for the first 25 minutes of the half. Part of the reason for this was that Colaiste Eoin put an extra man on the dangerous Jordan Deans.
The lowest the margin between the sides was in this half was five points with just a few minutes to go but Scoil Chonglais finished with points by Robert Brien and Jack Hanlon to seal a well deserved victory.
The match was keenly contested throughout and the referee had to issue a number of cards of all colours.
After the game Pat Henderson of Leinster Council presented the trophy to Scoil Chonglais captain Jordan Deans.  The Baltinglass school will now play the North Leinster champions in the Leinster semi final.
SCORERS : SCOIL CHONGLAIS Alan Barrett 1-2, Jordan Deans 1-1, Jack Fleming 1-0, Jack Hanlon 0-3, Sean Doody 0-2, Jason Sinnott and Robert Brien 0-1 each.  COLAISTE EOIN: Noel Byrne 1-0, Ruairi Tompkins 0-3, Darragh McKernan 0-2, Luke Connolly, Eoghan Byrne, Sean Tompkins 0-1 each while one point was deflected over the bar by Chonglais goalkeeper William Rogers.
SCOIL CHONGLAIS : William Rogers, Jack Fleming, Senan Molloy, Emilio Faulkner, Padraig Bolger, Kyle Byrne, Paddy Whelan, Sean Doody, Tadhg O'Toole,  Jason Kenny, Jack Hanlon, Alan Barrett, Jason Sinnott, Jordan Deans, Karl Furlong. SUBS USED Robert Brien, Darren Walsh.
COLAISTE EOIN: Melvyn Kinch, Rory Maguire, Rory McKernan, Cormac Connolly, Jake Hickey, Colm Keogh, Sean Tompkins, Luke Connolly, Eoghan Byrne, Reid Byrne, Jordan Tallon, Noel Byrne, Sean Moran, Ruairi Tompkins, Billy Lawlor. Subs: Darragh McKernan, Ciaran Mooney, Keith Bowes