St Patrick's GAA Club Wicklow Town crowned U13 Football Division 1 League Winners 2019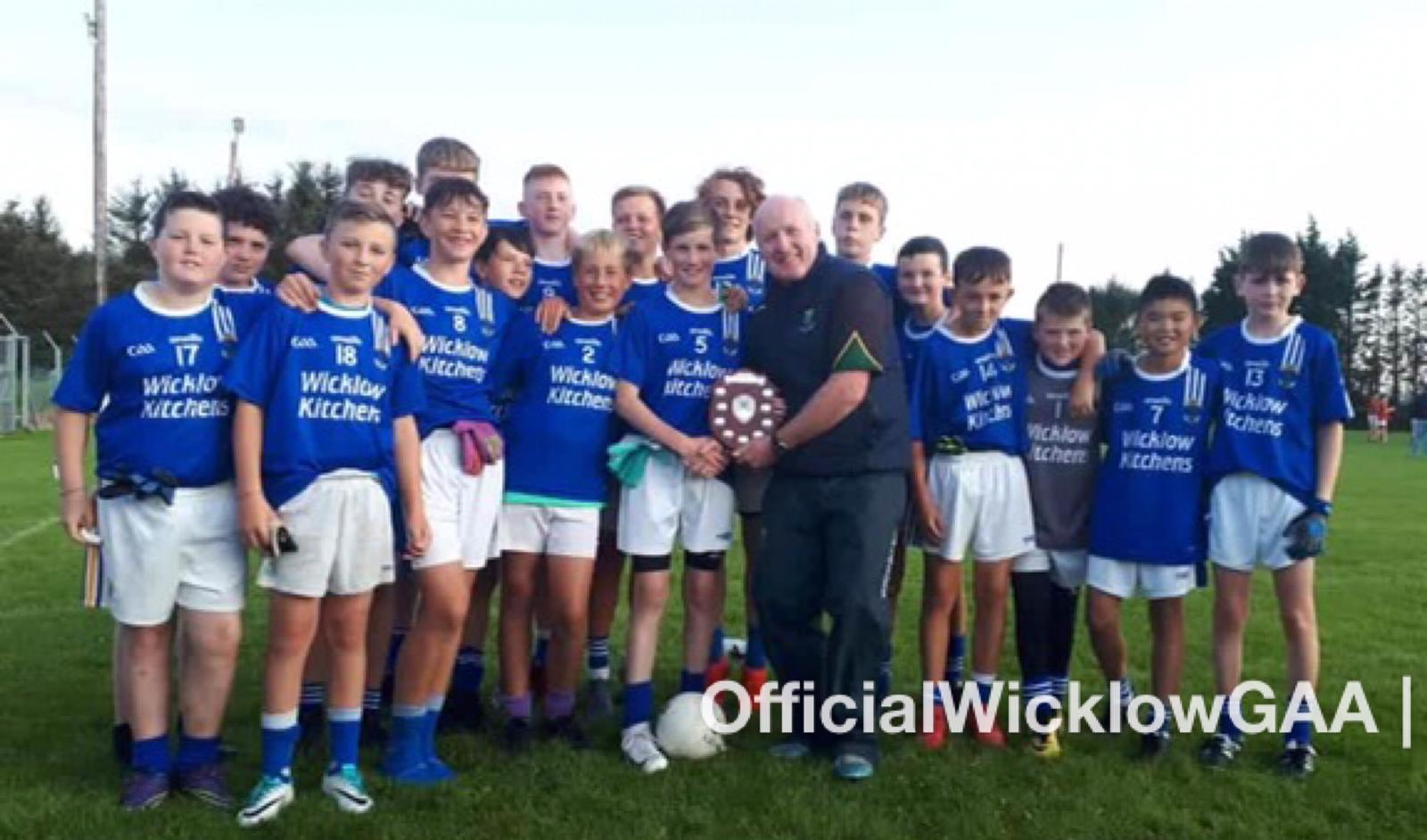 AN TÓCHAR 3 – 09
ST. PATRICKS 1 – 11

Saint Patricks picked up the trophy for winning the U/13 "A" football league on Monday evening last after a powerful game of football.

This was the Wicklow town side first taste of defeat this year. An impressive An Tochar side took the game to their opponents from the off. These Roundwood warriors dug deep to get over the finish line, in a game full of passion from the first whistle. Joe Heatly opened the scoring for the home side before ace marksman, Will Farrel fired over a brace of pointed free's to put St. Pat's ahead. Corner forward, Luke Nolan fired in two majors in the space of 3 minutes to edge Roundwood ahead as the play ebbed up and down the field. A brace of points by Daniel Kavanagh and Will Farrel closed out a highly entertaining opening quarter with the score reading, 2-01 to 0-4. Eanna Nolan edged the home side further ahead, however, St. Pat's responded with five unanswered points, the pick of them a mighty long-range point from the boot of James Curry. Matt Fox was a thorn in St.Pats side throughout the game while Tom Murray was a colossus at full-back for Wicklow town, clearing anything that came his way. Eanna Nolan closed out the scoring of the half with a well-executed point, as the scoreboard read 2-03 to 0-9, all square, in a gripping encounter. 
Joe Heatly edged An Tochar ahead on the restart with a point after great build-up play by Tom McKenna. Pat's leveled the game once again with a placed ball from Will Farrell after Senan O'Donovan was fouled. Deon Fielding put Harri Armstrong clean through and Armstrong rocked the net as the pendulum swung back to the Wicklow town side to restore a 3 point lead to mighty cheers from the east coast supporter's. Well, lad's within seconds, An Tochar leveled this titanic battle with a brilliant individual goal from midfielder Eanna Nolan, as the stand shook from the home supporters cry's. Eanna Nolan added three further points before Daniel Kavanagh and James Curry cut the deficit to the minimum going into the closing final stages. Both sides missed glaring goal chances before the man of the match, Eanna Nolan swung over the last two points of the game, to put daylight between two well-balanced teams and on this performance, both side's look good to make the latter stages of the upcoming championship. 
After the game, Coiste na nÓg chairman Pat Dunne, presented St Patrick's captain, Cian Byrne with the trophy.

An Tóchar: Rory Williams, JJ Brady, Killian Byrne, Joe Heatly 0-2, Matthew Fox, Tom McKenna, Éanna Nolan 1-07, Seán McHugh, Ryan Healy, Joesph McDonnell, Brian Medlycott, Luca Nolan 2-00, Josh Healy, Jack Ó Mahony, Charlie Colleran

St.Patricks: Adam O'Brien, Ciarán Matthews, Tom Murray, Cian Byrne, James Curry 0-02, Alfie Doyle, Harri Armstrong 1-00, Lorcan Byrne, Senan O'Donovan, Deon Fielding, Oscar Durston, Will Farrell 0-06, Charlie Czwalina 0-01, Daniel Kavanagh 0-02, Matt Fitzpatrick, Bill O'Brien, Conor Kelly.

Venue: Roundwood
Referee: Pat Dunne (Hollywood)