Hurlers face tough trip to Westmeath for Kehoe Cup opener.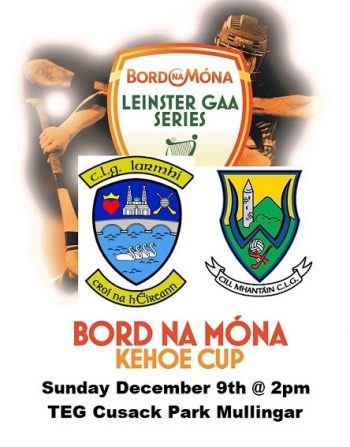 The Kehoe Cup also has a pre Christmas start with Wicklow under new manager Eamon Scallan making the trip to TEG Cusack Park in Mullingar for 2pm throw in against the home side.
Scallan has named the following team to face the midlanders in what will be a tough opening game for the new set up. We wish them the best of luck.
1. Bob Fitzgerald Annacurra GAA
2. Martin O'Brien Annacurra
3. Billy Cuddihy Éire Óg Greystones GAA Club
4. Warren Kavanagh Glenealy GAA
5. Peter Keane Eire Óg
6. Stephen Kelly Eire Óg
7. Garry Byrne Glenealy
8. Ronan Byrne Kiltegan Gaa
9. John Henderson Bray Emmets GAA Club
10. Jack Doyle Carnew Emmets GAA Club
11. Eamonn Kearns Avondale Gaa
12. Eoin McCormack Bray Emmets
13. Enda Donohoe Carnew
14. Gavin Weir Glenealy
15. James Cranley Eire Óg.
Subs: 16. Cian Staunton Glenealy 17. Conor McNally Bray Emmets 18. Sean Maloney Bray Emmets 19. Luke Evans Kilcoole GAA Club 20. Seanie Germaine Kiltegan 21. Brian Kearney Kiltegan 22.Gary Hughes Glenealy 23. Jonathan O'Neill Jnr Glenealy 24. Ronan Keddy Kilcoole 25. Padraig Doyle Bray Emmets.