U15 Hurlers win Hibernian Cup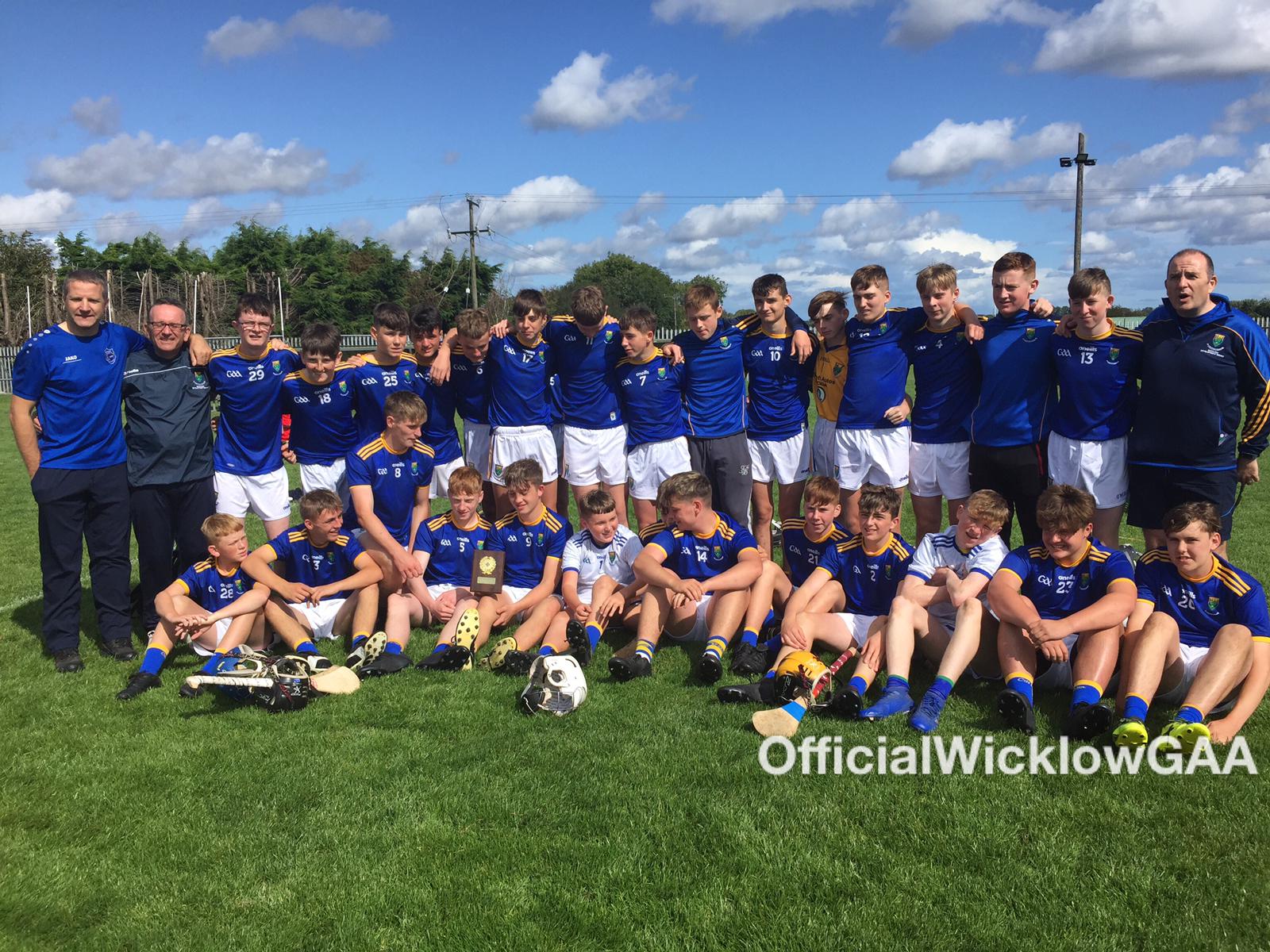 U15 Hurling Hibernian Final in Leixlip
Full Time Score
Wicklow 3-08
Kildare 2-7
Wicklow controlled most of the game. Wicklow led after 15 minutes but Kildare clawed back and were a point up before we equalized just before half time to make 1-6 to 2-3 at the break.
Early in the second half Billy Molloy and James Ffrench got a goal each. Austin Brennan topped it up with some frees. Luke Frawley made a cracking save in the Wicklow goal in the dying minutes. Kildare then popped over a couple of points. It was very tight in the end but Wicklow came out on the winning side on a scoreline of 3-8 to 2-7.
Wicklow U15 Hurling Squad
1 Luke Frawley (Northern Gaels)
2 Kieran Ovenden(Northern Gaels)
3 Fiachra Downey( Bray Emmets)
4 Charlie Chamley(Michael Dwyers)
5 John O Brien(St Patrick's Wicklow)
6 Austin Brennan(Michael Dwyers)
7 Cornac Byrne (Glenealy)
8 Finn Treacy(Bray Emmets)CAPTAIN
9 Jamie Grehan(Northern Gaels)
10 James Ffrench(Glenealy)
11 Sam Gough(Michael Dwyers)
12 Billy Molloy(Carnew)
13 Charlie Frawley(Northern Gaels)
14 Senan Rogan(Northern Gaels)
15 Conor Richardson (Michael Dwyers)
16 Maurice Shiels ( Carnew)
17 Conor Manifold ( Michael Dwyers)
18 Larry Kinsella ( Carnew)
19 Kian Conlon(Glenealy)
20Michael Shannon ( Northern Gaels)
21 Ruairi O'Brien (Carnew)
22 Will Molloy (Carnew)
23 Adam Williamson( Michael Dwyers)
24 Kevin Booth ( Northern Gaels)
25 James Byrne (Bray Emmets )
26 Evan Cooke (Northern Gaels)
27 Shane Baguley(Bray Emmets)
28 Cathal Mac Maolain ( Bray Emmets)
29 Oisin Taggart( Northern Gaels)
30 Daniel Browne( Glenealy)
31 Ben Meade(Glenealy)
32 Aaron Devlin(Glenealy)
33 Cian O Lionaigh(Northern Gaels)
34 Fintan Potts (Northern Gaels)
35 Shane Byrne (Carnew Emmets)
Mentors:Colm Ffrench,Karl Cooke,Pat Brennan
Well done to all involved.