Wicklow book their place in the League Final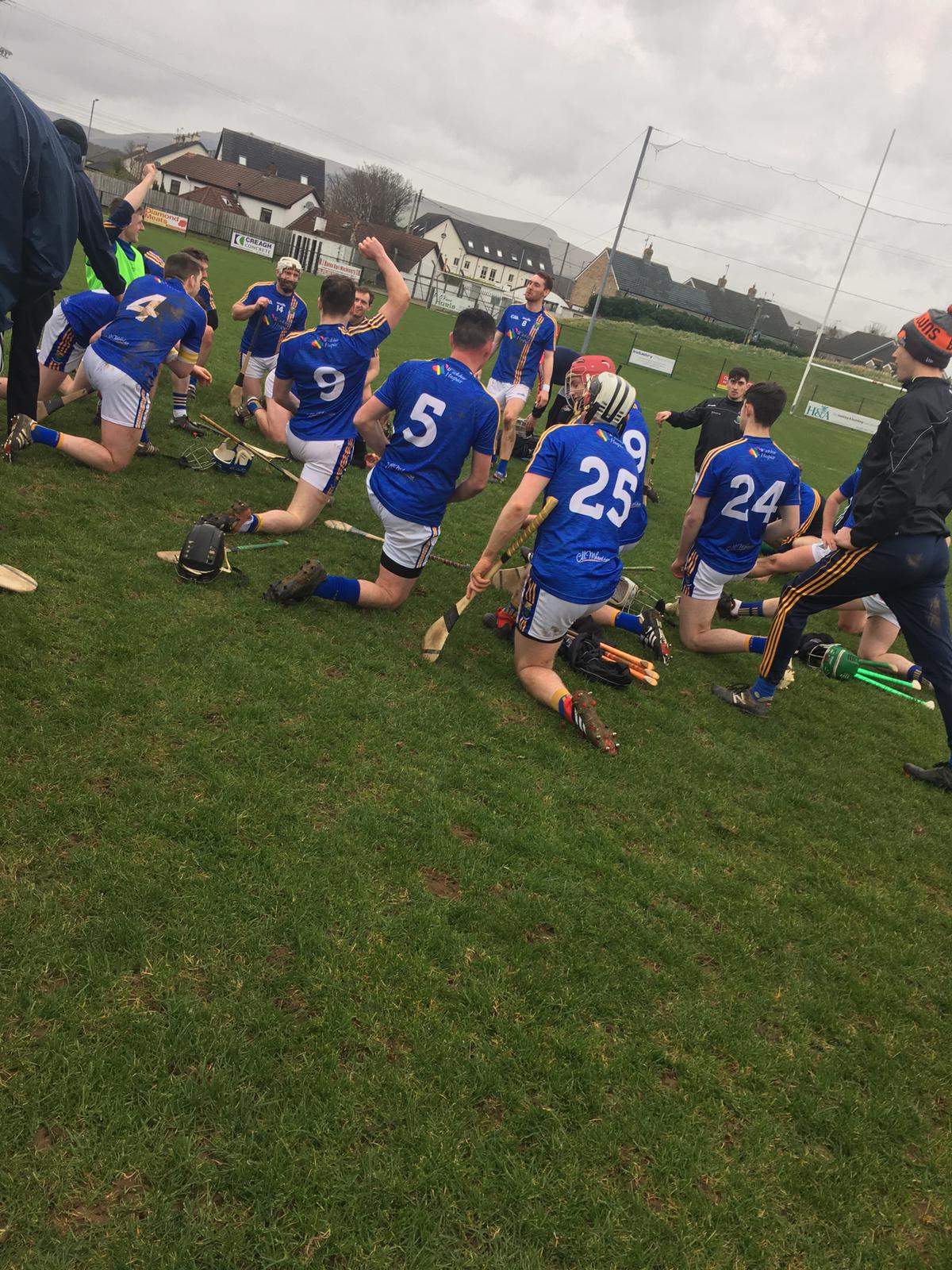 Wicklow 2-16 Derry 0-16
Wicklow travelled to Ballinascreen to take on Derry in Round 5 of the Allianz Hurling League. Derry had already secured their place in the league final but Wicklow needed a win to be in with a chance of claiming the final spot.
Wicklows determination was apparent as they led the game from start to finish. Enda Donohoe opened the scoring with a point which was followed by a Christy Moorehouse point from a free before Derry got on the scoreboard with a pointed free. Two further points from Christy Moorehouse and one from Enda Donohoe stretched Wicklows lead to 0-05 to 0-01. Derry scored a point of their own but it was quickly cancelled out by a Christy Moorehouse point. Derry got two more points to narrow the gap to two points. Michael Boland increased the lead to three. A short Wicklow puck out was worked up the field resulting in a long ball into the full forward line. The ball went over the full backs head and was picked up by Andy O' Brien who finished the ball to the Derry net. Jonathon O' Neill added two further points from play to leave the half time score at 1-09 to 0-4.
Derry opened the scoring with a point in the second half. The teams traded points with the Wicklow scores coming from Andy O' Brien and Enda Donohoe to leave the score at 1-11 to 0-06. Danny Staunton replaced Jack Doyle. Derry scored a further three points before Christy Moorehouse converted a Wicklow free. Eamonn Kearns replaced Michael Boland. Derry pointed again followed by another Christy Moorehouse free. Andy O' Brien then picked up his second yellow card of the game and Wicklow were down to 14 with ten minutes to go and the score 1-13 to 0-11. Danny Staunton and John Henderson both pointed for Wicklow either side of a Derry point. Derry went on the attack and what looked like a certain goal was cut out by Martin O' Brien who jumped across the goal to knock the ball out to the wing and it was cleared by the Wicklow backs. Derry attacked again but again the Wicklow backs picked up the loose ball and cleared their lines. Eoin McCormack received the pass in the middle of the field and headed for the Derry goal. He passed across the goal to Christy Moorehouse whose shot was saved  by the Derry goalie but Eoin McCormack knocked the rebound into the net. Luke Evans replaced Christy Moorehouse and quickly added his name to the scoresheet. Gary Hughes replaced Enda Donohoe. Derry finished with the last two points but it wasn't enough to catch Wicklow. Wicklow will be happy with the spread on scoreres with 8 players on the scoresheet.
Both teams meet again in the Allianz Hurling League Division 2B Final next Sunday 10th March @ 2pm in Pairc Grattan Inniskeen, Co. Monaghan.
Wicklow scorers: Christy Moorehouse 0-06, Andy O' Brien 1-01, Enda Donohoe 0-03, Eoin McCormack 1-00, Jonathon O' Neill 0-02, Michael Boland 0-01, Danny Staunton 0-01, John Henderson 0-01, Luke Evans 0-01
Wicklow: Cian Staunton, Brian Kearney, Billy Cuddihy, Martin O' Brien, Gary Byrne, Stephen Kelly, Warren Kavanagh, John Henderson, Jack Doyle, Eoin McCormack, Enda Donohoe, Michael Boland, Christy Moorehouse, Andy O' Brien, Jonathon O' Neill Subs: Danny Staunton for Jack Doyle, Eamonn Kearns for Michael Boland, Luke Evans for Christy Moorehouse, Gary Hughes for Enda Donohoe
Derry: Seán Kelly, Paddy Kelly, Seán Cassidy, Ruaidhri McCortney, Conor Kelly, Brian Óg McGilligan, Hinphey, Mark McGuigan, Paul Cleary, Gerald Bradley, Ritchie Mullan, Thomas Brady, Naoise Waldron, Meehaul McGrath, Niall Ferris