Wicklow defeat Limerick in Aughrim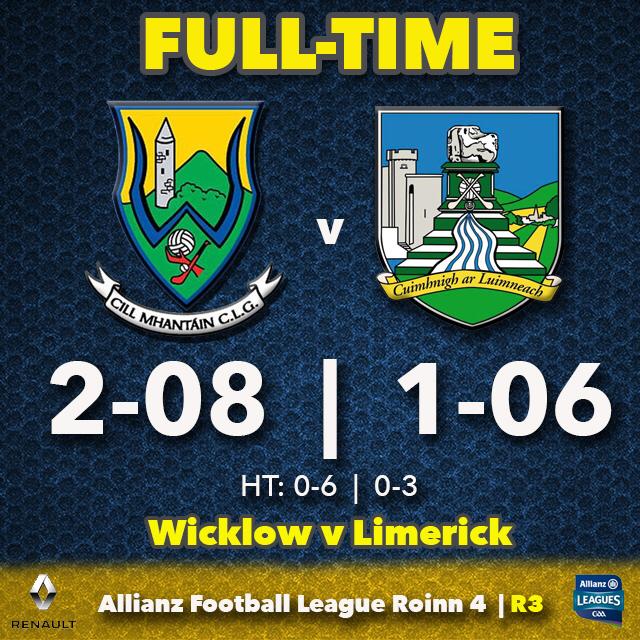 Limerick travelled to Aughrim on a very blustery Sunday. The wind had an impact on the game with both teams having more difficulty playing with the wind than against it.
Wicklow played with the wind in the first half and had 3 points on the board before Limerick registered their first. Limerick turned over a lot of Wicklow possession in the first half but only put another 2 points on the scoreboard before half time. The half time score was Wicklow 0-06 Limerick 0-03.
Early in the second half, the Limerick broke down the Wicklow defense and, despite a great save from Mark Jackson, Limerick were quicker to follow up on the rebound and finished the ball to the Wicklow net. Limerick went ahead for the first time in the game, Wicklow 0-07 Limerick 1-05. Wicklow responded minutes later with a goal of their own. Chris O' Brien made a great run through the heart of the Limerick defense before slotting to the corner of the net. The teams traded points again before Darragh Fitzgerald attacked up the left wing, he switched the ball across to the right wing to David Devereaux who crossed the ball into the sqaure. Theo Smith was on the end of the pass to knock it past the goalie. Wicklow goalie, Mark Jackson, had  great reflexes to deny Limerick a late goal. The game finished on a scoreline of Wicklow 2-08 Limerick 1-06
Wicklow Scorers: Chris O' Brien 1-02 (1 free), Theo Smith 1-01, Stephen Duffy 0-03 (2 frees), Dean Healy 0-01, Mark Jackson 0-01 (free)
Wicklow team: Mark Jackson, Oisín Manning, Ross O' Brien, Jamie Snell, David Devereux, Shane Mooney, Darragh Fitzgerald, Pádraig O' Toole, Dean Healy, Mark Fitzsimons, Mark Kenny, Theo Smith, Chris O' Brien, Stephen Duffy, Patrick O' Connor. Subs used: Paul McLoughlin for Mark Fitzsimons, Daniel Keane for Patrick O' Connor, Conor Healy for Theo Smith, Fintan O' Shea for Chris O' Brien
Limerick team: Donal O' Sullivan, Sean O' Dea, Gareth Noonan, Paul Maher, Colm McSweeney, Iain Corbett, Cillian Fahy, Darragh Treacy, Tommie Childs, Peter Nash, Jamie Lee, Brian Donovan, Sean McSweeney, Patrick Begley, Seamus O' Carroll. Subs used: Stephen Keeley for Tommie Childs, Michael Fitzgibbon for Peter Nash, Oran Colins for Brian Donovan, Michael Donovan for Paul Maher.