Wicklow GAA 'COACH NEWS' 2nd June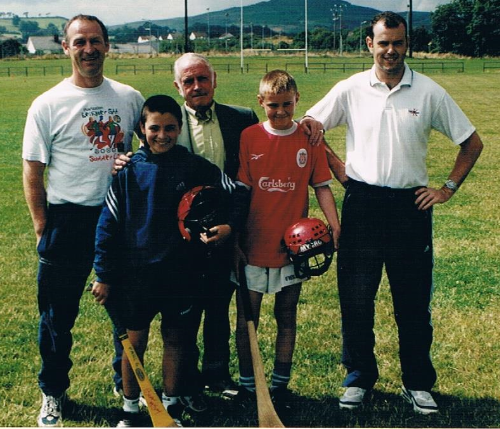 Next week sees the start of children and coaches returning to playing our National Games. It's been a long time coming, but games are there to be enjoyed by all.
The shorter Fixtures calendar in 2021 has certainly wetted the appetite of underage Players & Coaches throughout the county with a signification increase from clubs with the player numbers and teams affiliated for 2021. The increase in numbers will see Coiste na nOg Football competitions catering for 18 Under 10 PPL teams, 43 Under 11 teams, 16 Under 12 PPL teams, 34 Under 13 teams, 13 Under 14PPL teams, 27 Under 15 teams and 18 Minor teams. Our Hurling competitions have 8 Under 10 PPL teams, 15 Under 11 teams, 5 Under 12 PPL teams, 14 Under 13 teams, 6 Under 14 PPL teams, 10 Under 15 teams and 6 Minor teams. Our 2021 football fixtures will provide 681 games from Under 10 – Minor and Hurling will provide 286 games from U10 – Minor.
Coiste na nOg
The remaining 2020 fixtures will begin next Monday 7th June with the U11 Finals and the U15 Football semi-finals. Our 2021 Fixtures are now up on servesport and referees will be added each week to the fixture. Over the coming weeks for clubs that have two age groups playing at home one game will have to start at 6.45pm and the other at 8pm depending if there is only one pitch available.
Challenge Games Request form
All challenge games have to be requested and approved by the county board. Your club secretary must submit this Microsoft form for all challenge games both inside and outside the county. Failure to complete this form will result in no player having injury cover for this game which will leave the club, player and the coach in a very difficult situation if an injury occurs during this game.
Grading Forms
By now all clubs should have returned their Grading form if entering more than one team in the same competition from U10 – Minor
Coach Education
Our coach education programme returned last week with two practical sessions with a dual Foundation and Hurling course taking place in Ballinakill for those coaches who completed the theory part of the online course during lockdown. More courses will take place over the coming weeks in Aughrim & Ashford.
Kellogg's GAA Cúl Camps
Most of our Kellogg's GAA Cúl Camp places are sold out throughout the county in what promises to be a very busy summer. During the week we sent out a document to all clubs that outlines the camp approval process for 2021 as referenced in the camp policy guidelines circulated by the Ard Stiúrthoir on Thursday 28th May. This process applies to all Club Camps & Cúl Camps.
GAA Official Guide
Last Week the GAA published their updated Official Guide Part 1 & 2 and it is available on the GAA website to view and download. Its important that officials and coaches are up-to-date with the new Rules & regulations.
Safeguarding Recognition
Safeguarding Training has a three-year recognition period and a coach, whose training recognition is about to expire, may attend a full 3-hour workshop, face-to-face or virtual, or may avail of the online safeguarding refresher programme to give them a further three-year safeguarding recognition.
Temporary Safeguarding Training (2021 only)
NEW coaches may avail of a temporary safeguarding online programme and subsequent recognition until 31 Dec 2021, once they complete the temporary safeguarding programme.  This agreement only applies to NEW coaches who have also fulfilled all other coach recruitment criteria and does not apply to existing coaches or to coaches whose safeguarding training has elapsed.
Wicklow GAA NEWSLETTER
Wicklow PR Committee are delighted to announce that they will be producing a monthly newsletter (online) to highlight all of the great work happening in clubs around the county both on and off the field.  It would be great if they could have some submissions from Bord na nÓg juvenile clubs. 
For the first edition we would love if all clubs could provide one article approx 300-400 words and photos. If you would like to provide more that would be great also. We have included some ideas below to get you started.
All items for the newsletter should be emailed to wicklowgaa.news@mail.com.
We are currently compiling a mailing list for the newsletter. One of the aims of the newsletter is to provide clubs with another way of showing their sponsors and supporters the great work that you are doing in your club. If you would like your club sponsors added to the list, can you forward it to wicklowgaa.news@mail.com.
Some ideas for the newsletter:
•
Days and training times for underage teams
•
Focus on sponsor / sponsor ad / sponsors logo
•
Walking track / All-weather pitch
•
Fundraising during Covid
•
Healthy Club initiative
•
Match reports (when we are allowed play games again)
•
Focus on a team in your club
Ideally, we would prefer if clubs sent in something small every month rather than loads one month and then nothing for the rest of the year. The newsletter should be seen as a way of promoting your club and the great work that you do. Its success depends on the co-operation and input we get from clubs.
Go Games
In Preparation for the 2021 U7 & U9 Go Games season Darren Hayden & Philip Campion held a Teams meeting with Club Go Games coordinators last week to highlight the schedule and Rules for 2021. In the coming days Darren & Philip will send out the Hurling & Football fixtures to all clubs.
Both lads were busy last week as they also held a Go Games Referee course on line. The Referees that completed this course will now gain practical experience before the season start by refereeing their Clubs U7 & U9 games during their coaching sessions.
Back to Play GIVEAWAY
Congratulations to Shillelagh/Coolboy coach Nathan Clements who won a set of 20 bibs and 40 cones for your club, by just answering the question correctly in last week's edition.
Quote of the week:
"Ability is what you are capable of doing. Motivation determines what you do. Attitude determines how well you do it" Lou Holtz
Three Weekly Coaching Tips:
1. Recognise, publicise and reward. Praise in public – criticise in private.
2. Lead front the front and support from the rear.
3. The coach is the creator of positive experiences.
You can contact us:
We also invite emails from Wicklow People readers/coaches if they would like any topic or area covered in more detail in our "Coach's News" section. Coaches can email their queries and questions to hugh.kenny.gamesmanager.wicklow@gaa.ie and we can address them by providing the relevant information each week
15 Player
Profile Questions
Name: Eoghan Doyle
Club: Avondale
School: Rathdrum Boys National School
Age: 10
1. My Favourite GAA Player?
Conor Byrne
2. My Favourite GAA Grounds?
Croke Park
3. My Favourite Playing Position?
Forward
4. My Favourite Food?
Apples
5. My Favourite Music?
Savage Love
6. My Favourite TV Film or Programme?
Harry Potter
7. What I think is the most important Skill in the game?
Kicking with both feet
8. What is your favourite GAA Drill/Activity?
Graveyard game
9. In 10 years' time I hope to be?
A professional footballer!
10. My favourite team in any Sport?
Liverpool
11. If I won, the Lotto I would?
Buy a ticket to
Anfield
12. Do you play any other Sports?
Soccer, rugby and basketball!
13. What are your hobbies?
Playing my PlayStation
14. My Pet Hates are?
Being told its too cold for shorts!
15. My favourite PlayStation Game is?
M
i
necraft
Eire Og Greystones Playstation GAA Camp Lester Ryan RIP, Patsy Vickers Eire Og Greystones GAA, Brian McEvoy former Kilkenny Hurler with two young participants.