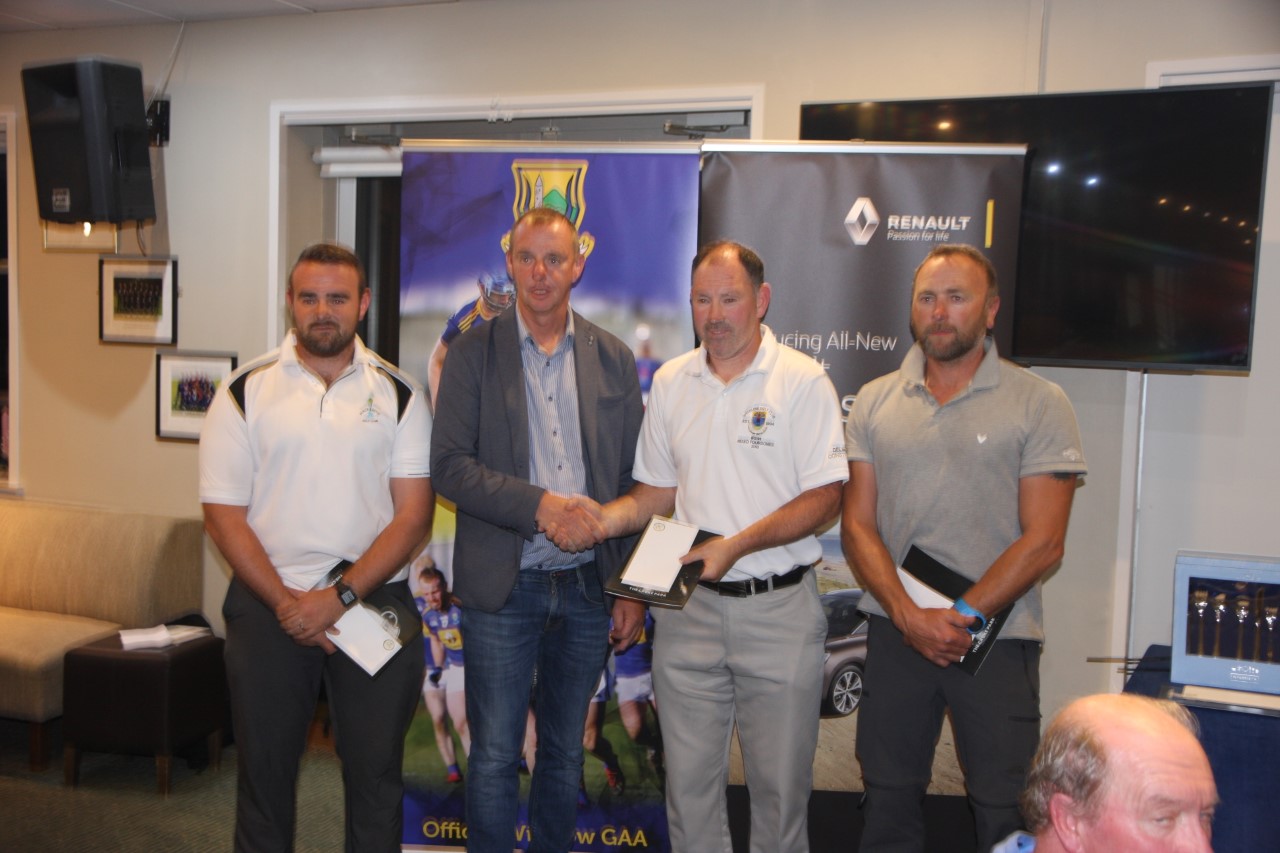 Wicklow County Board Annual Golf Classic.
Mick Hagan,
At Blainroe.
Sport plays a major role in our society and on this occasion it was golf when Blainroe golf club hosted Wicklow county board annual golf classic recently.
Over forty teams made the journey to this excellent course on the east coast overlooking the ocean. The event was played in blustery conditions, however, the weather did not dampen the teams' spirit who made the trip for what is always a great social event and a  major fundraiser for Wicklow County board.
Teams travelled from the four corners of the county and several teams from outside the county to support the event.
The day started off with Fintan Fanning's team who teed off at 8:30 am. The programme continued right throughout the day with Glenealy's  Seamus O' Neill side bringing the day to a close at 4:30 pm after what was a long day enjoyed by everyone who took part.
The presentation of prizes took place in the clubhouse during the evening with Jimmy Whittle, acting Chairman of the committee, remarking on what a wonderful occasion it had been.
And he thanked everyone involved for their support and goodwill towards the event he also had a word of praise for the various  Academy squads  that are in place at the moment and in doing so thanked  the County Board officers for their support to these teams and had no doubt that funds raised from the Golf Classic will be well spent in developing game into the future.
County Chairman, Martin Fitzgerald, thanked the organising committee for the event. He also thanked the various business and the clubs for their continued support. Martin was full of praise for Blainroe Golf club for hosting the event and he hoped the good  relationship between the County Board and Golf club would continue into the future
Trevor Doyle spoke on behalf of the winning team and went on say that it was honour to have taken part in the event and it was something special to have won, he was full of praise for everyone involved in the event.
Sponsorship plays a major role in the GAA circle and Wicklow county board are very lucky to have Patrick McGee and Renault on board. Renault supports many ventures across the board, no matter what the event is and no doubt Renault and members of the McGee family will return to Blainroe in some capacity in the near future.
After what was a successful and most enjoyable day which saw some wonderful scorers with no more that than four points between the top five teams.
Winners: Ballinacor Gaa club on 89 points
Team members: Trevor Doyle, John Devitt, James Murphy & Fergus Devitt.
Second: Renault  number 2 on 88 points
Team members: Patrick  McGee, Brian Walsh, Peter Looney & Eoin o Donohue.
Third: Beehive Pub on 88 points
Team members: Pat  Doyle, Andrew Traynor, Ciaran Martin & Andrew Flanagan.
Fourth: Michael Sargent on 85 points
Team Members: Shay Breen, Paddy Sargent, Paul Nolan & Jack Sheedy.
Fifth: W. H.  Scott Lifting on 85 points
Team members: Patrick Doyle, Sean Leonard junior, Chris Mahon & Chris Sheedy
Nearest to Pin:  Alan Nolan. Kevin Stapleton team.
Longest Drive: Chris Mahon. W H  Scott lifting Team.
Raffle Results
 FIRST  PRIZE:  Paddy O' Connor Blessington.
Second Prize:   Eoin  Murtagh   Dunlavin
Third    Prize:    Angela  Hefferan  Blainroe
Fourth Prize:    Ray McGlynn        Tinahely
Fifth Prize:    Hugh O' Brien       Wicklow
Sixth Prize:    Liam Brady          An  Tochar.
Sponsors  Draw  Two  All Ireland Football  Tickets.
Mary Burke,  Beech Road Arklow.