Wicklow GAA invites you to 50 years celebration of Scór.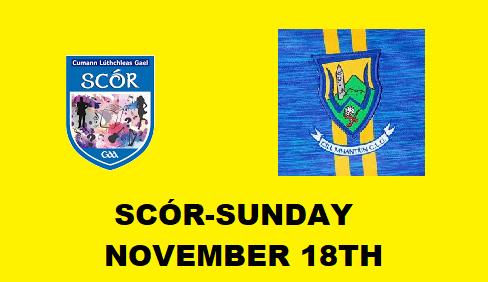 The Scór na nÓg County Final will be held in St Kevin's Hall in Blessington on Sunday 18th November commencing at 3pm. As this is the 50th Year of Scór, we are hoping the number of entries into each of the competitions will be larger in 2018.
If your club has any singers, dancer, musicians or actors, please send them the details of this event. Entries should be submitted to kathryn_noone@yahoo.co.uk by Wednesday 14th November at the latest. If you require information on the various competitions, there are a number of rule books and Getting into Scór booklets available from the County Committee. All questions can be directed to the above email address or you can get me by phone on 0868664931.
Directions to the venue are as follows:
If coming on N81 from Dublin, take the first right after Aldi beside the Boxing Club.
If coming from the Baltinglass direction, come through the town and the hall is on the left just past the garage and Enda's Flowers. There will be a €5 charge for adults on the door (excluding mentors) which includes entry into the raffle. An afternoon of great entertainment is assured. Sincere thanks to Blessington GAA club for all their work in organising our County Final this year.
Co Wickow has enjoyed great success in Scór activities down through the years and we would love to recognise this in our 50th year. If you have any information on or photos of previous Scór competitors or groups who represented your clubs, please send them on to the above address.
Thanks to all of the clubs who have supported Scór in Co Wicklow. We are looking forward to welcoming you all to our County Final on November 18th.