Wicklow Schools into Leinster A Semi Final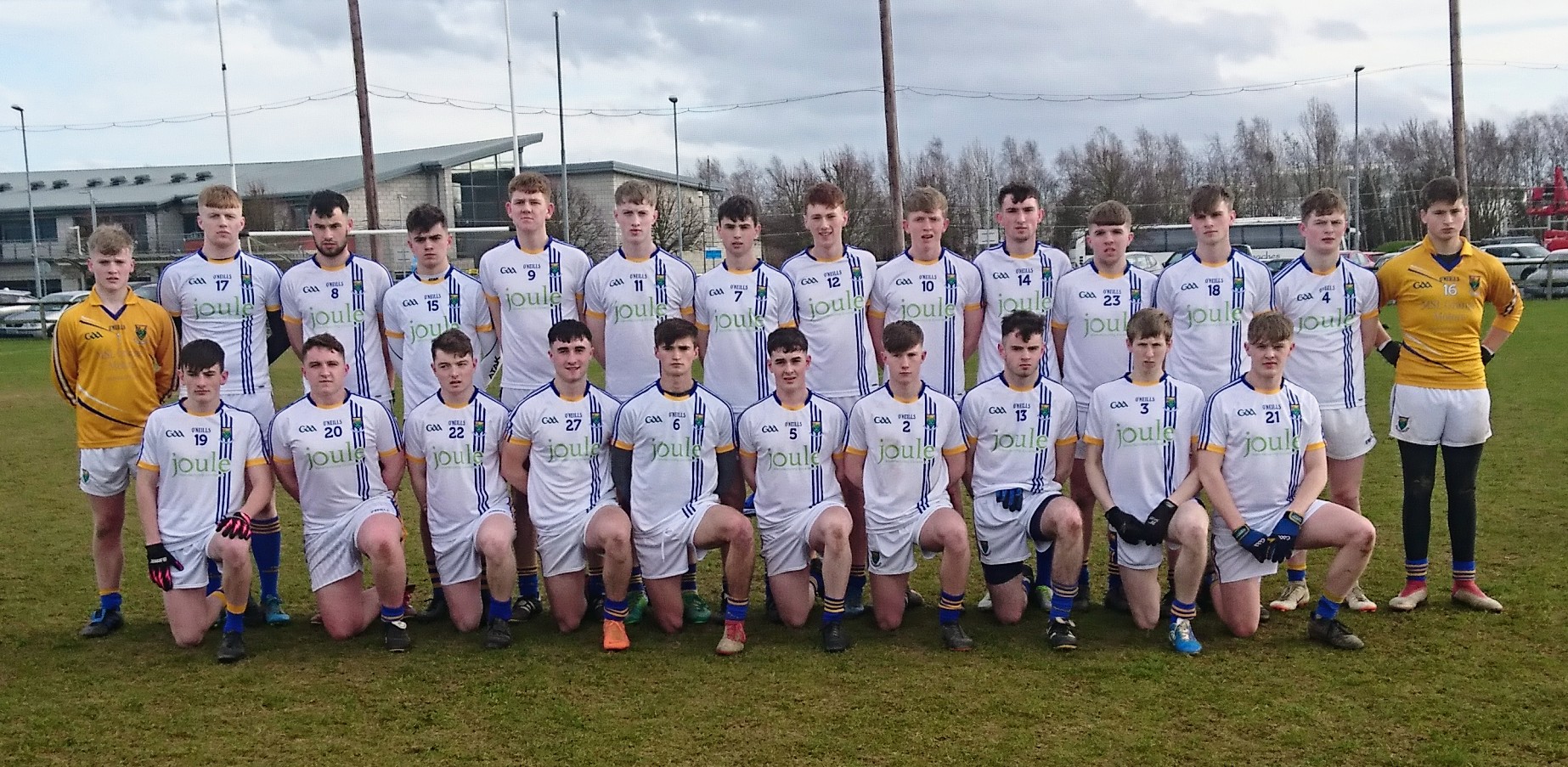 Wicklow Schools 4-7 Offaly Schools 0-9
For the second time in three years Wicklow Schools have qualified for the semi final of the Top Oil Brother Bosco Cup Leinster Post Primary Schools senior football A championship.
They travelled to Blanchardstown IT today to take on Offaly Schools and emerged ten points winners.
There was a strong cross wind blowing and Wicklow dominated the early exchanges. In the 3rd minute Wicklow team captain Mark Reid opened the scoring with a goal. His team continued to press and might have added points before Aaron Kennedy pointed frees in the 11th and 14th minutes, one of them from a very difficult angle. Two minutes later Daire Wright pointed a free to give Wicklow a lead of 1-3 to 0-0
Offaly then settled down and scored two points but Wicklow finished the half the stronger with a Daire Wright goal giving them a 2-5 to 0-2 lead at half time.
Offaly started the second half in a more determined mood and put much pressure on the Wicklow defence with Cathal Flynn threatening danger when in possession. In the first ten minutes of the half four unanswered points reduced the lead to five points and the momentum seemed to be with the Faithful County.
However, in the 12th minute a good Wicklow break led to Oisin McGraynor finding the net. Points were exchanged but in the 16th minute the chances of an Offaly comeback were dealt a severe blow when Daire Wright scored another goal. The remainder of the game brought just one point for each team as Wicklow comfortably advanced to the semi final.
This Wicklow team, which includes many of last year's successful minor side, played some great football at times but a greater consistency will be needed if they are to reach the final. The hard working defence did well to prevent a good Offaly forward line from getting any real goalscoring opportunities. Midfield were on top for most of the game while the forward line looked very dangerous at times with some fast, incisive moves.
WICKLOW SCORERS: Daire Wright 2-2, Oisin McGraynor 1-2, Mark Reid 1-0, Aaron Kennedy 0-2, Brian Crowe 0-1.
OFFALY: Cathal Flynn 0-3, Jacob Beatty and Cormac Deleney 0-2 each, Rory Egan and Ciaran Farrell 0-1 each.
WICKLOW SCHOOLS: Ben Fennell Arklow CBS, Gavin Fogarty East Glendalough School, Andy Maher Gaelcholaiste na Mara,  Andy Conway Presentation College Bray, Mark Reid St Kevin's CC Dunlavin, Patrick O'Kane Gaelcholaiste na Mara, Oisin Cullen Colaiste Chraobh Abhann Kilcoole, Sean Doody Scoil Chonglais Baltinglass, Ciaran Coffey Colaiste Chill Mhantain, Craig Maguire Blessington CC, Oisin McGraynor Avondale CC, Darragh Rochford Presentation College Bray, Daire Wright St Kevin's CC Dunlavin , Aaron Kennedy St Kevin's CC Dunlavin , Brian Crowe St Kevin's CC Dunlavin  .
SUBS : James Hedderman Colaiste Bhride Carnew for C Coffey, Cillian McDonald Colaiste Bhride Carnew for D Wright, John Doyle Colaiste Bhride Carnew for B Crowe, Tadhg O'Toole Scoil Chonglais Baltinglass for C Maguire.
Also on panel : Luke Ryan St Gerards, William Rogers Scoil Chonglais, Senan Molloy Scoil Chonglais, Eoin Murphy Chraobh Abahnn, Darragh Dillon St Kevin's, Malachy Stone CCM. Eoin Darcy Colaiste Bhride and Tadhg Barrett St Kevins were not available for selection as they were abroad on the day.
OFFALY SCHOOLS: Adam Nugent, Aaron Brazil, Kieran Dolan, Shane Enright, Adam reams, Rory Egan, Clive Kenna, Aidan Bracken, Cathal Donoghue, Tom Mangan, Cathal Flynn, Ciaran Farrell, Jacob Beatty, Sean Courtney, Cormac Delaney