Wicklow Schools Reach the Leinster 'A' Final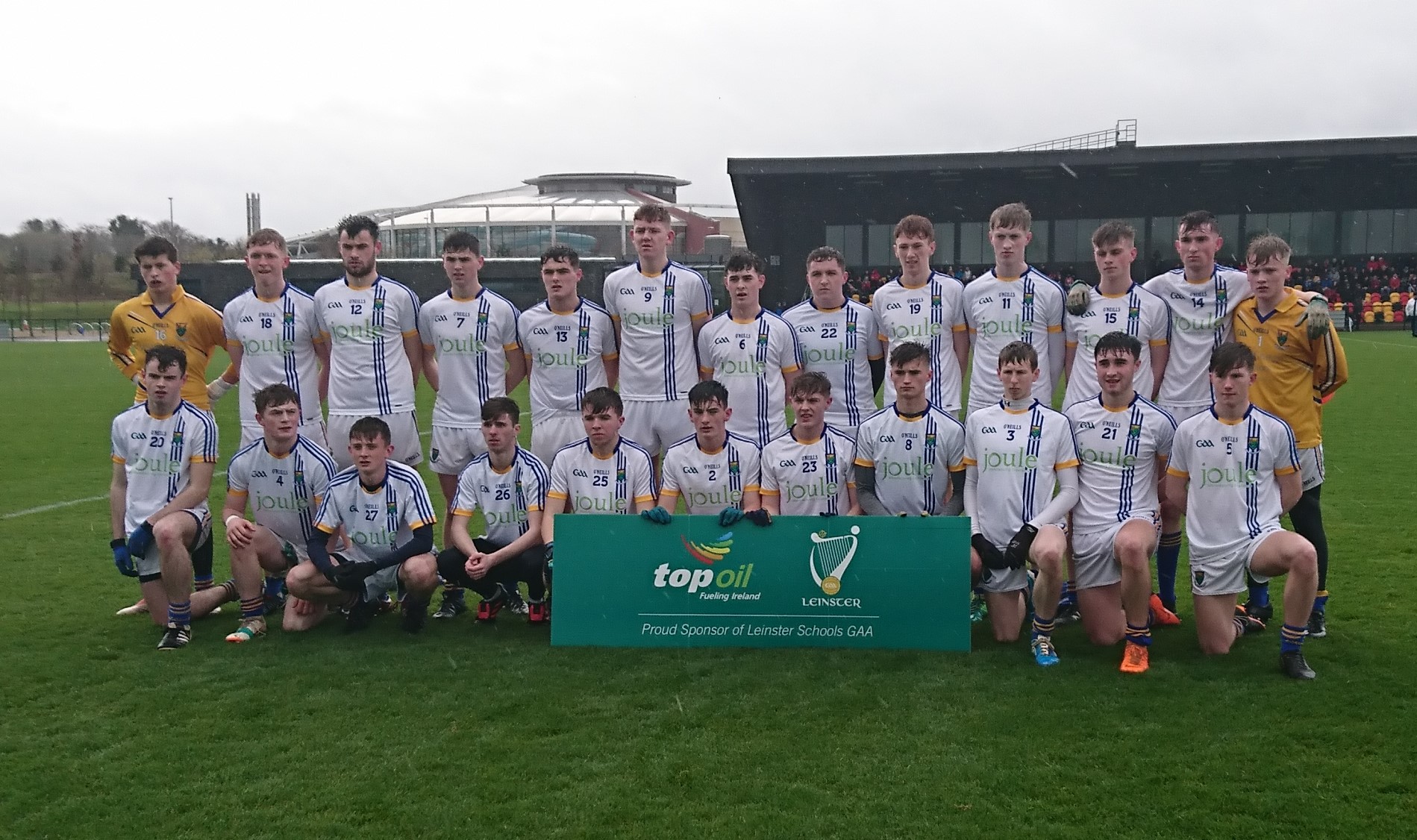 Wicklow Schools  1-06  St Pat's Navan 0-5
Wicklow Schools are into the final of the Top Oil Bro Bosco Cup Leinster Schools Senior football A championship for the first time.
Today in Abbotstown National Centre of Excellence they overcame St Pats of Navan in difficult conditions. There was a very strong wind blowing down the field but gusting in all directions as well as driving rain. St Pats played with wind advantage in the first half and were two points up inside five minutes, both coming from frees by Niall Finnerty.
In the 10th minute St Pats were awarded a penalty but Aaron Lynch's shot was well saved by Ben Fennell. The ball went back to Lynch but under pressure he kicked wide.
Wicklow opened their account in the 18th minute with a pointed free by Eoin Darcy and the same player did the same five minutes later.
Not having scored for some 23 minutes St Pats changed their tactics and tried some long range shooting towards the end of the first half. They were rewarded with a Finnerty point and two points by their most impressive player Barry O'Connell, son of former Meath star Martin O'Connell.
At half time the Navan school led by 0-5 to 0-2 and all was set for an exciting second half. Eoin Darcy narrowed the gap with a point from a free in the 3rd minute. Soon after that Aaron Kennedy had a shot saved by Pats goalkeeper Sean Brennan but in the 5th minute Wicklow found the net with a goal by Oisin McGraynor who had caused problems for the Navan defence throughout.
Eoin Darcy added another point and then had a good goal chance saved. Soon after that Oisin McGraynor finished a good move by shooting narrowly wide.
Substitute Craig  Maguire added a Wicklow point in the 19th minute and Eoin Darcy added another a minute later.
St Pats were now four points behind and went for a goal as time slipped away. Many balls went into the Wicklow goalmouth but it was always one of the determined Wicklow defence that came away with it.
Wicklow were still four points to the good when Westmeath referee Niall Ward blew the final whistle. They will meet Naas CBS or Colaiste Eoin Stillorgan in the final.
SCORERS: Wicklow schools: Eoin Darcy 0-5, Oisin McGraynor 1-0, Craig Maguire 0-1.  ST PATS  : Niall Finnerty 0-3, Barry O'Connell 0-2.
WICKLOW SCHOOLS:  Ben Fennell, Cillian McDonald, Andy Maher, Andy Conway, Gavin Fogarty, Mark Reid (capt), Oisin Cullen, Patrick O'Keane, Ciaran Coffey, Darragh Rochford, Oisin McGraynor, Sean Doody, Eoin Darcy, Aaron Kennedy, James Hedderman.
SUBS Craig Maguire for Patrick O'Keane (injured), Daire Wright for James Hedderman, Tadhg O'Toole for Darragh Rochford.
NOT USED: Luke Ryan, William Rogers, Malachy Stone, John Doyle, Senan Molloy, Eoin Murphy, Darragh Dillon, Tadhg Barrett, Brian Crowe (injured).