Wicklow U14 Feile Peil na nOg 2019 Rules & Fixtures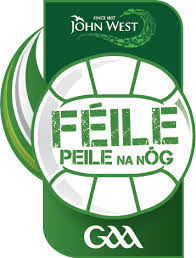 Wicklow U14 Feile Peil na nOg 2019 Rules


Teams will be 15-a-side, comprising of players that turns 11, 12, 13 or 14 in 2019 is eligible to take part. (Any player that is eligible to play Under 10 Football in 2019 is too young)
A Full team list, consisting of all players and substitutes must be handed in before competition starts on the Official Coiste na nOg Team list for 2019.
Games will be played on a full size pitch in accordance with Association rules.
All games will be 30 minutes with 15 minutes a-half.
Two substitutes will be introduced 10 minutes into the first half and 5 minutes into the second half (on the refs signal). These players are to remain on the field for the remainder of the game (except in the case of an injury).
All players should play a minimum of 30 minutes in the Feile competition.
All clubs should be encouraged to promote an equal playing time ethos.
Substitutions are introduced on the half way line only.
All Coaches to wear the Give Rest Get Respect Bibs
In the event of a draw when all games are finished and Teams Finishing Level on Points there will be ten minutes (2x5minutes) will be played involving the teams concerned. If a draw is still the result 5 frees will be taken by 5 different players from the 20 metre line. Frees to be taken for points only, with no goalie/defender facing the free taker. The team with the most points scored will be deemed to have won the game. If still level after 5 frees per team then "SUDDEN DEATH" frees are to be taken by different players until one team has scored a point and the other misses.
Saturday, March 30

(All Clubs to pay Feile coordinator on the day €30 cash to cover Referees Fees)

Under 14 Football A Feile Group 1 Ballinakill

(Top team in this group qualifies for A Co. Feile Final)
St Nicholas V Eire Og Greystones 1.00pm (Referee: Liam Keenan Jun); AGB V St Patricks 1.00pm (Referee: Robert Roche); St Nicholas V AGB 1.45pm (Referee: Liam Keenan Jun); St Patricks V Eire Og Greystones 1.45pm (Referee: Robert Roche); St Nicholas V St Patricks 2.30pm (Referee: Liam Keenan Jun); AGB V Eire Og Greystones 2.30pm (Referee: Robert Roche)
Under 14 Football A Feile Group 2 Ballinakill

(Top team in this group qualifies for A Co. Feile Final)
Baltinglass V Rathnew 1.00pm (Referee: Ciaran Gaskin); Bray Emmets V Rathnew 1.45pm (Referee: Ciaran Gaskin); Baltinglass V Bray Emmets 2.30pm (Referee: Ciaran Gaskin)
Under 14 Football B Feile Group 1 Rathnew

(Top team in this group qualifies for B Co. Feile Final)
An Tochar V Aughrim 1.00pm (Referee: Peadar de Hora); St Kevin's V Annacurra 1.00pm (Referee: Ian Culbert); An Tochar V Annacurra 1.45pm (Referee: Peadar de Hora); Aughrim V St Kevins 1.45pm (Referee: Ian Culbert); An Tochar V St Kevins 2.30pm (Referee: Peadar de Hora); Aughrim V Annacurra 2.30pm (Referee: Ian Culbert)
Under 14 Football B Feile Group 2 Carnew

(Top team in this group qualifies for B Co. Feile Final)
Shillelagh/Coolboy V Carnew Emmets 1.00pm (Referee: Eugene Doherty); Michael Dwyers V Blessington 1.00pm (Referee: Michael Owens); Carnew Emmets V Blessington 1.45pm (Referee: Eugene Doherty); Michael Dwyers V Shillelagh/Coolboy 1.45pm (Referee: Michael Owens); Carnew Emmets V Michael Dwyers 2.30pm (Referee: Eugene Doherty); Shillelagh/Coolboy V Blessington 2.30pm (Referee: Michael Owens)
Sunday March 31




Under 14 Football A Feile Final Ballinakill

(Winners & Runners up qualify for National Feile)
Group 1 Winners V Group 2 Winners 11.00am (Referee TBC)
Under 14 Football B Feile Final Ballinakill

(Winners qualify for National Feile)
Group 1 Winners V Group 2 Winners 11.00am (Referee TBC)