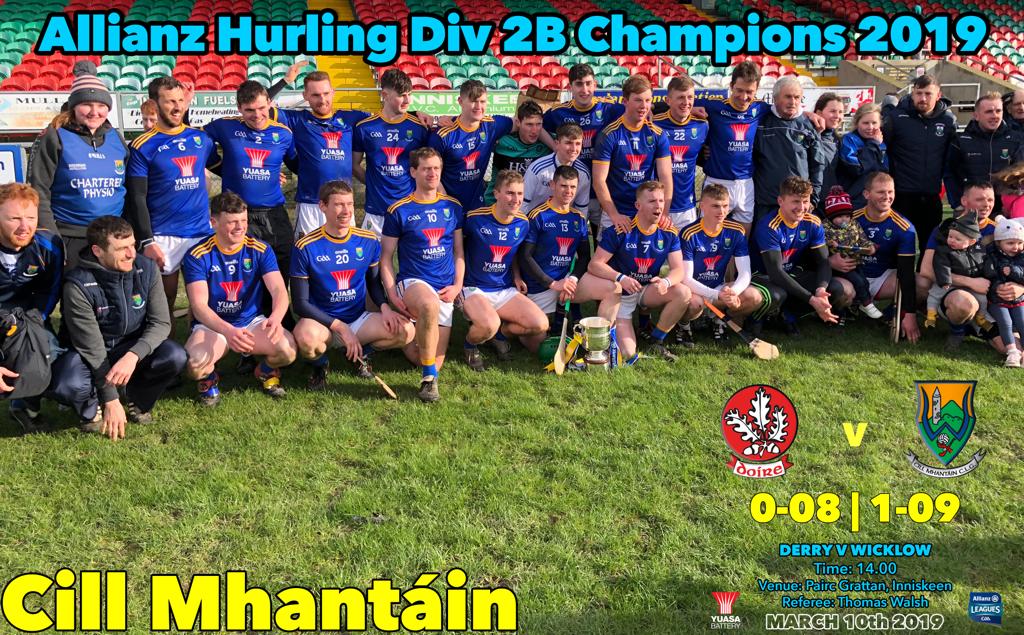 Wicklow were victorious over Derry on Sunday in the Allianz Hurling League Roinn 2B Final in Inniskeen, Co. Monaghan. 
Derry had the advantage of a strong wind in the first half and took advantage of it with three early points. Brian Kearney got injured after ten minutes and was replaced by Eamonn Kearns. Christy Moorehouse opened Wicklow's scoring with a point from a free. Wicklow's backs worked hard and gave Derry no time on the ball and as a result Derry only had two more points in the half, one from a free and one from play. Wicklow narrowed the gap to two points with an Enda Donohoe free and an Eamonn Kearns point.
Eoin McCormack had two quick points from play to level the game. Derry replied with two points. Eamonn Kearns point reduced the gap to the minimum. Wicklow were playing a number of long balls into the square but Derry were using a sweeper and dealt with the Wicklow threat. Wicklow eventually got their reward. The ball dropped into the square and it broke out to the left, Michael Boland was on hand to put the ball into the Derry net to put Wicklow ahead for the first time in the game. Andy O' Brien and Christy Moorehouse finished the game with a point each to ensure a Wicklow win on a scoreline of 1-09 to 0-08.
Wicklow worked extremely hard for the whole game and their tenacious attitude paid dividend. Eamonn Scallan and his selectors will be happy as the focus will now turn to preparation for the Christy Ring Competition.
The Allianz Hurling League Roinn 2B Cup was presented to Wicklow Captain Warren Kavanagh.
Wicklow scorers: Michael Boland 1-00, Christy Moorehouse 0-02, Andy O' Brien 0-02, Eoin McCormack 0-02, Eamonn Kearns 0-02, Enda Donohoe 0-01
Wicklow: Cian Staunton, Brian Kearney, Billy Cuddihy, Martin O' Brien, Gary Byrne, Stephen Kelly, Warren Kavanagh, John Henderson, Jack Doyle, Eoin McCormack, Enda Donohoe, Danny Staunton, Christopher Moorehouse, Andy O' Brien, Jonathon O' Neill Subs: Eamonn Kearns for Brian Kearney (inj), Michael Boland for Jonathon O' Neill, Luke Evans for Enda Donohoe, Ronan Keddy for Christy Moorehouse
Derry: Seán Kelly, Paddy Kelly, Seán Cassidy, Ruaidhrí McCarthy, Conor Kelly, Brian Óg McGilligan, Liam Hinphey, Thomas Brady, Paul Cleary, Gerald Bradley, Richie Mullan, Mark McGuigan, Cian Waldron, Sé McGuigan, Meehaul McGrath