About GAA Healthy Clubs

The GAA Healthy Club Project aims to help GAA clubs explore how they support the holistic health of their members and the communities they serve.
The project aims to help GAA clubs
identify what they are already doing well,

identify areas where they can or would like to improve

empower them to ensure that everyone who engages with their club benefits from the experience in a health-enhancing way
be they players, officers, coaches, parents, supporters, or members of their local community.
The healthy club project is based on best national and international practice, to embed a healthy philosophy in a club while integrating health into the day-to-day club activities in a sustainable way. It also aims to place the local GAA club at the heart of the community, making it a beacon for health in the locale.
How to become a GAA Healthy Club
Becoming a GAA Healthy Club is 7 step structured process, as shown below (show the image on the webpage), which begins with the appointment of a Healthy Clubs Officer, and concludes with the production of an official report which is provided to the Club Executive, Wicklow GAA Health & Wellbeing Committee and most importantly Croke Park.
The process usually takes about 18 months to complete, with training and support provided during each of the steps.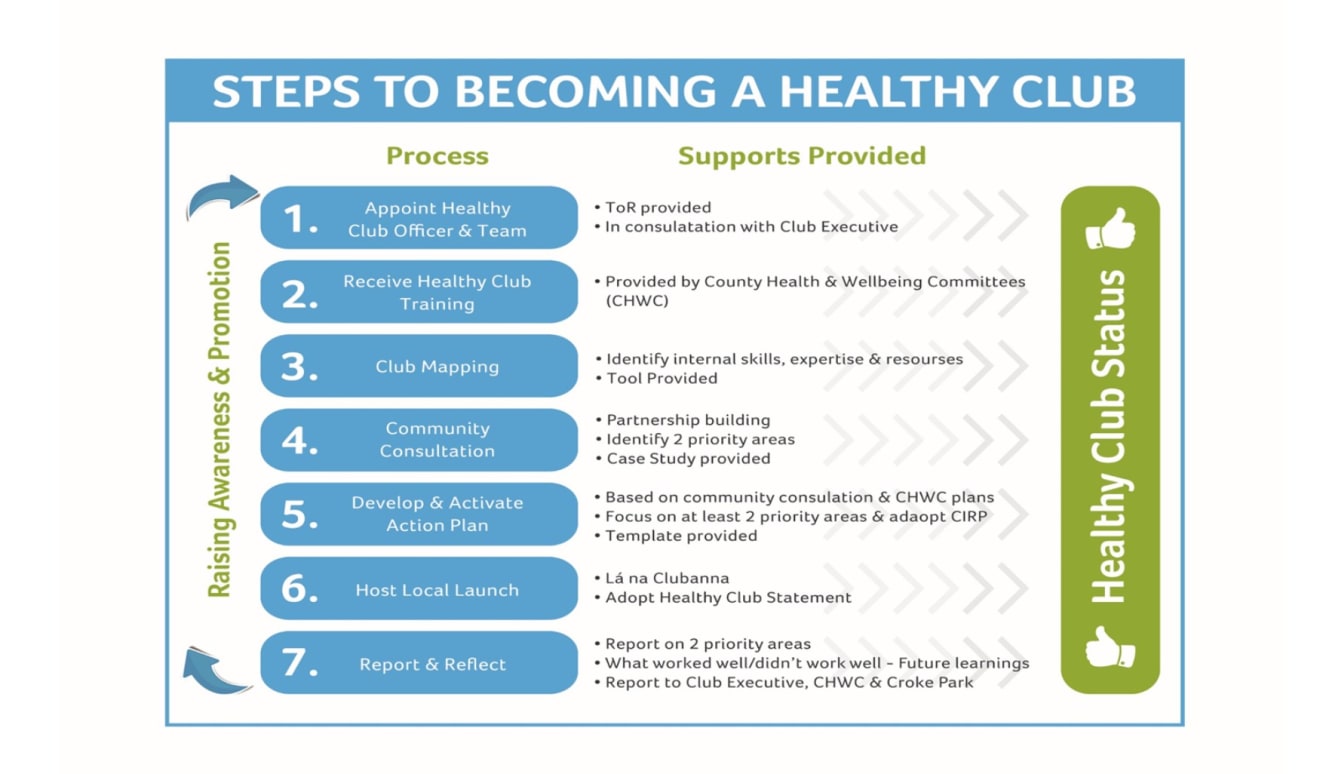 More information
For more information on the GAA Healthy Club Project please click on the link below to visit the GAA official Healthy Club website.
https://www.gaa.ie/my-gaa/community-and-health/healthy-club/
Alternatively for specific Wicklow GAA Healthy Club Project information please visit their webpages on this site by clicking on the link directly below
Alternatively, email our Chairperson David Murray at
#GAAhealth